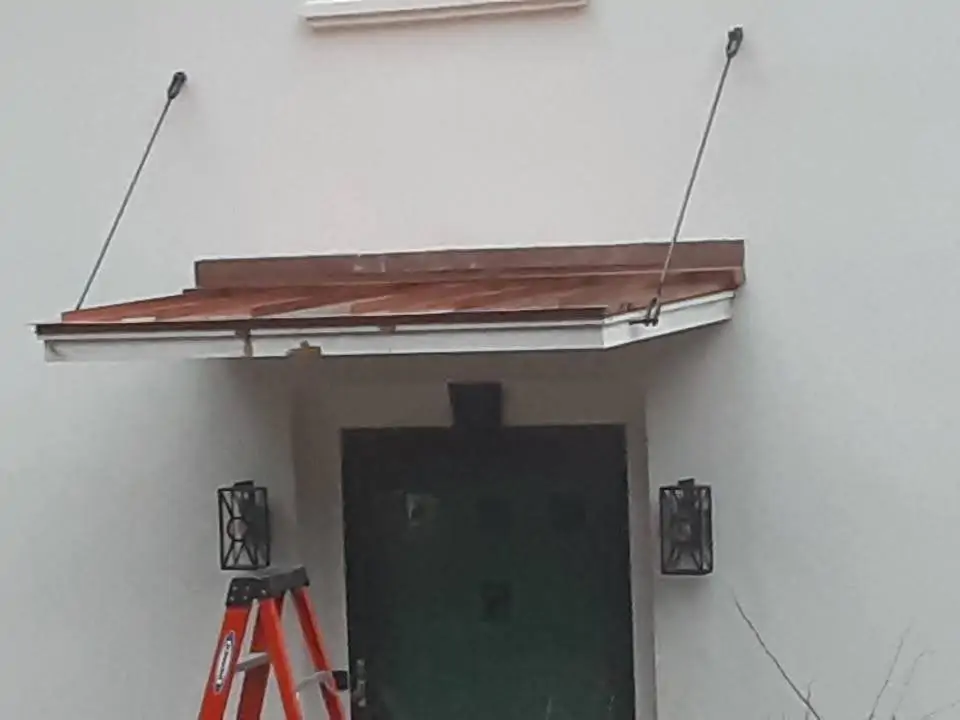 December 6, 2022
New tie rods and copper for our custom awning over the original front door to the Belmont Hill project. Chris did a great job installing the new copper standing seam.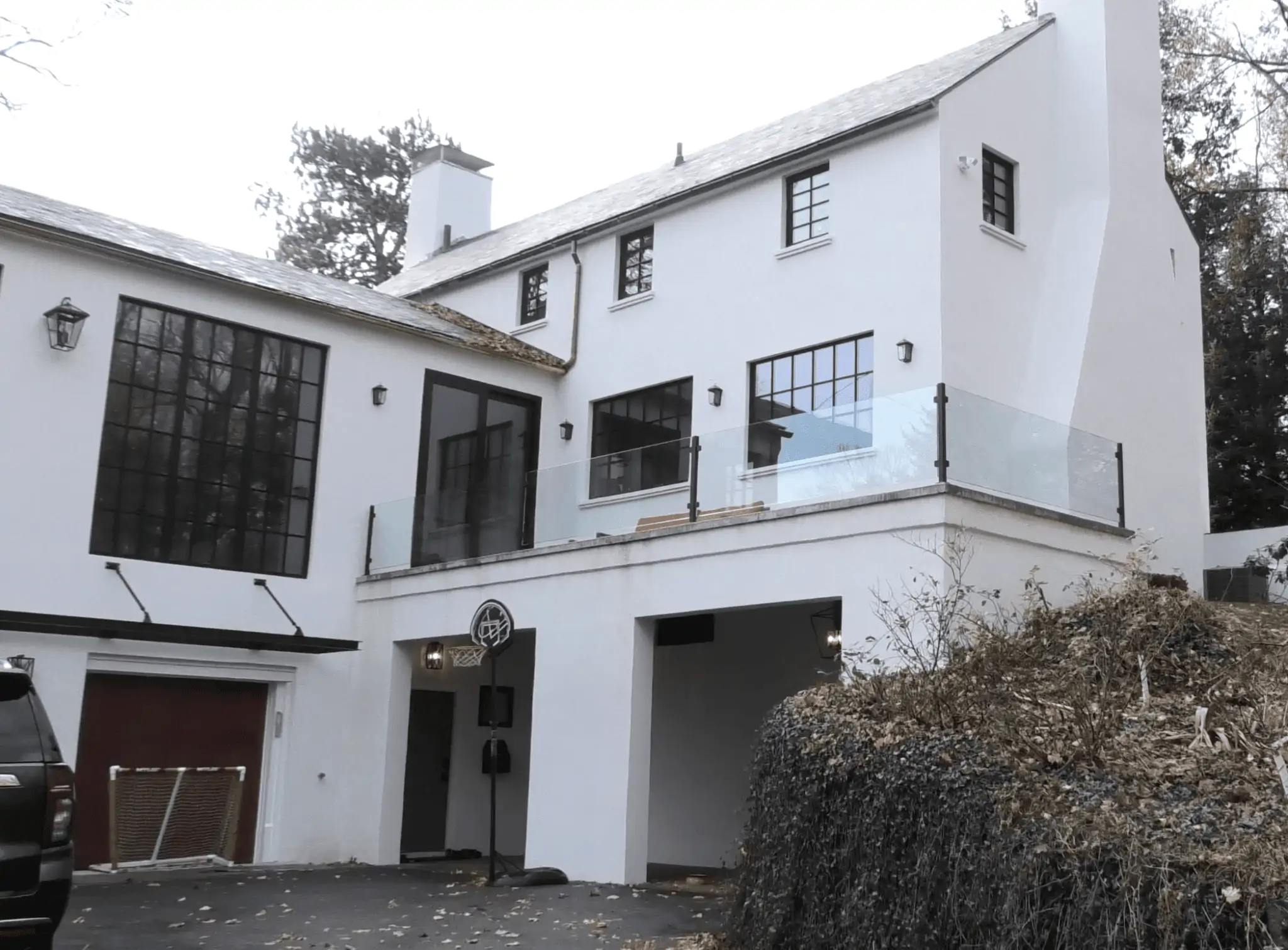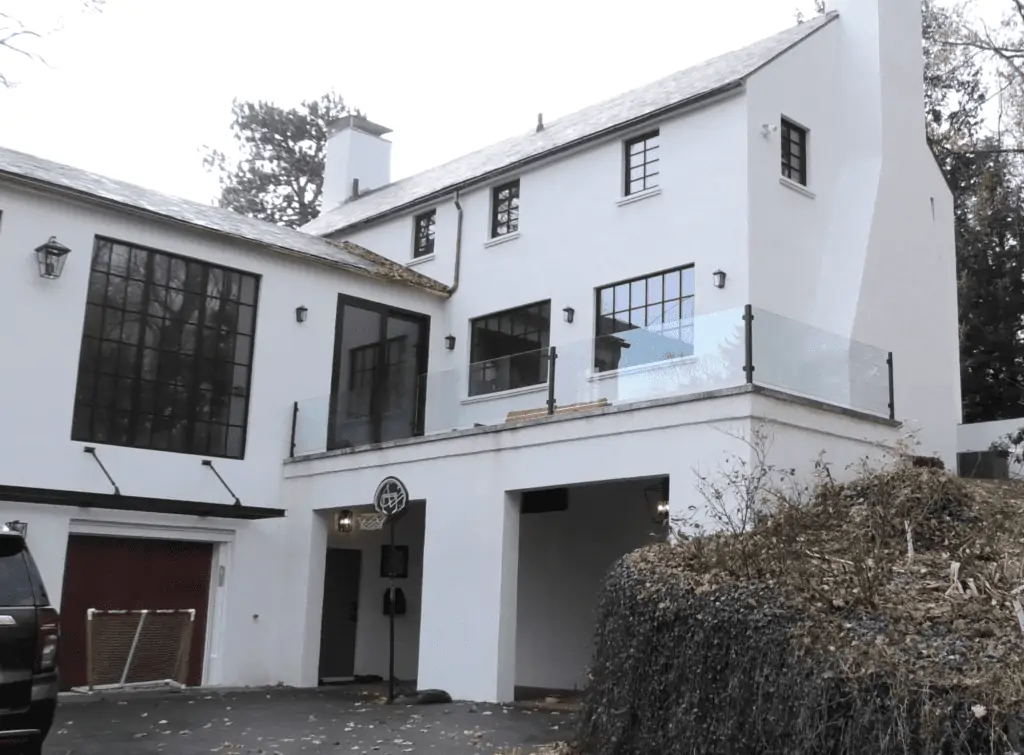 November 22nd, 2021
This glass railing is the perfect final touch for the exterior of our Belmont Hill project.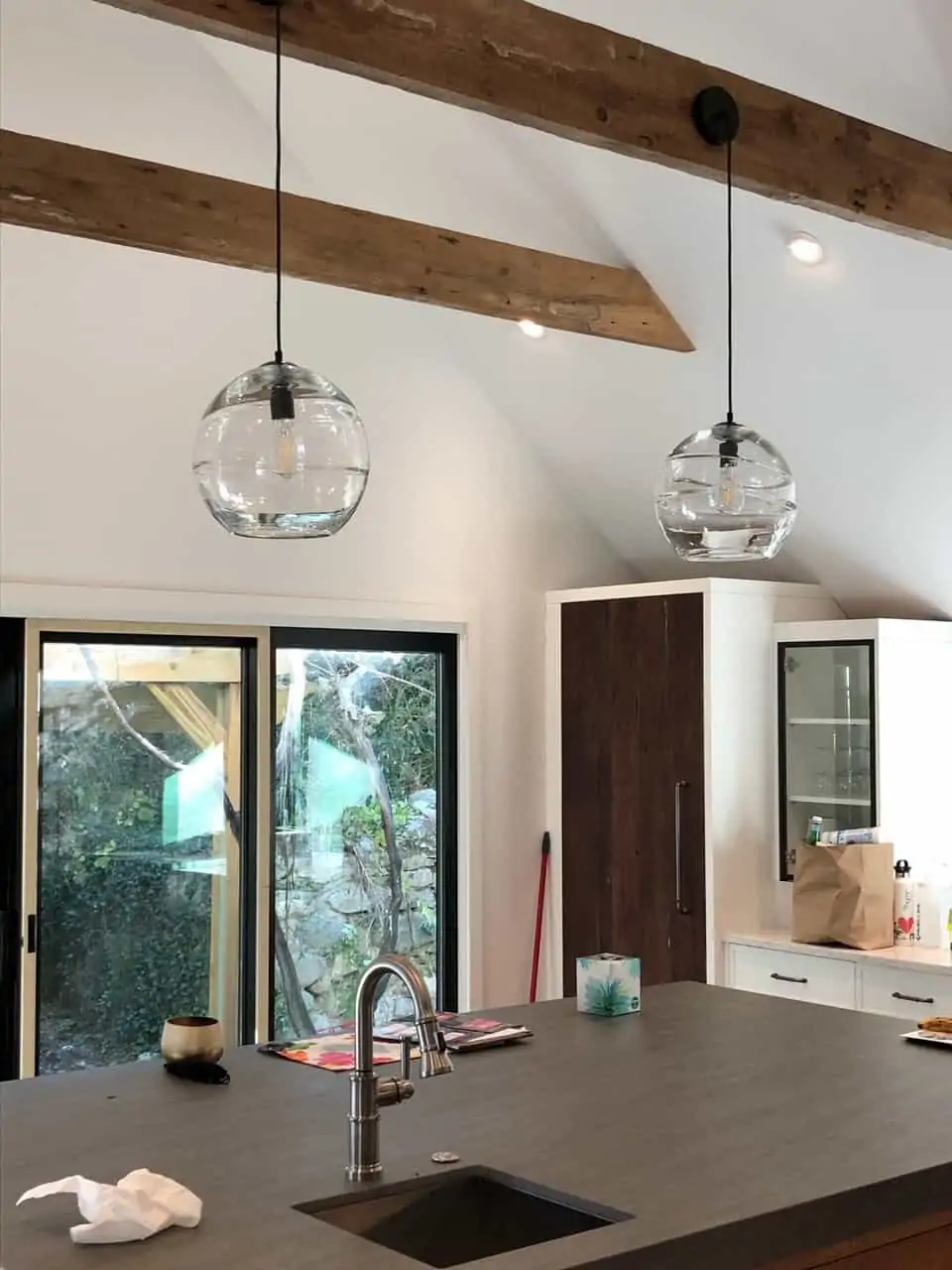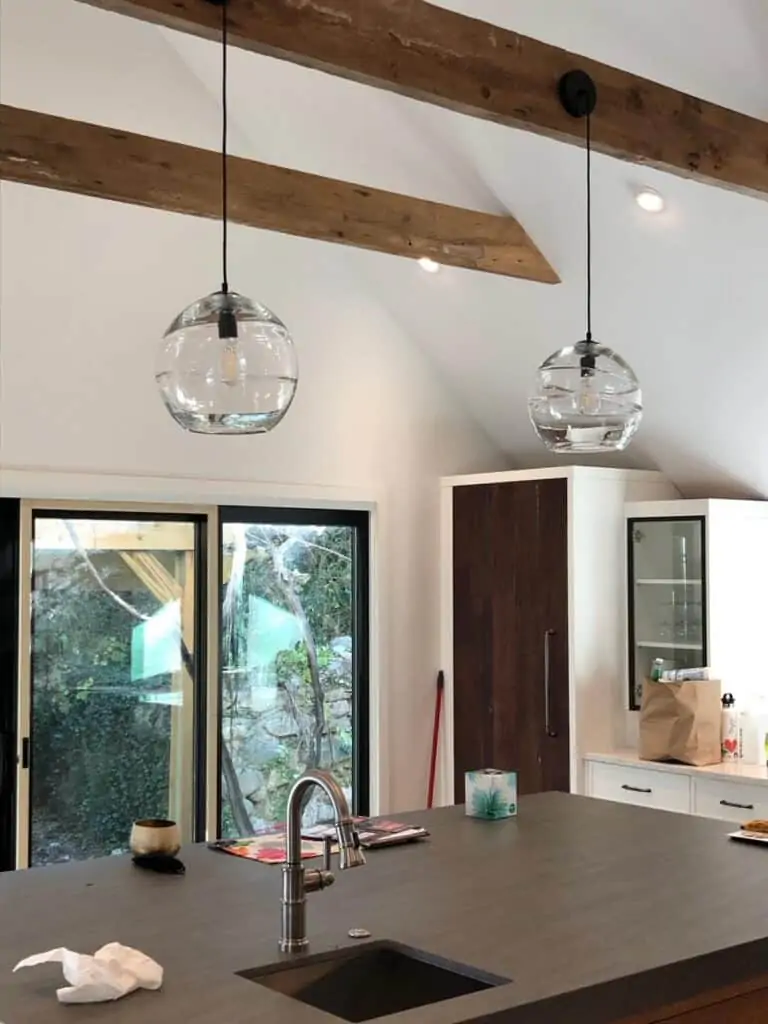 November 3rd, 2021
Beautiful pendant lights created by Providence Art Glass in Pawtucket, Rhode Island.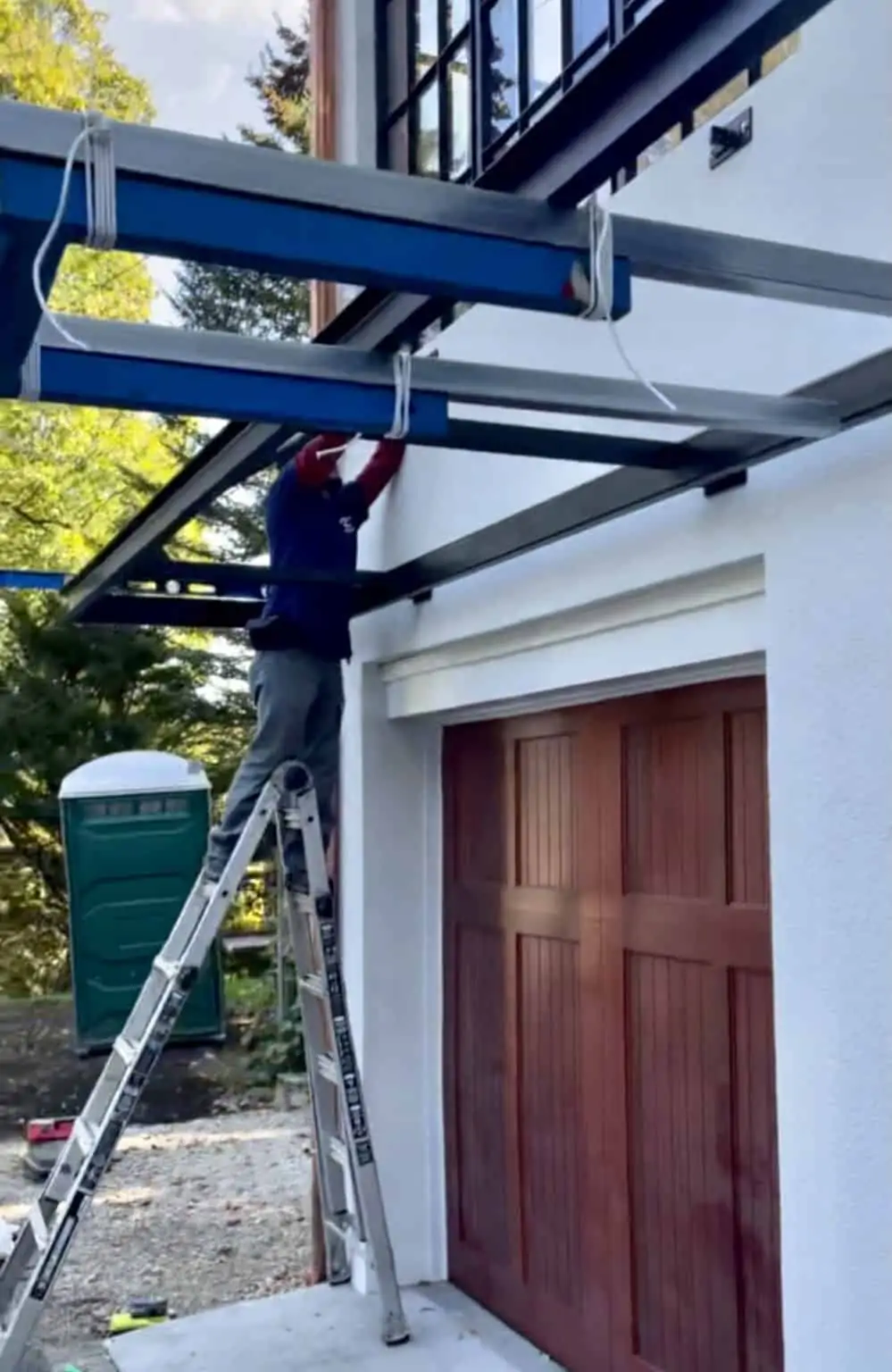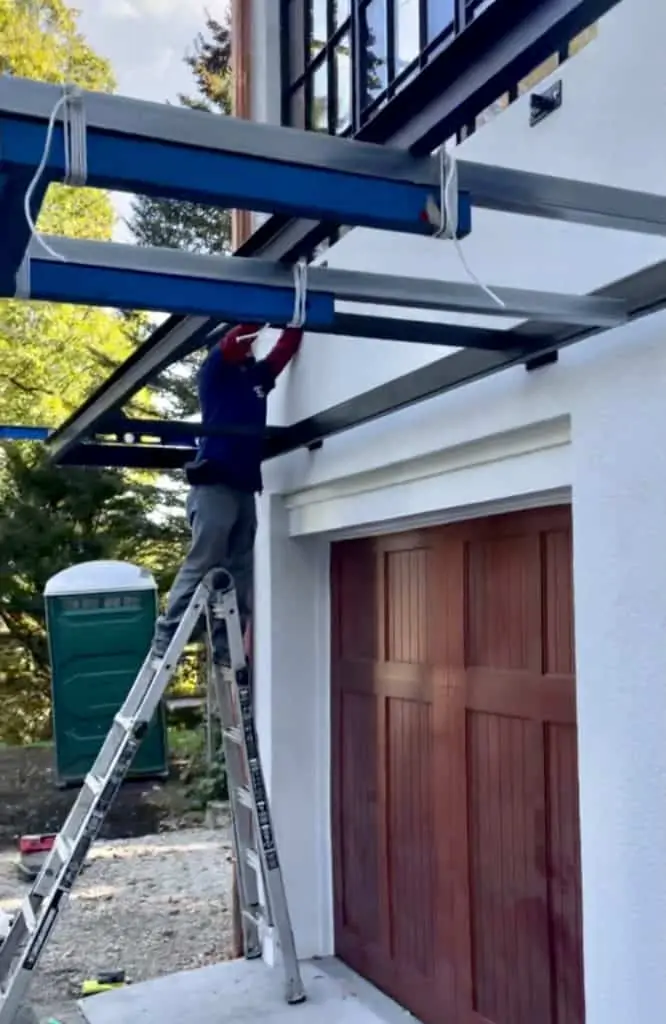 October 20th, 2021
Our custom aluminum awning is going up over the garage doors today. The inside of the awning will be a metal grating to give the garage a modern industrial look.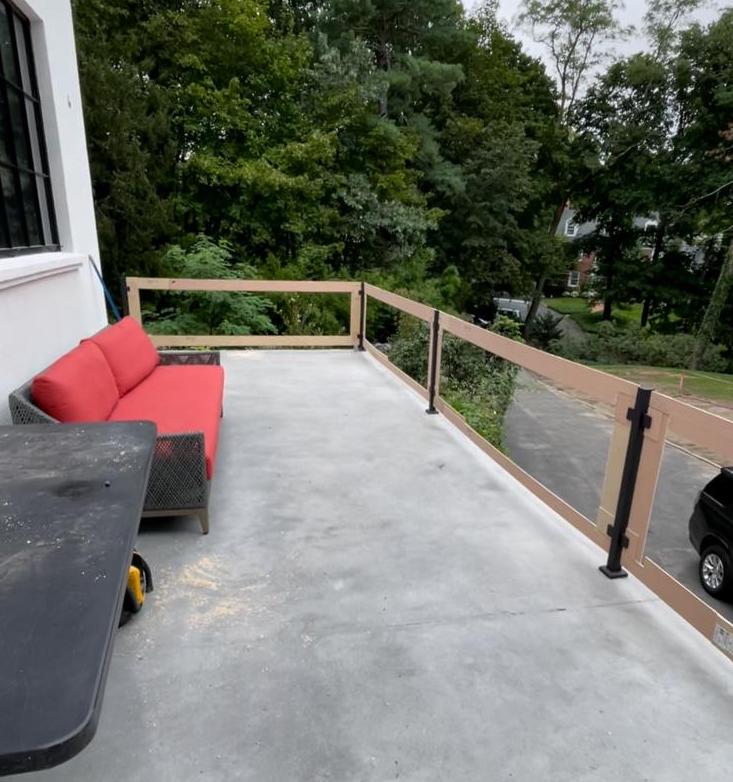 September 17th, 2021
New England Glass laying out the glass rail for our outdoor concrete patio.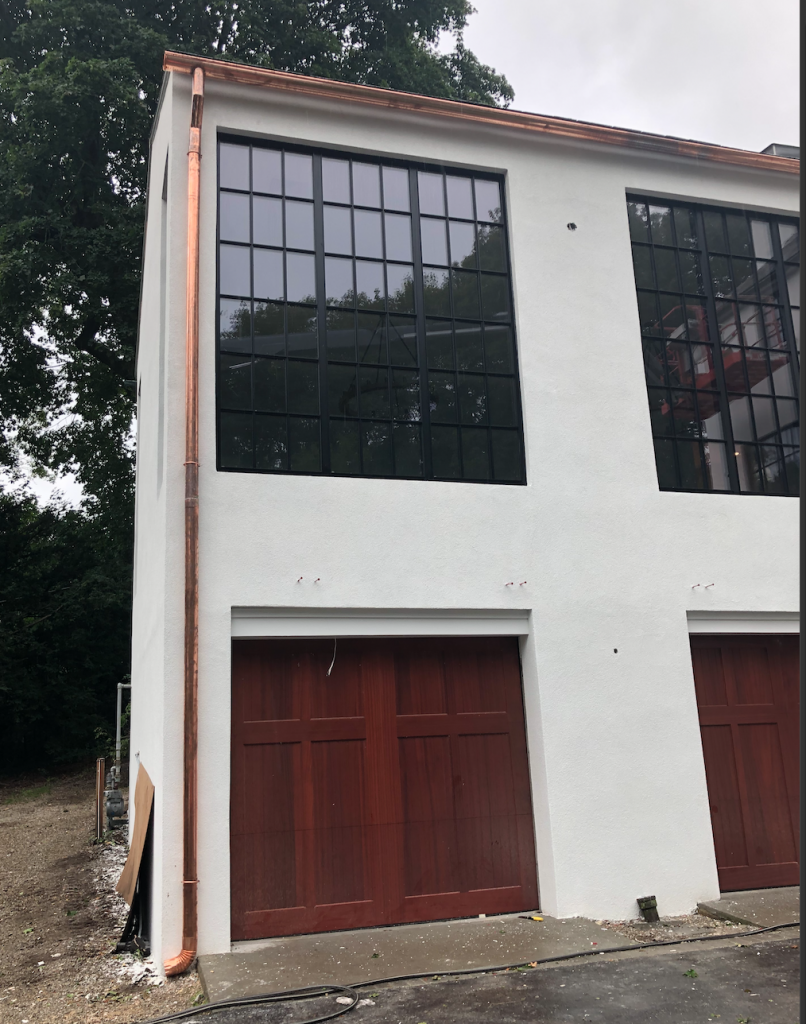 September 9th, 2021
Copper gutters and downspouts installed by FRS Roofing.
September 7th, 2021
General Concrete Polishing strikes again with another great polish on our Belmont deck!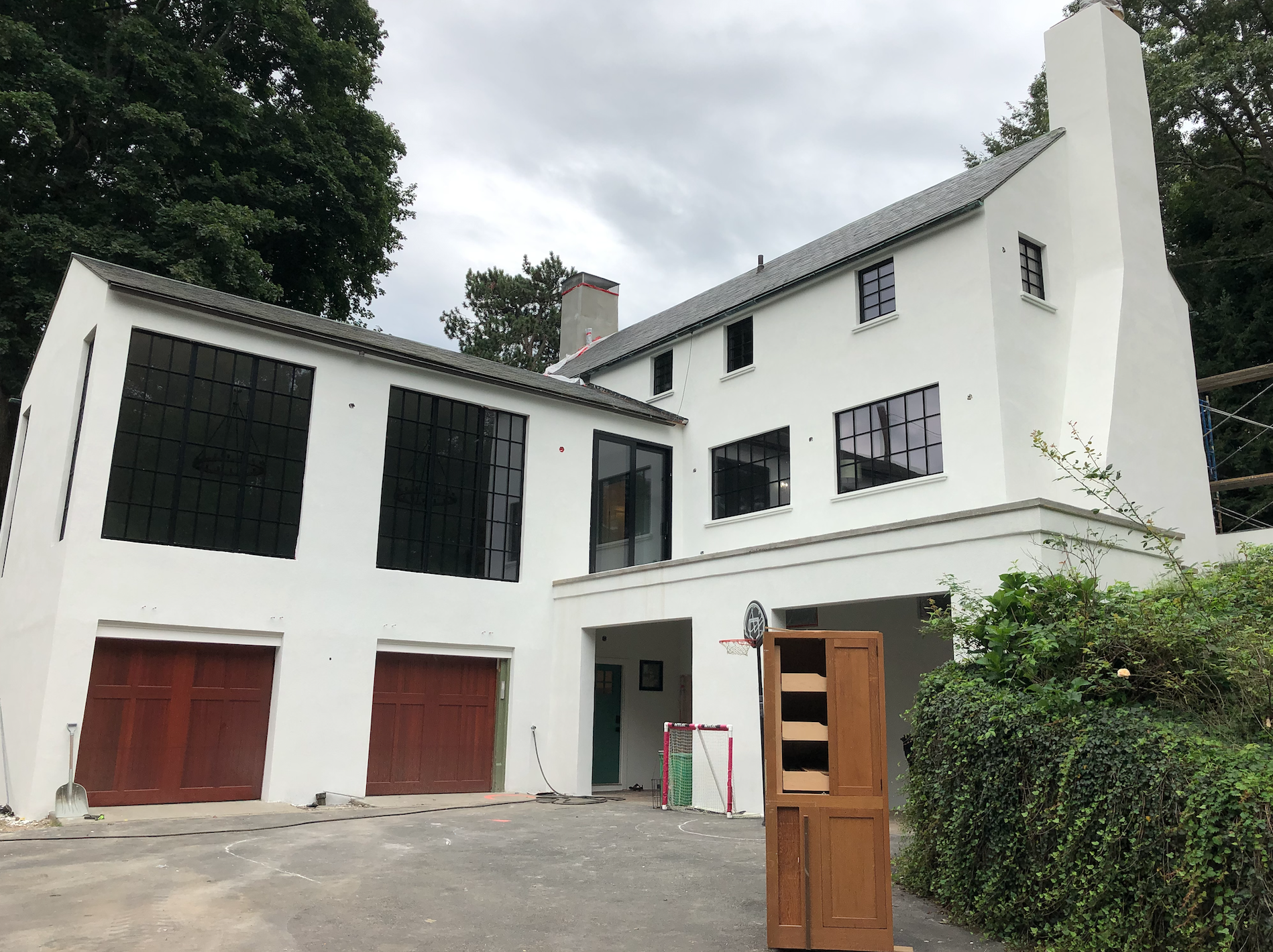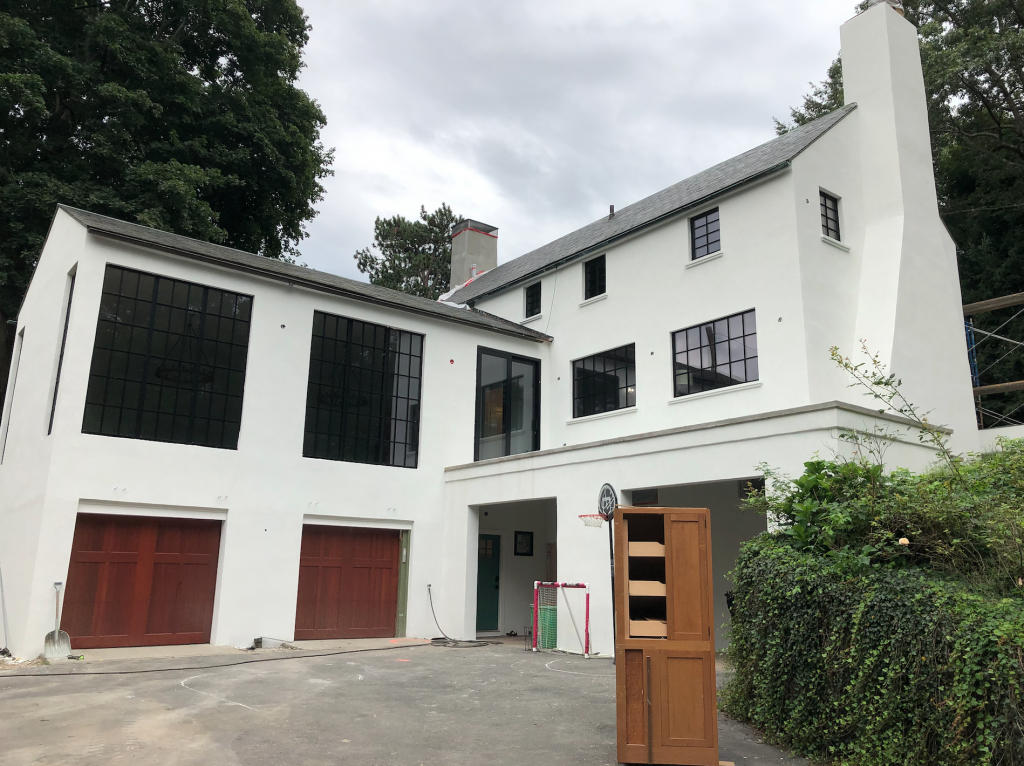 September 1st, 2021
Exterior stucco is completed, making way for new lights, glass railings, gutters, and a metal awning all coming soon!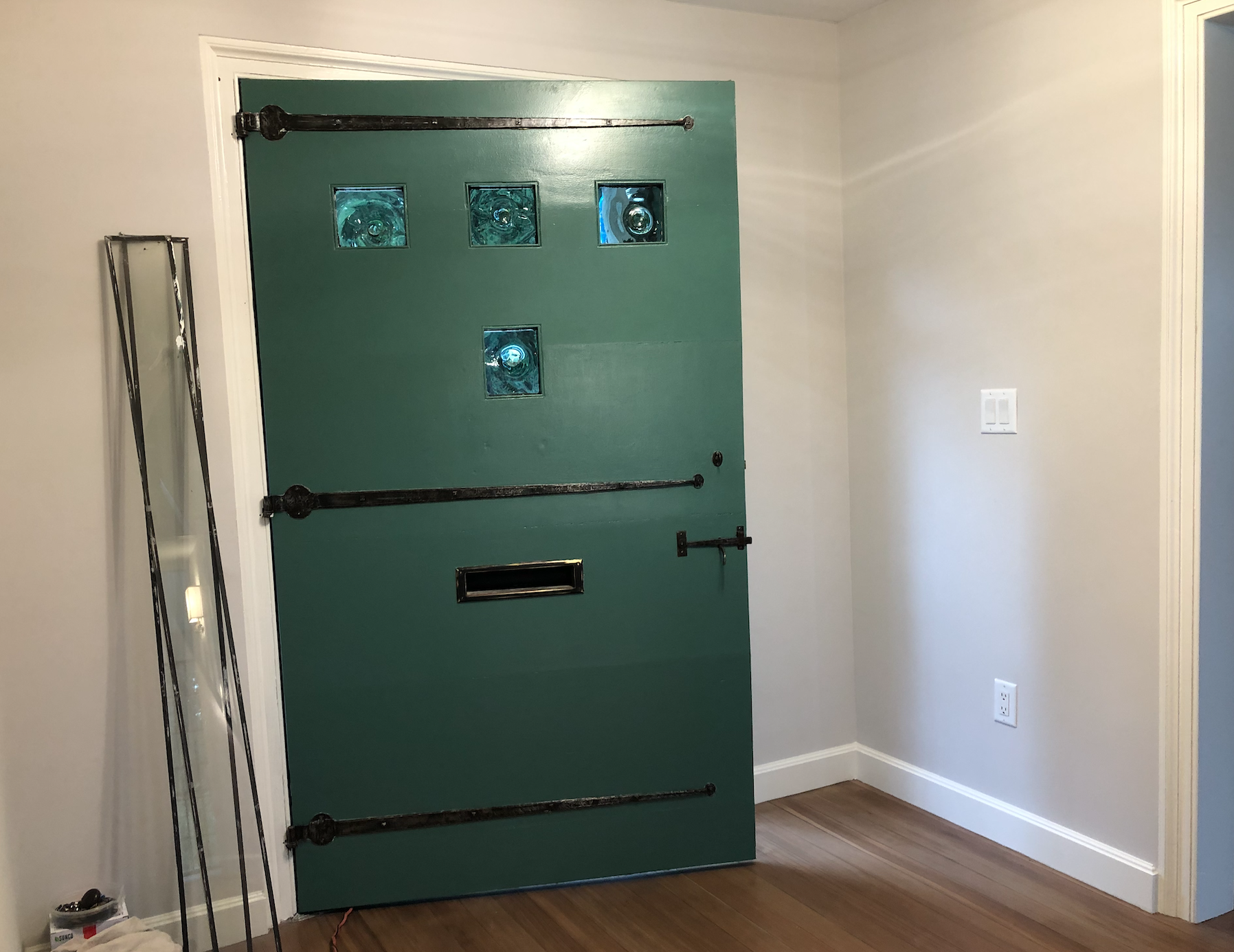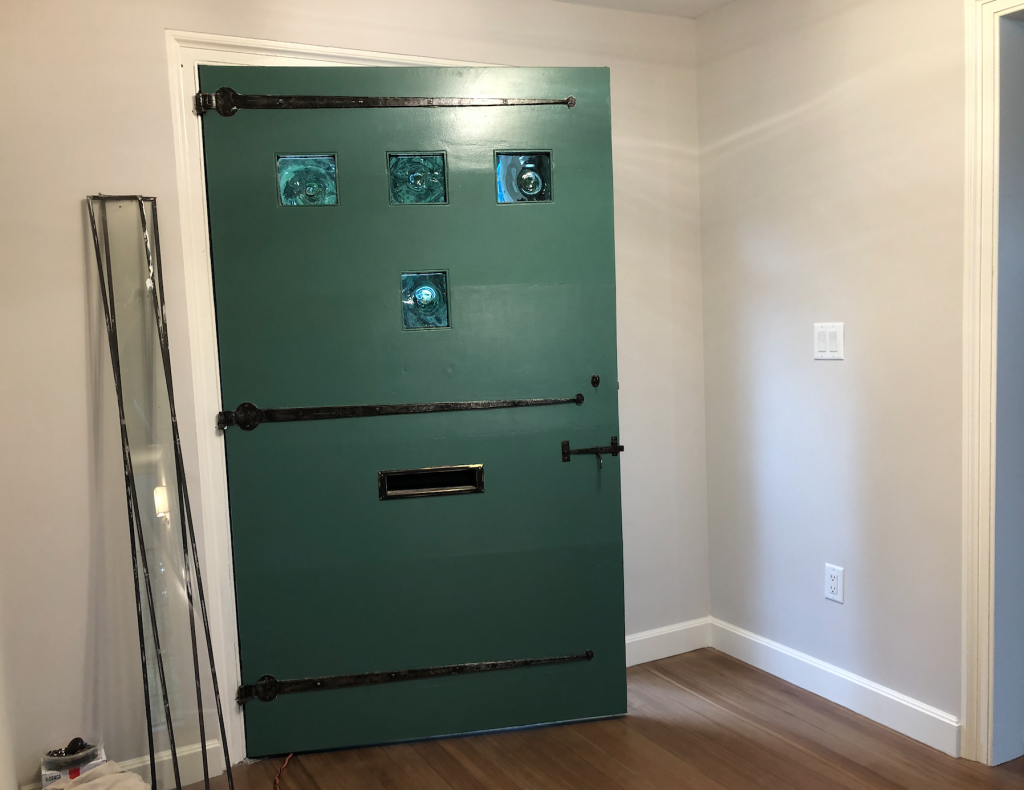 August 27th, 2021
The front door is now painted in "Verdigris", a beautiful Benjamin Moore color.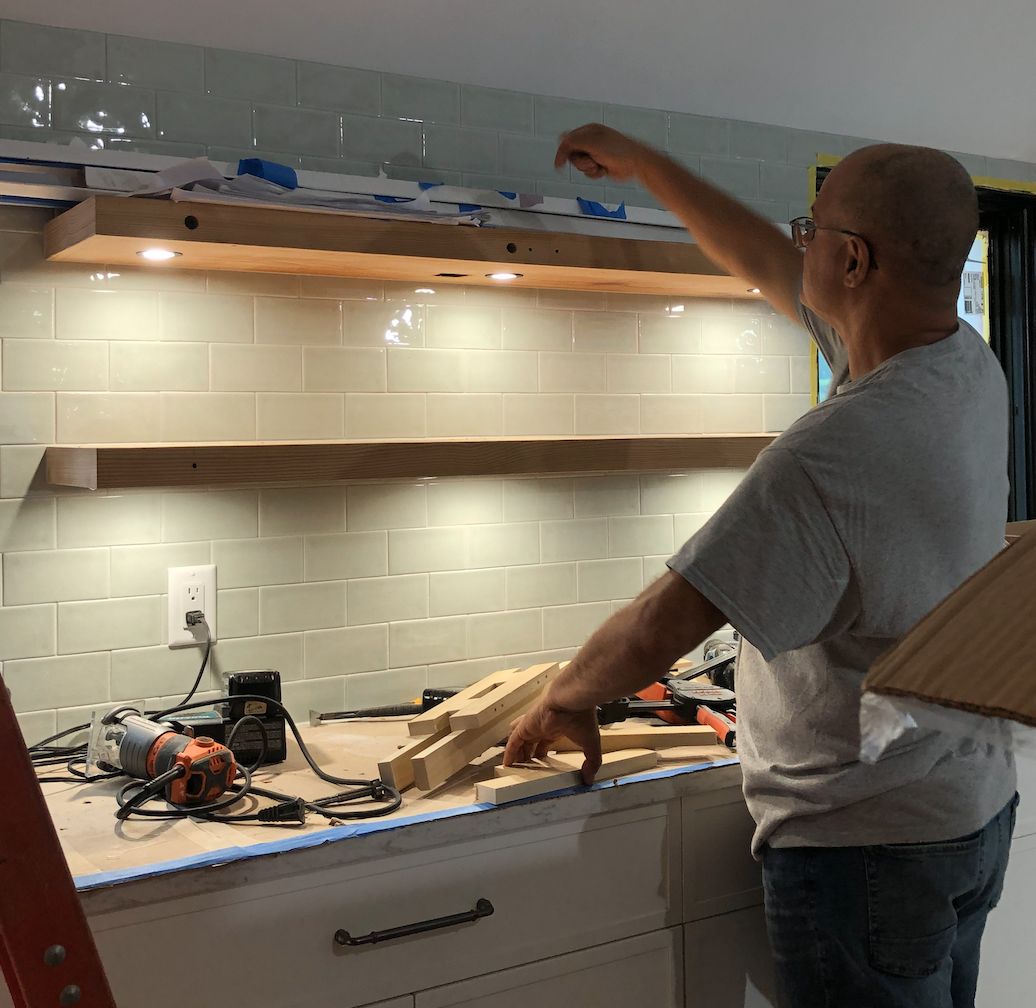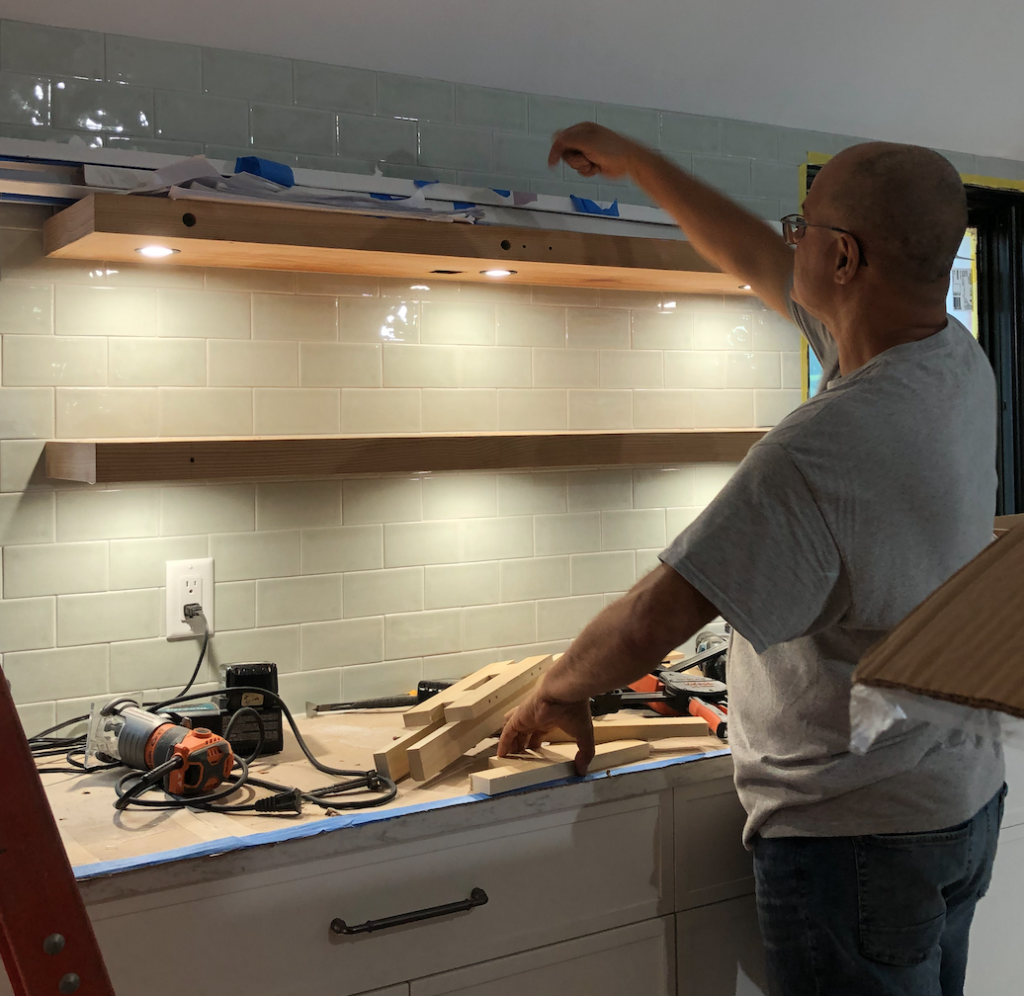 August 23rd, 2021
Jose installed puck lights inside our floating shelves. It's the little conveniences like these that bring life to a new kitchen.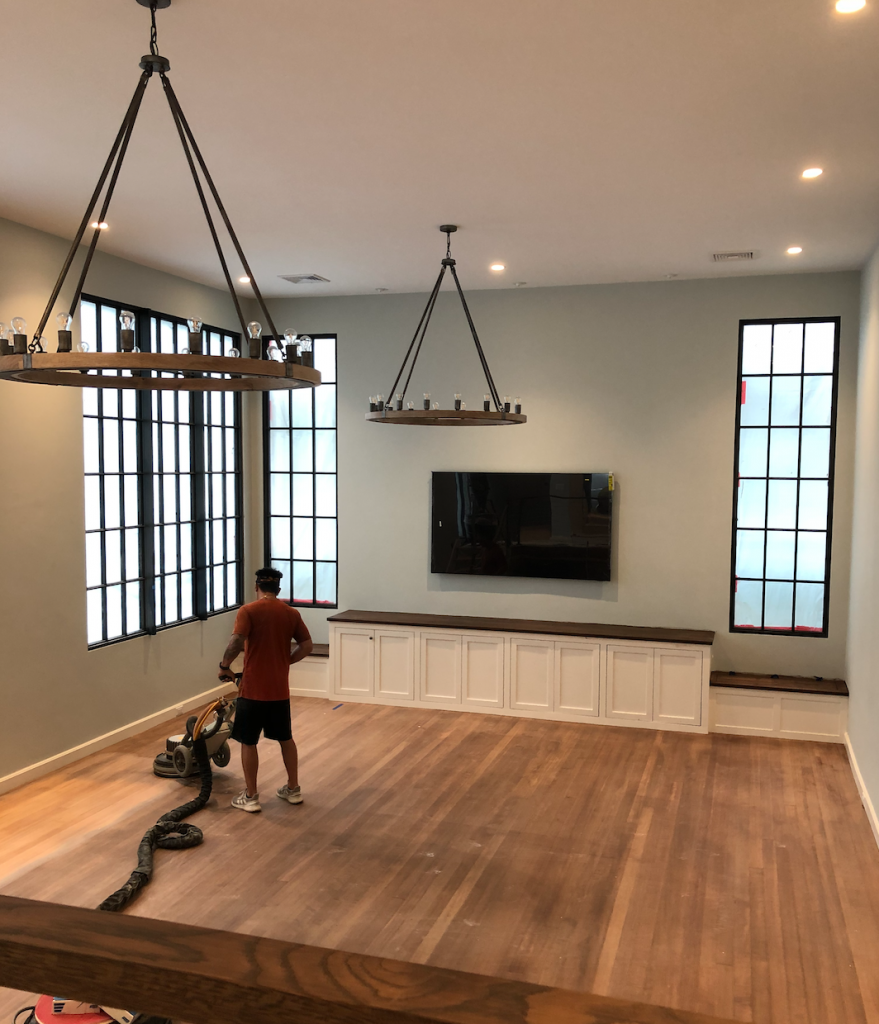 August 20th, 2021
G & S Wood Floors finishing up the beautiful heart pine in our great room.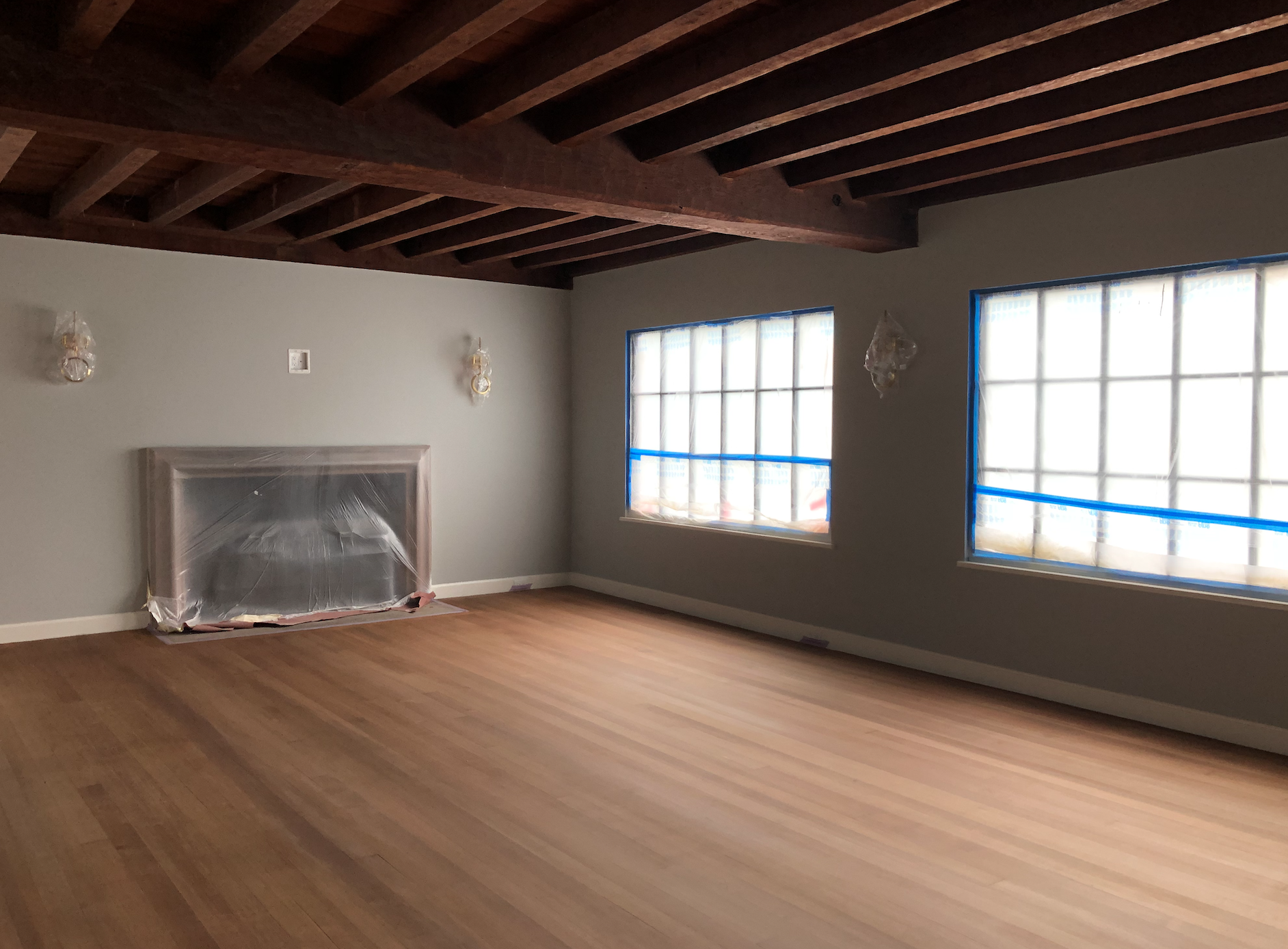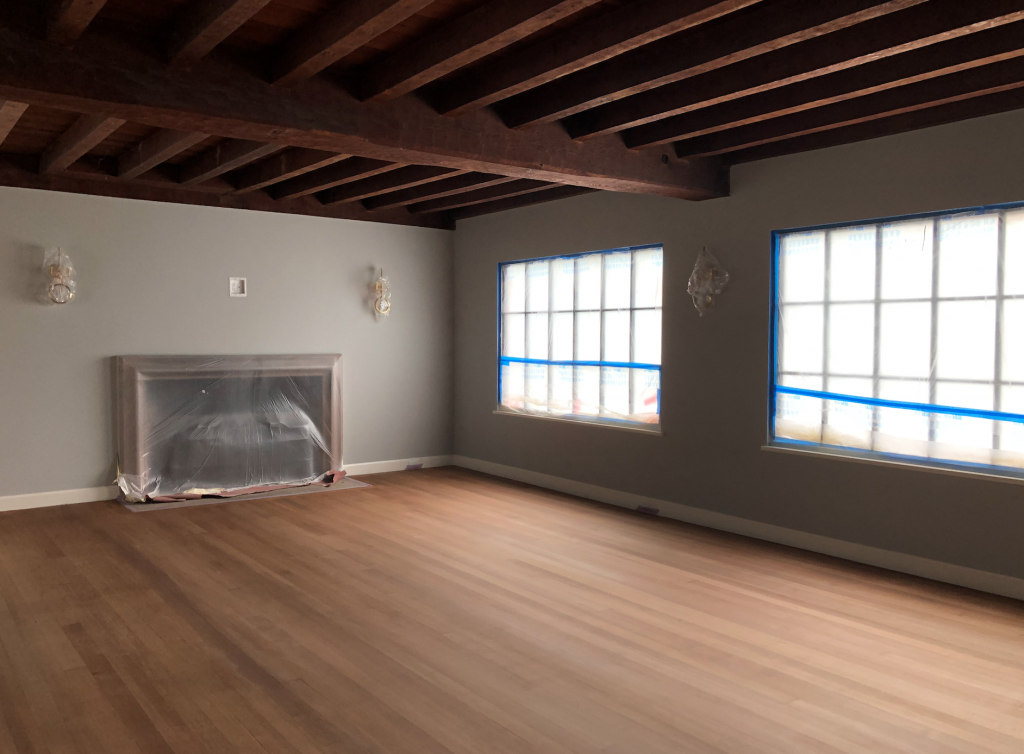 August 9th, 2021
Heart pine flooring is polished and light fixtures are installed here in Belmont.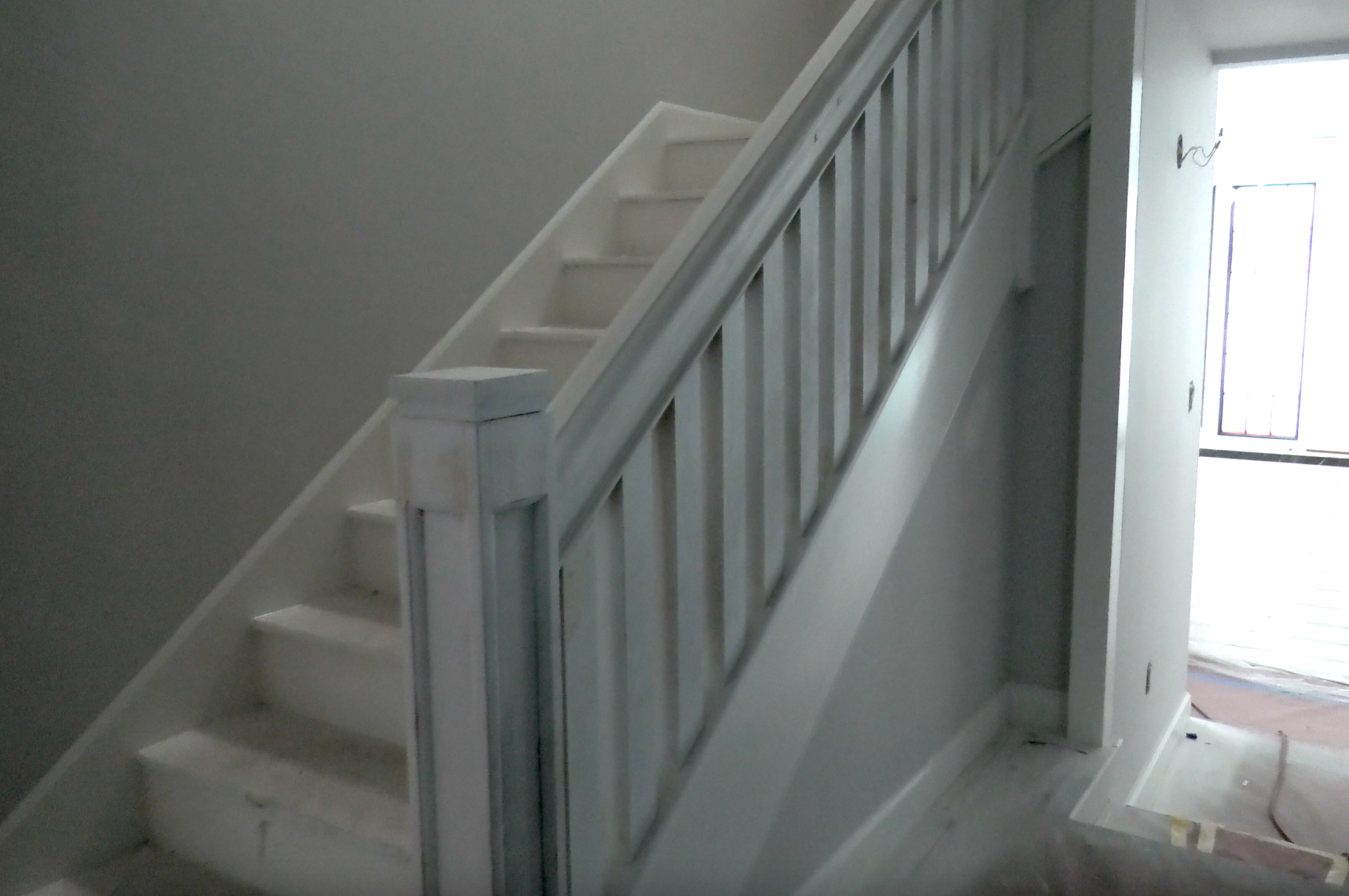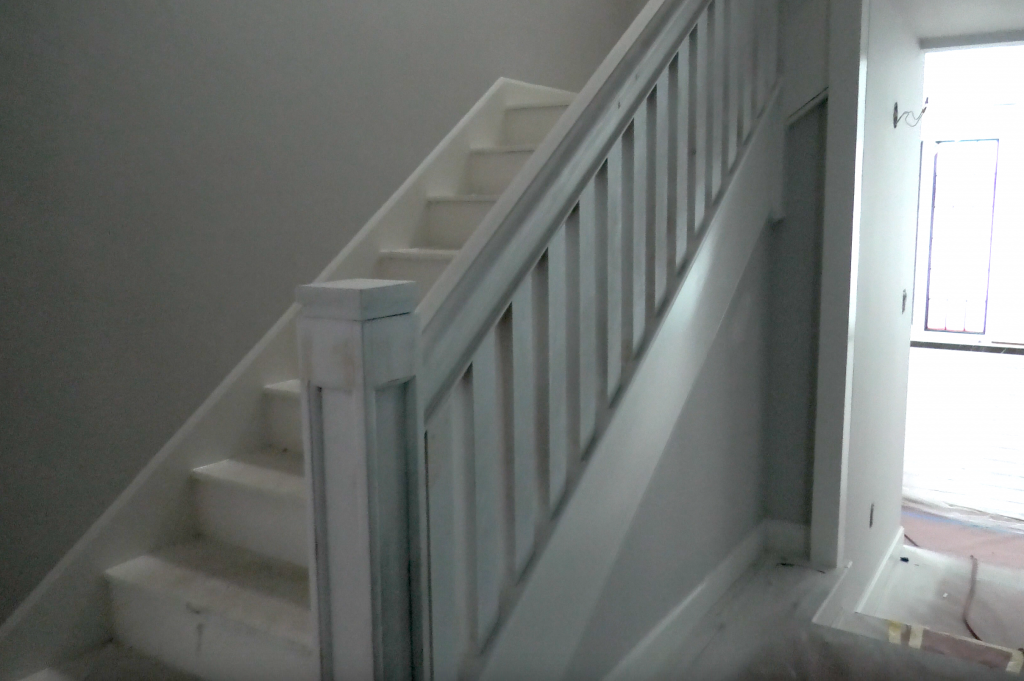 July 29th, 2021
This is the week of interior painting across the entire house. It's truly the home stretch.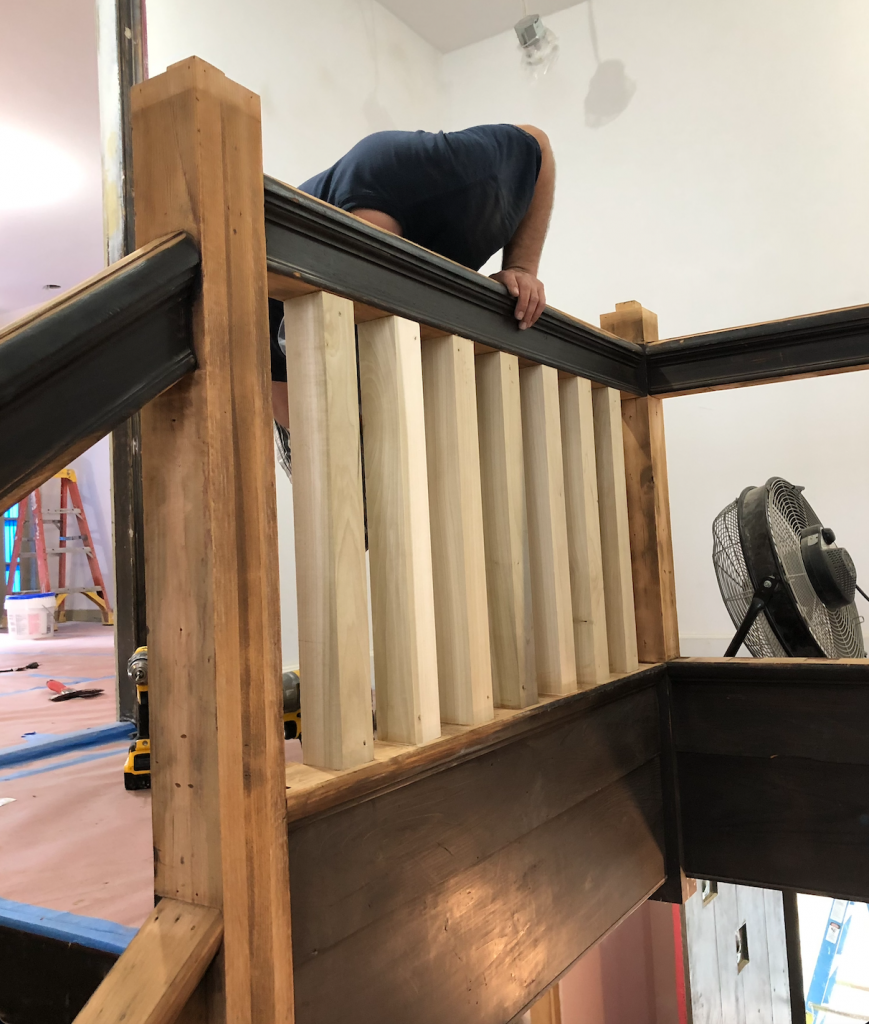 July 13th, 2021
We finally pulled out the old wood spindles and are replacing them with square slats. This will fit much better with our contemporary design.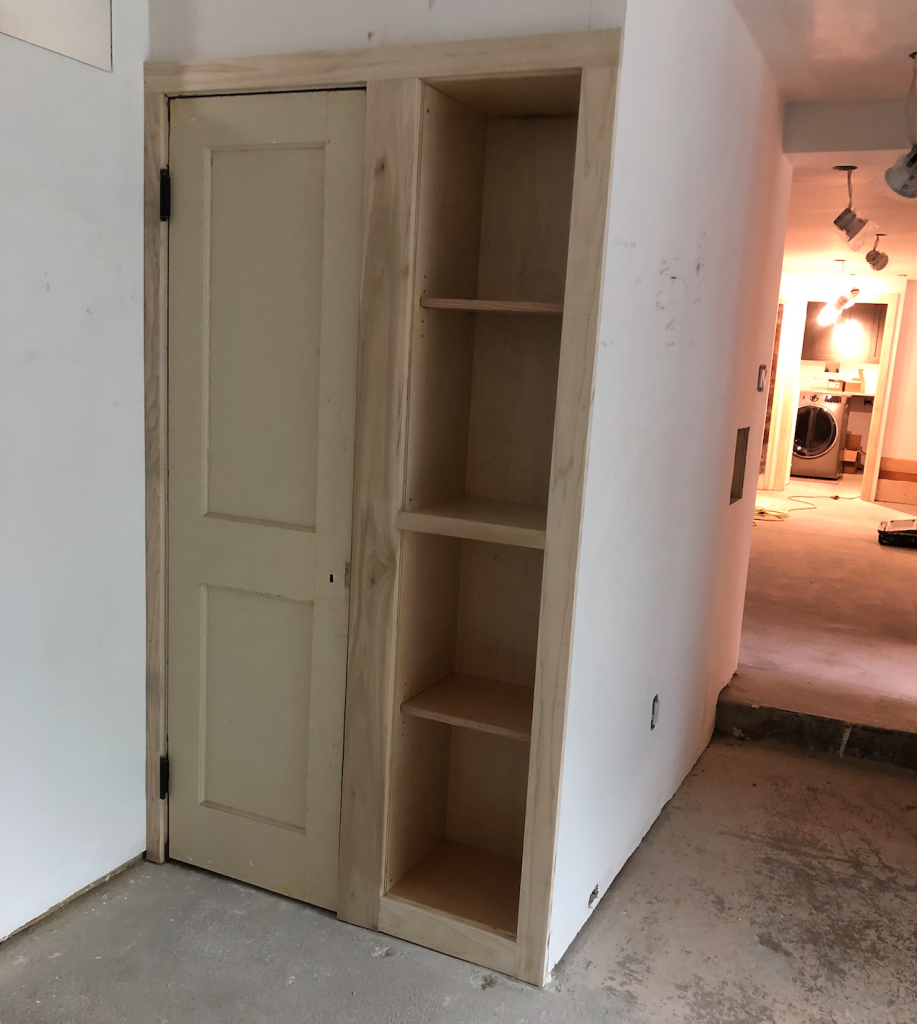 July 9th, 2021
Our finish carpenter Wastrom did a great job on these shelves for the downstairs exercise room.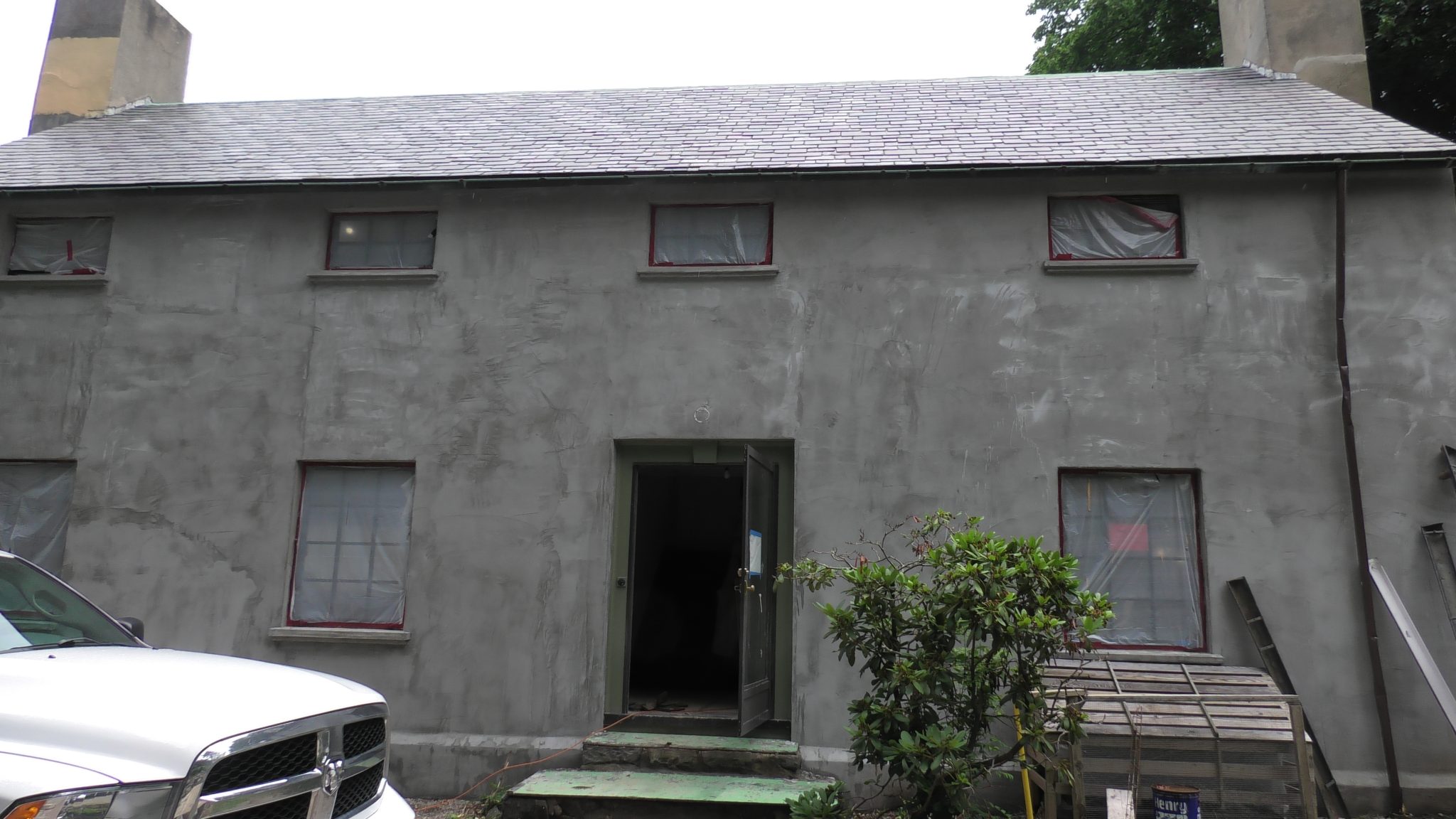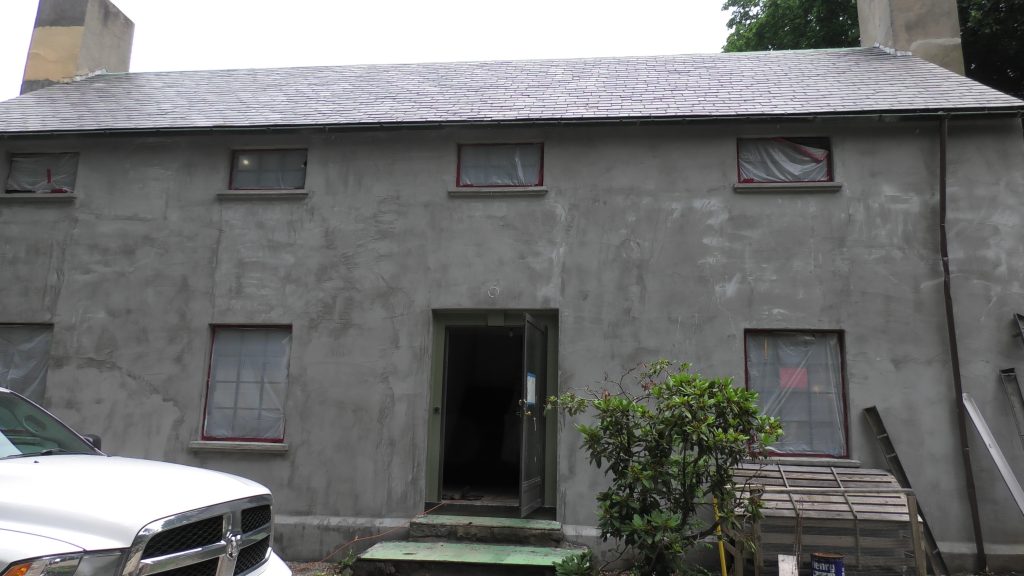 July 6th, 2021
Stucco is taking shape on the front of the house. A new awning is coming shortly.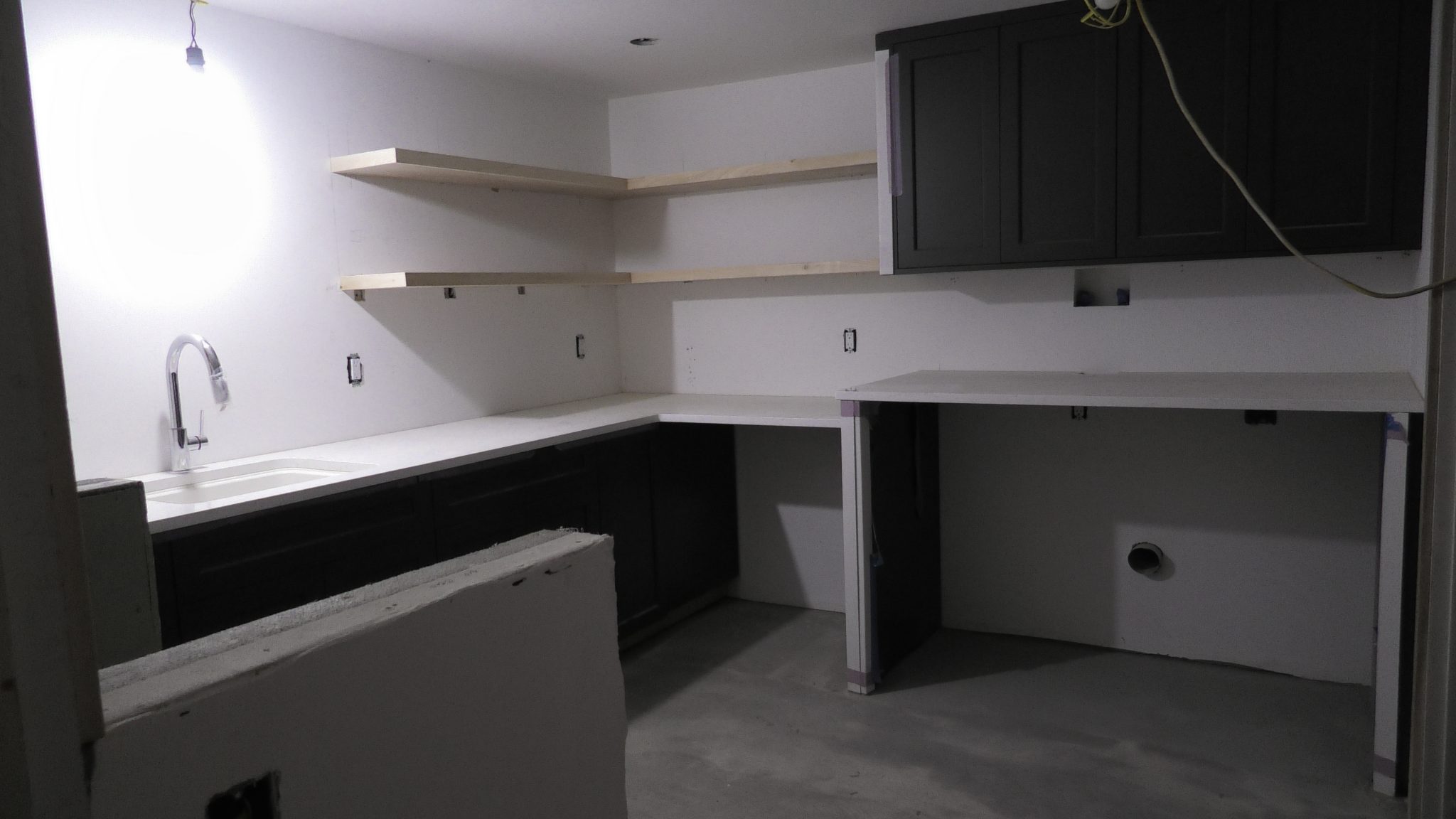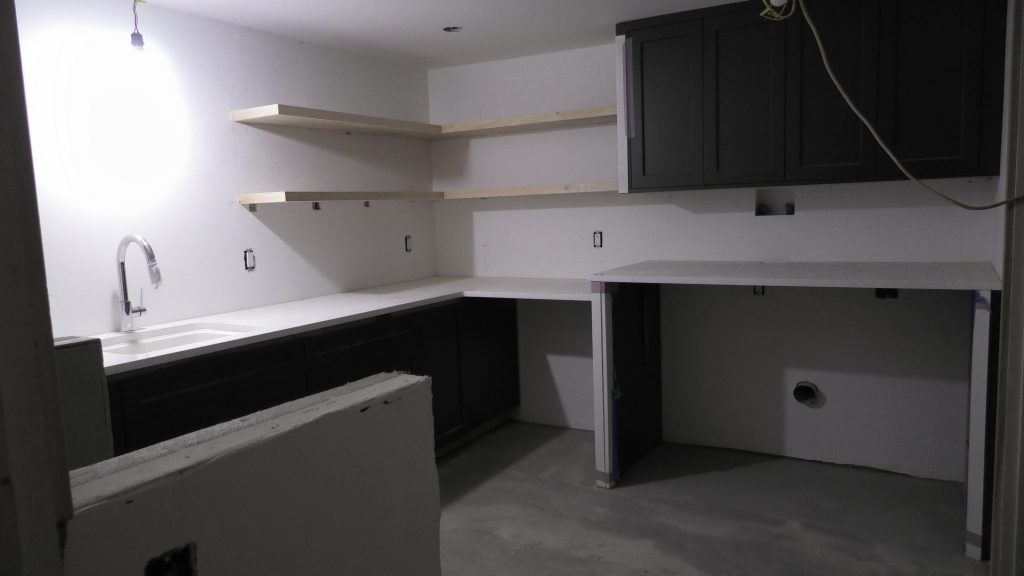 July 2nd, 2021
Floating shelves and cabinetry are now in our downstairs laundry room.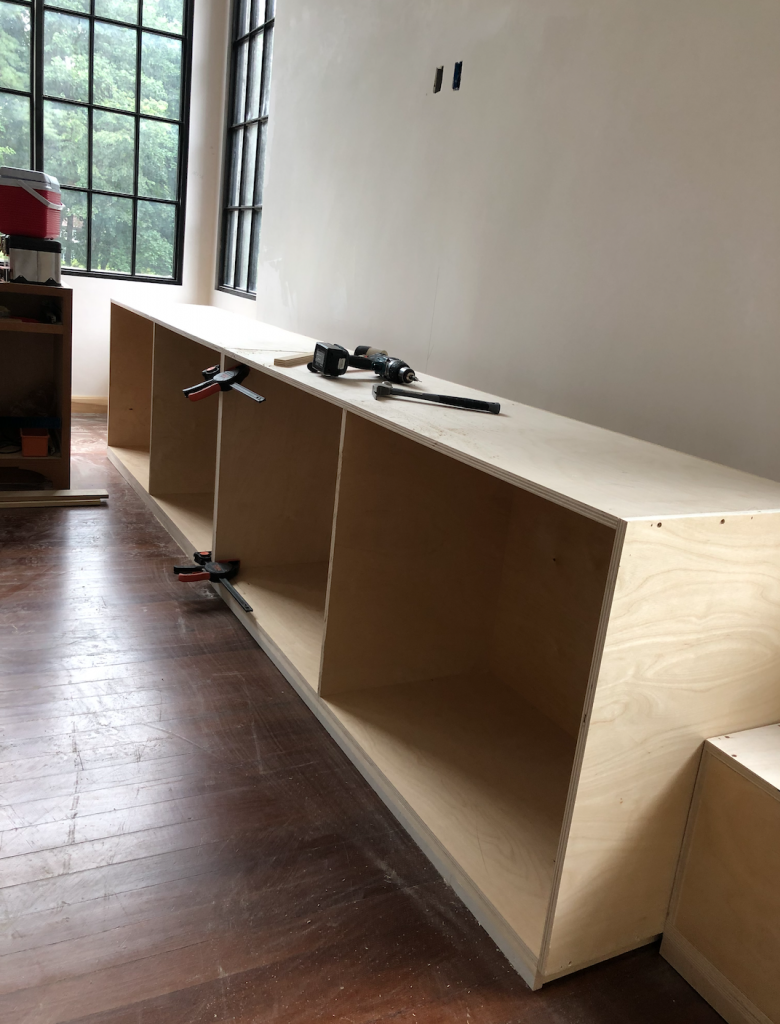 June 25th, 2021
Shelving in the great room is being built one screw at a time.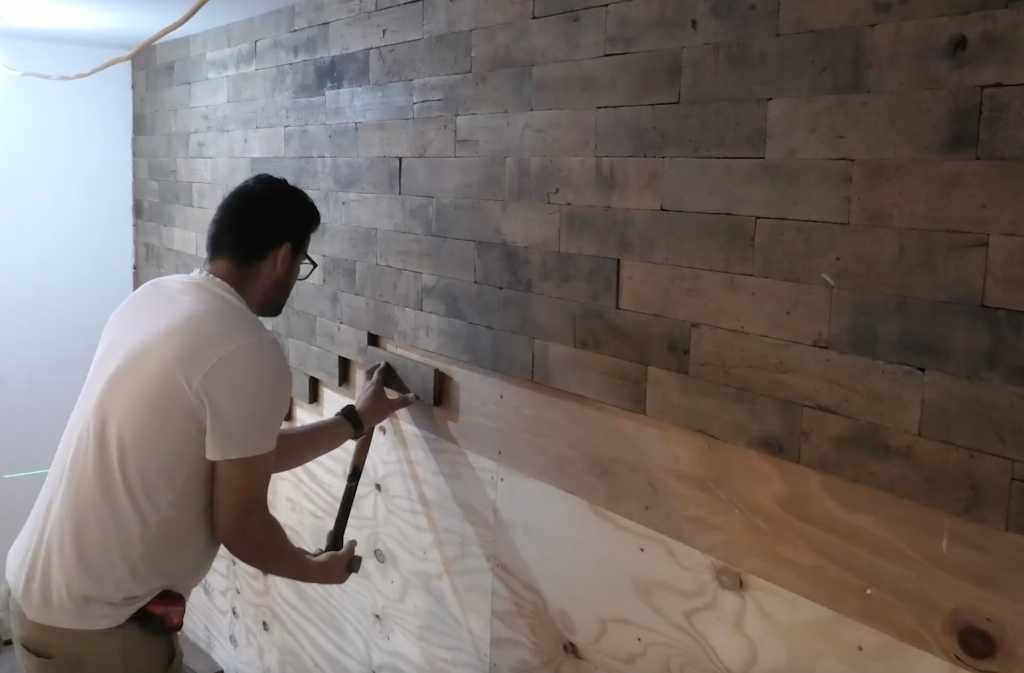 June 21st, 2021
Foundry Maple from Longleaf Lumber getting installed in the mudroom.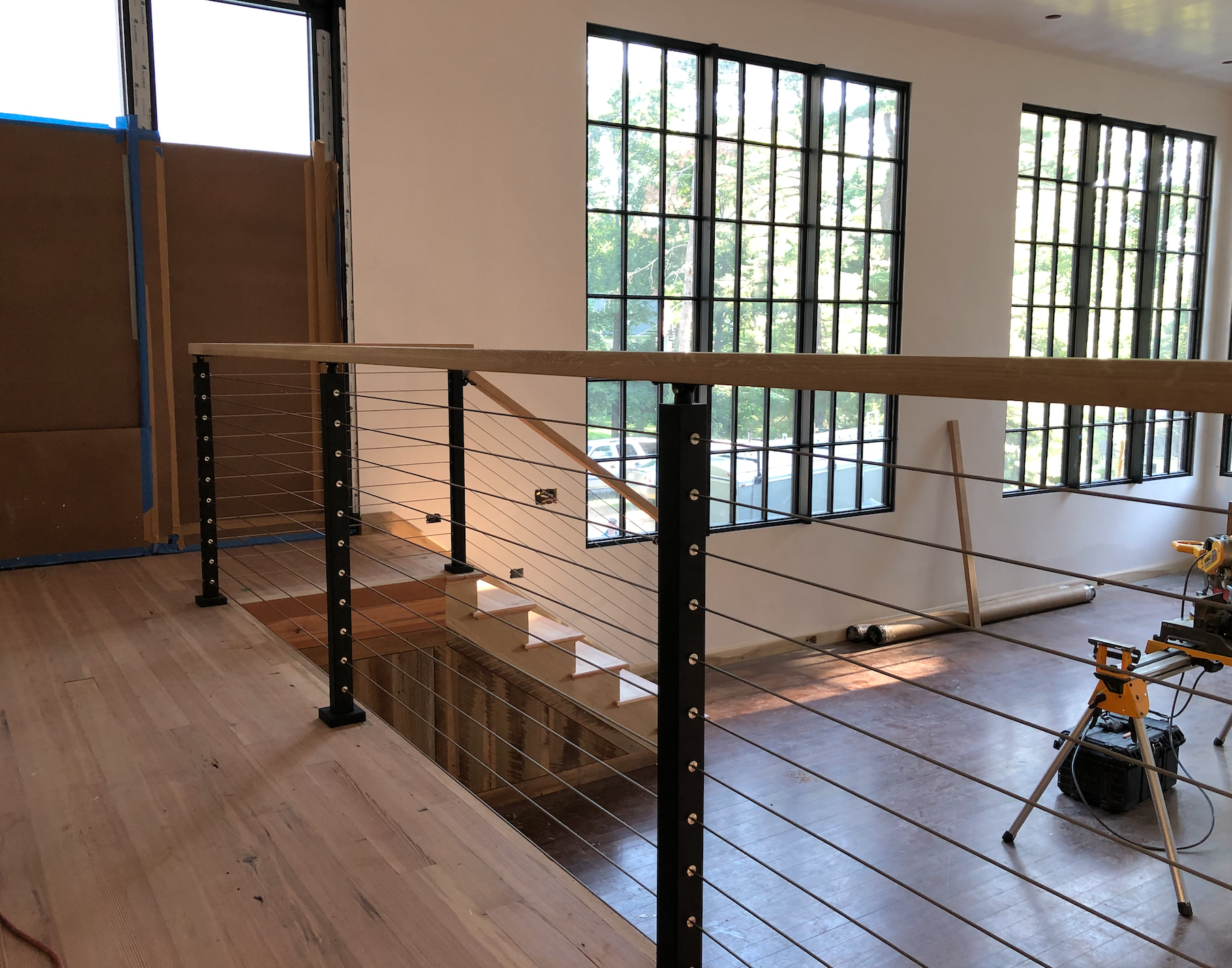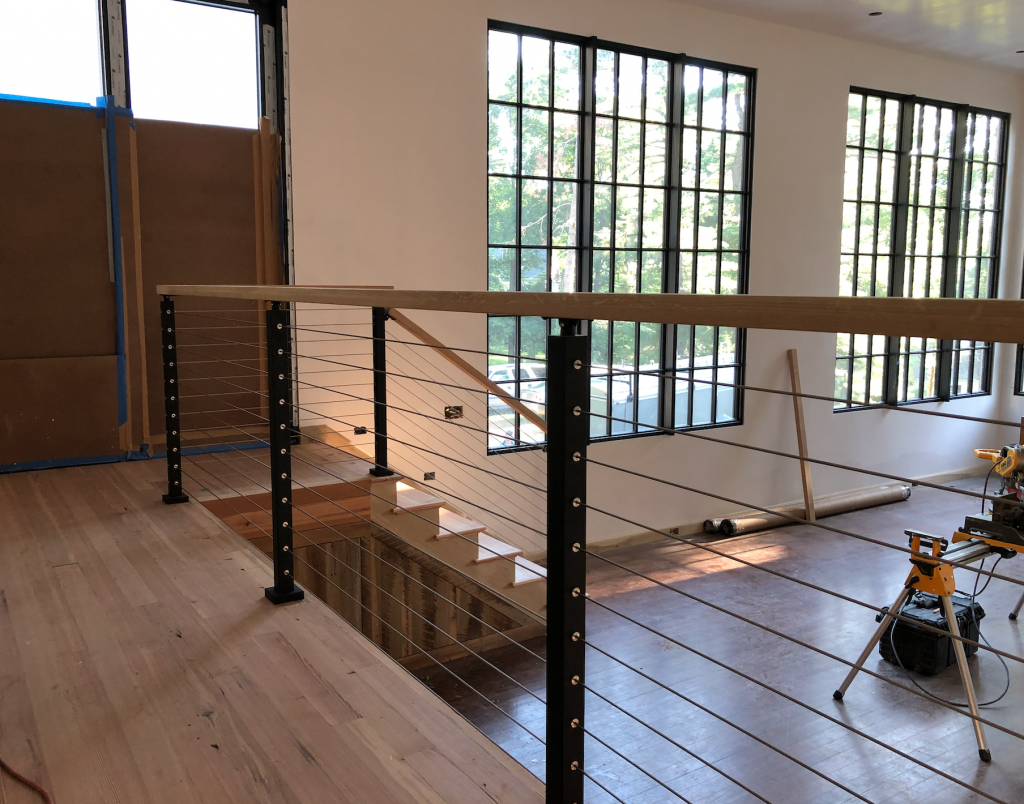 June 17th, 2021
Cable Rail has been installed in the great room!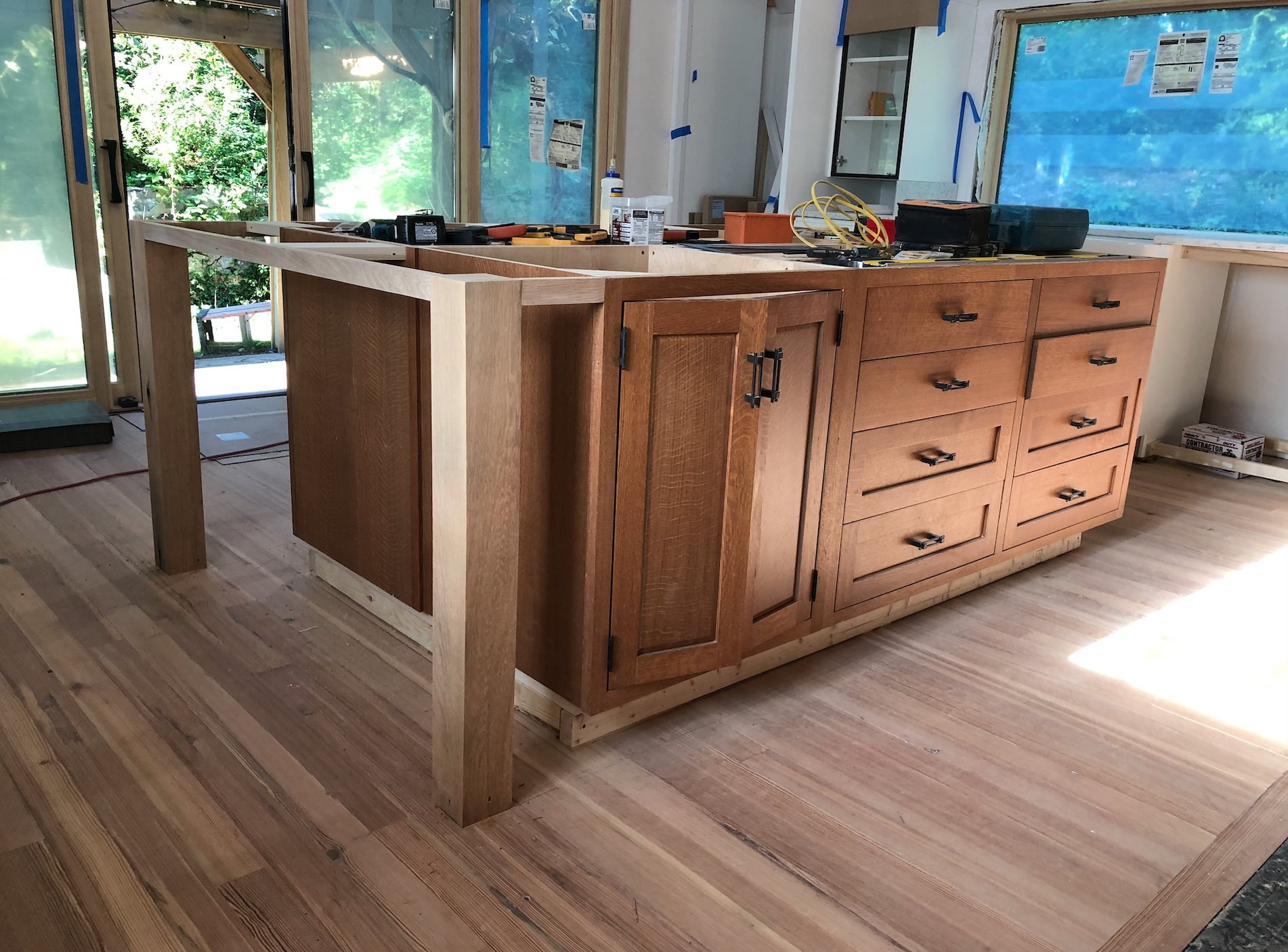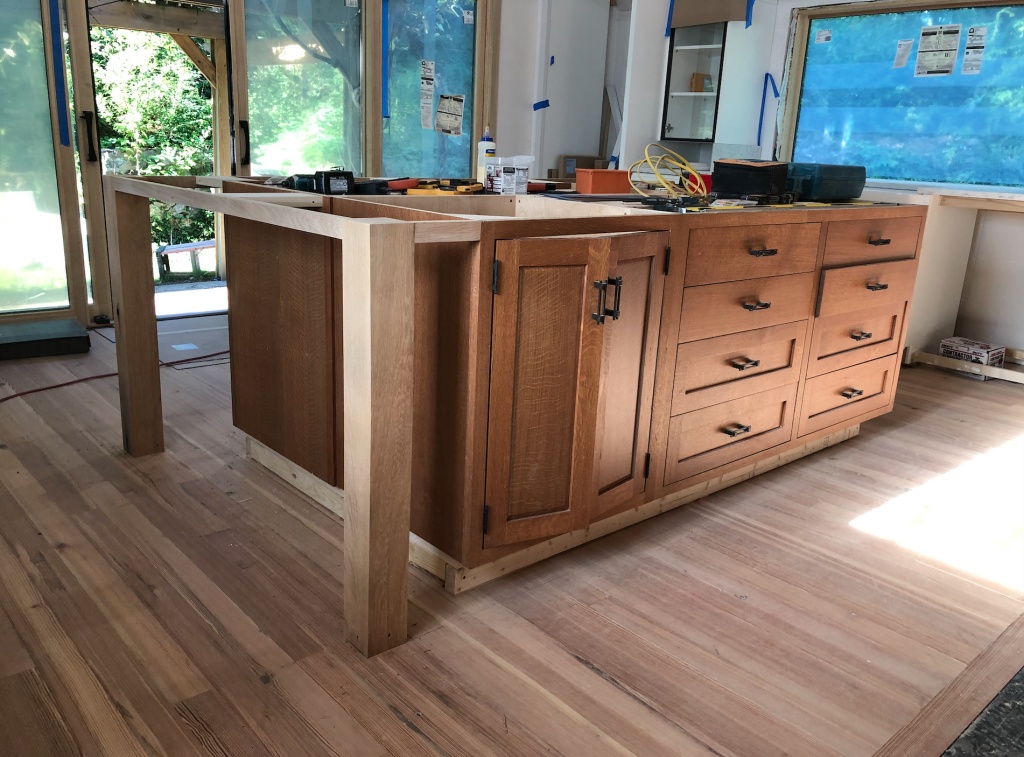 June 11th, 2021
Our custom kitchen island is coming together- soon we will get the countertops and second sink, then finish it with a dark stain.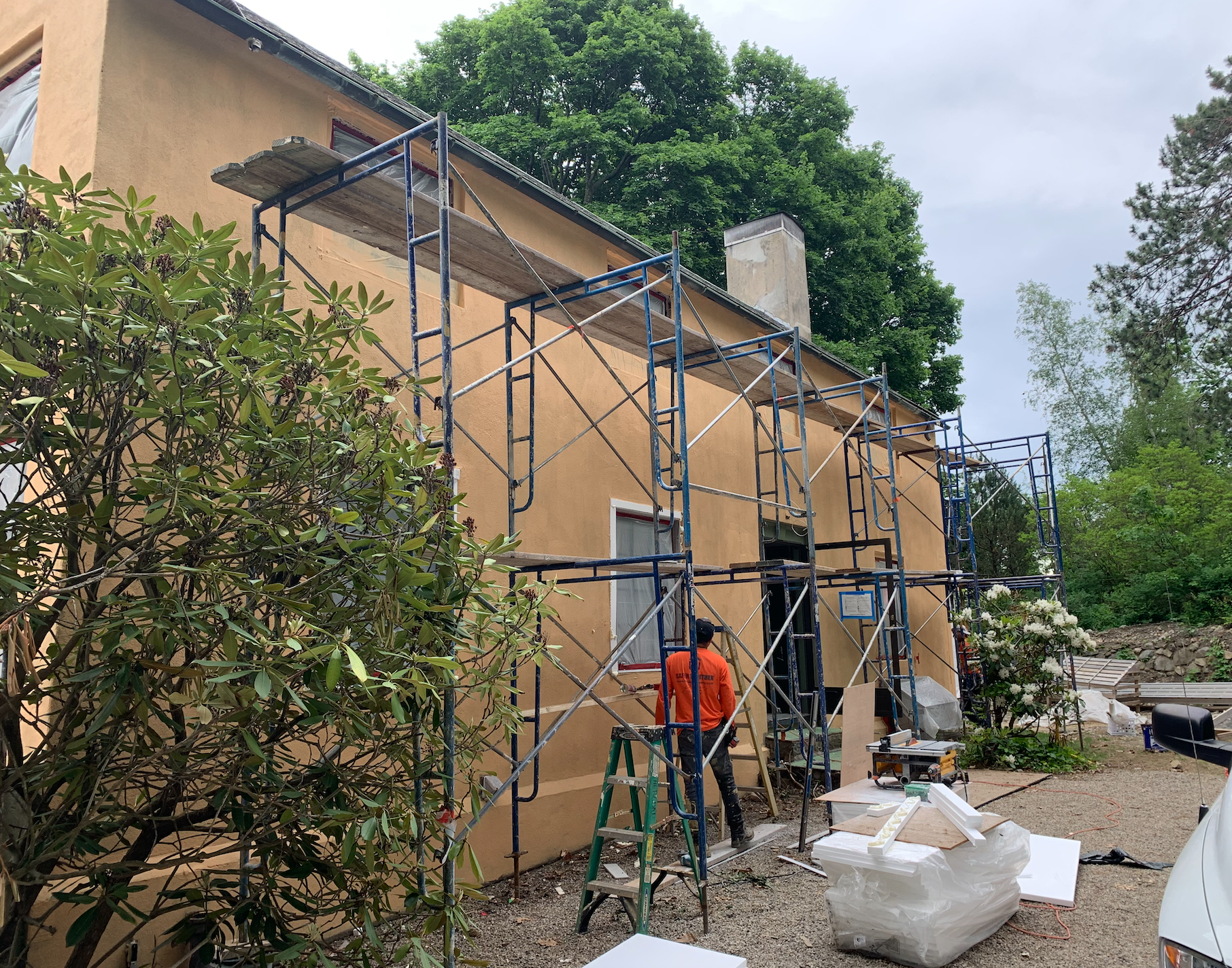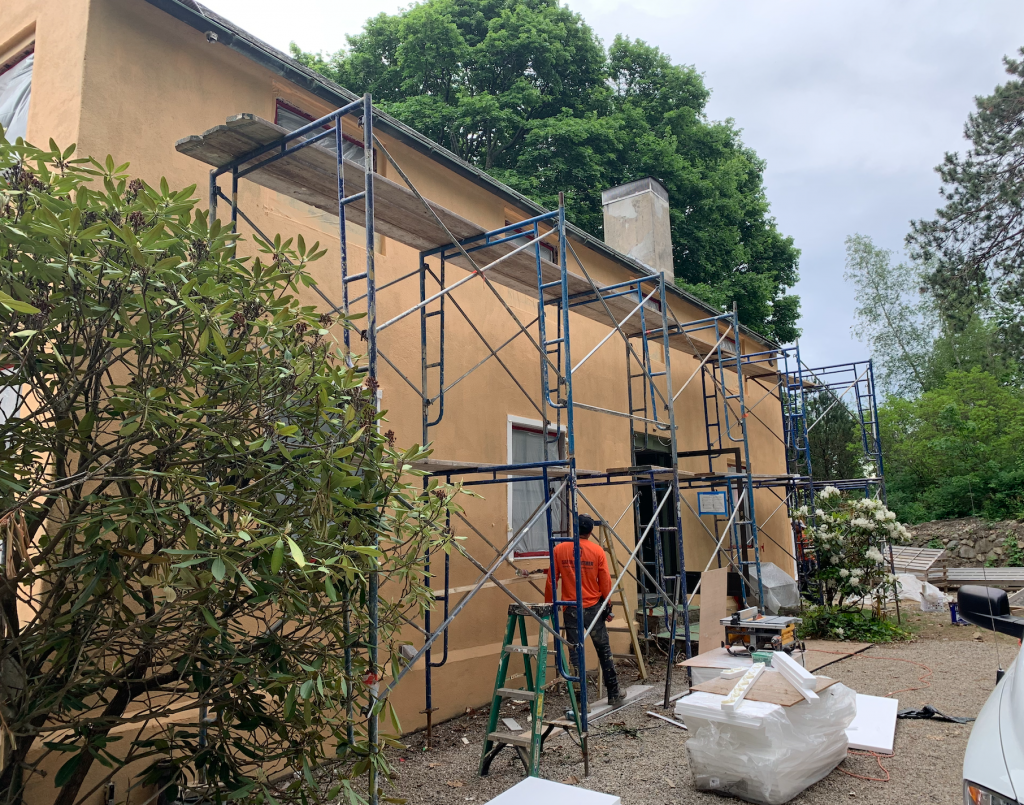 June 3rd, 2021
Hergon Insulation has begun the new stucco exterior here at Belmont Hill.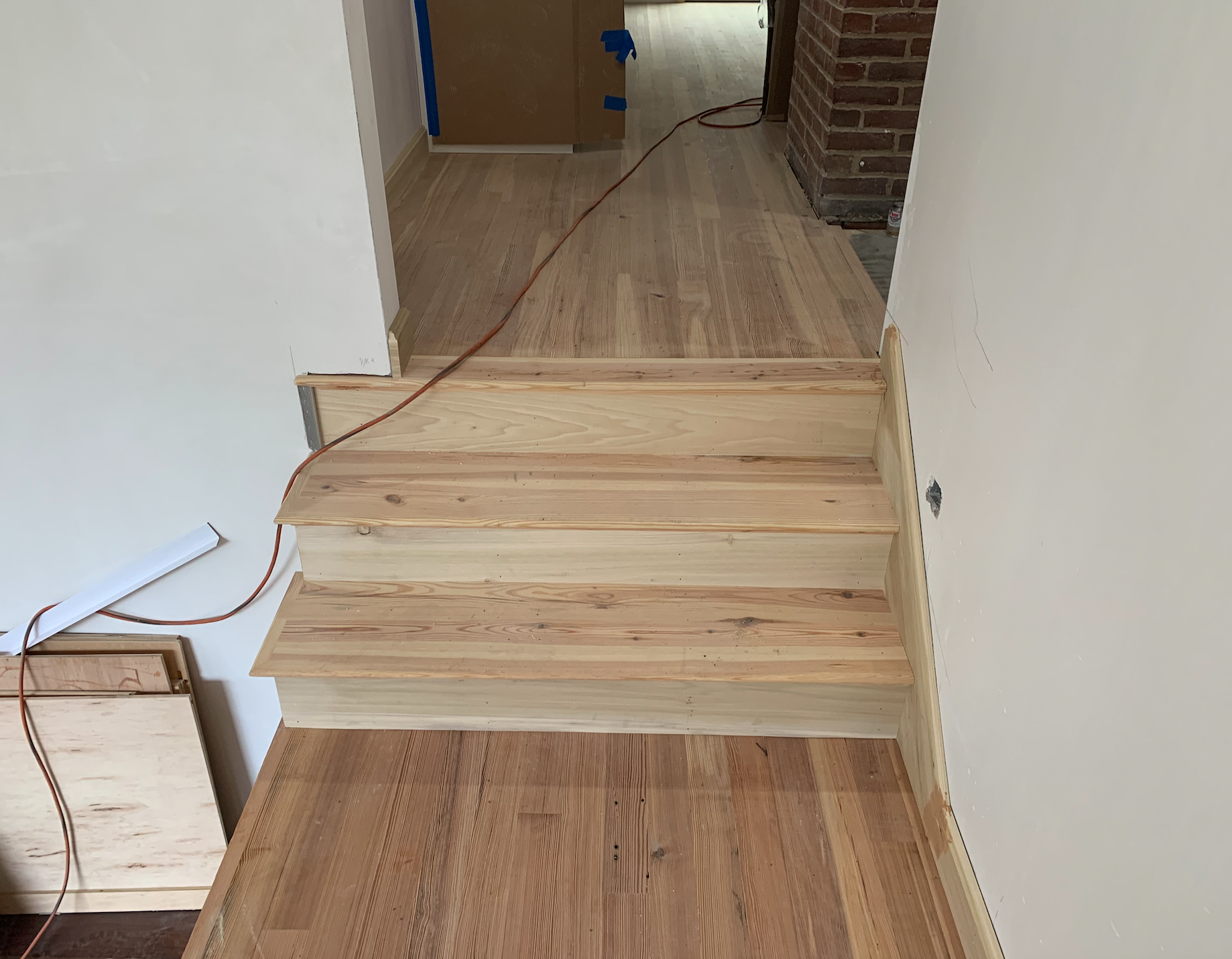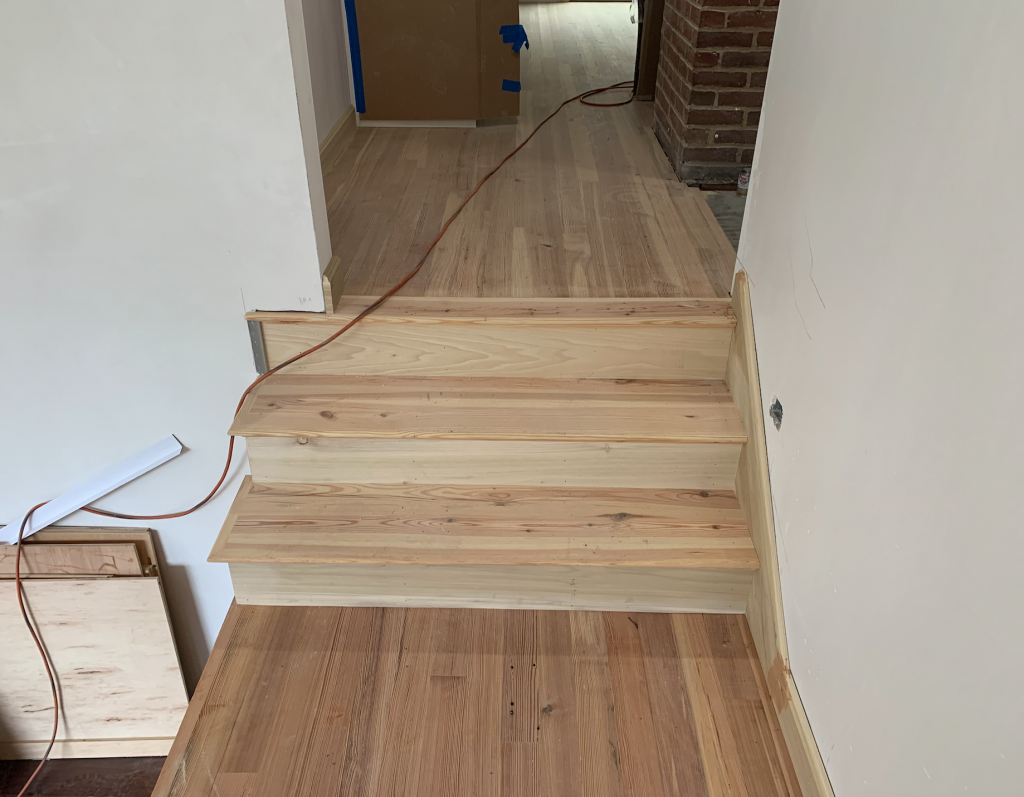 May 27th, 2021
The antique heart pine flooring from Jarmak Inc. is looking great in the main hub of the house.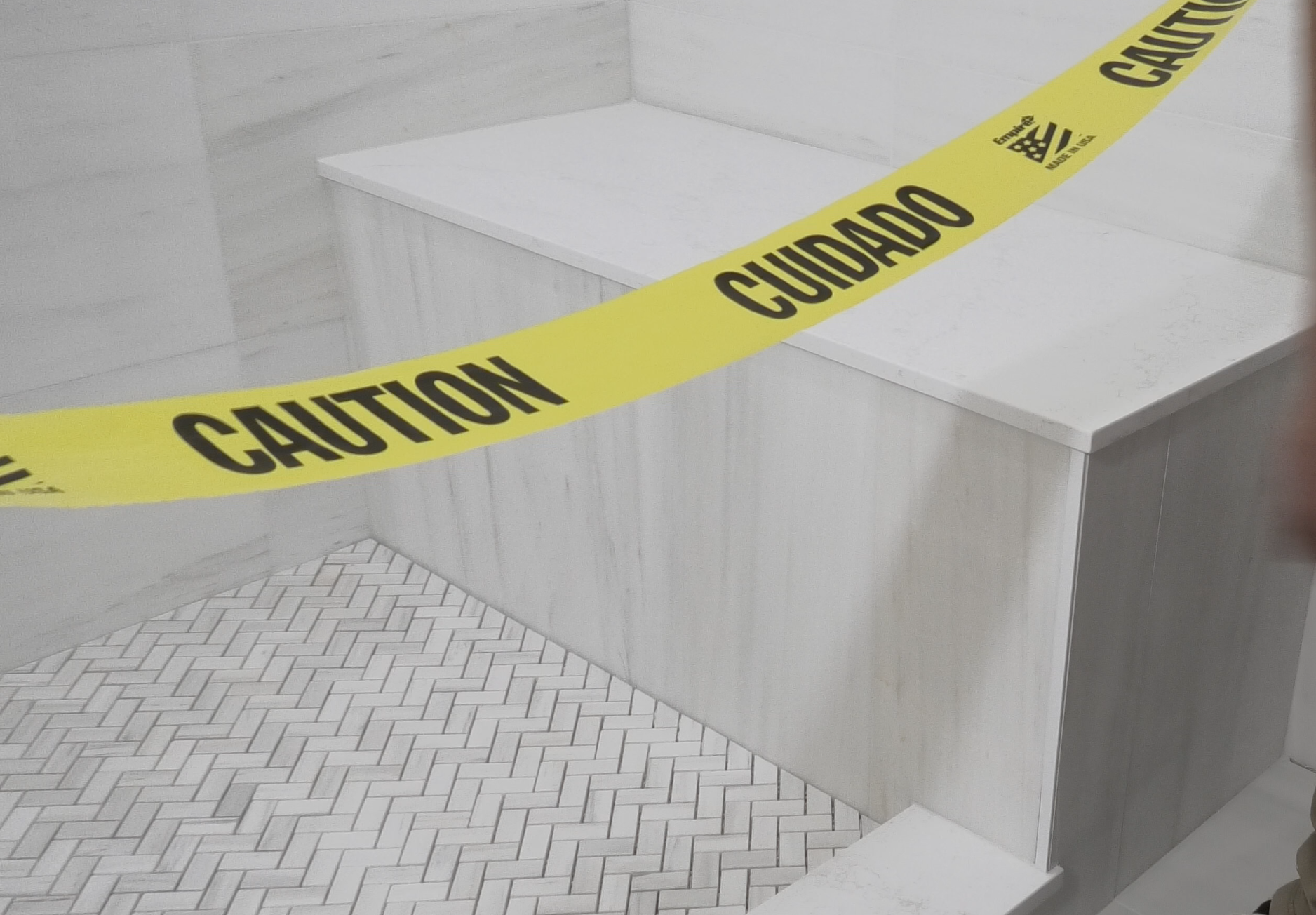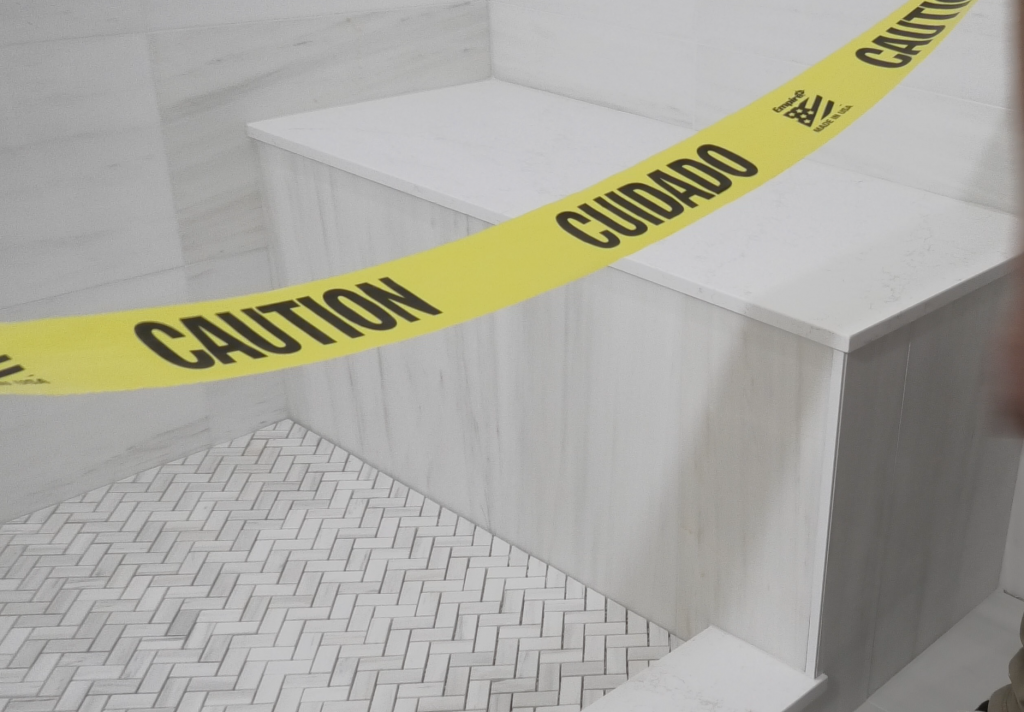 May 18th, 2021
Shower tile in the master bathroom looking very clean this morning.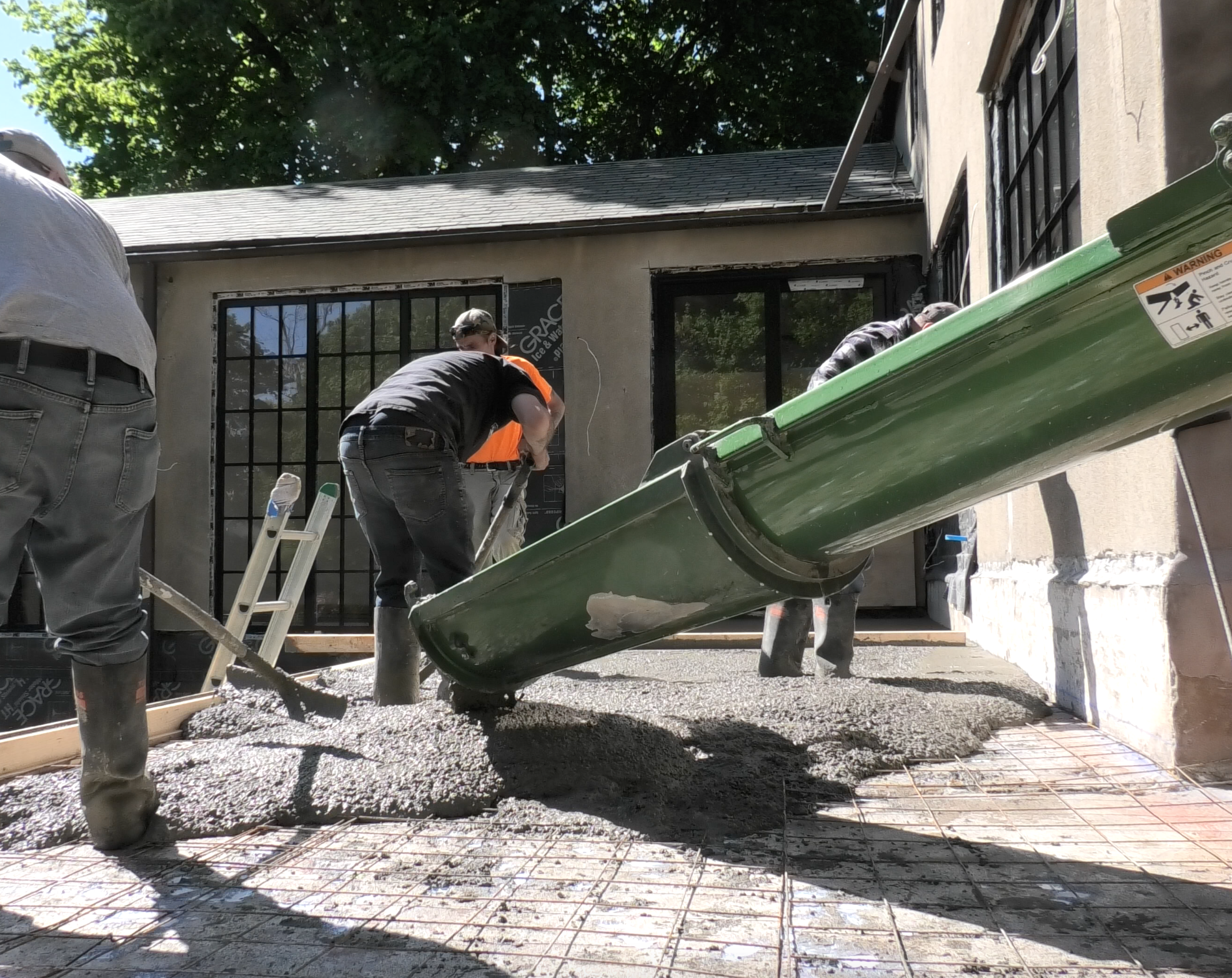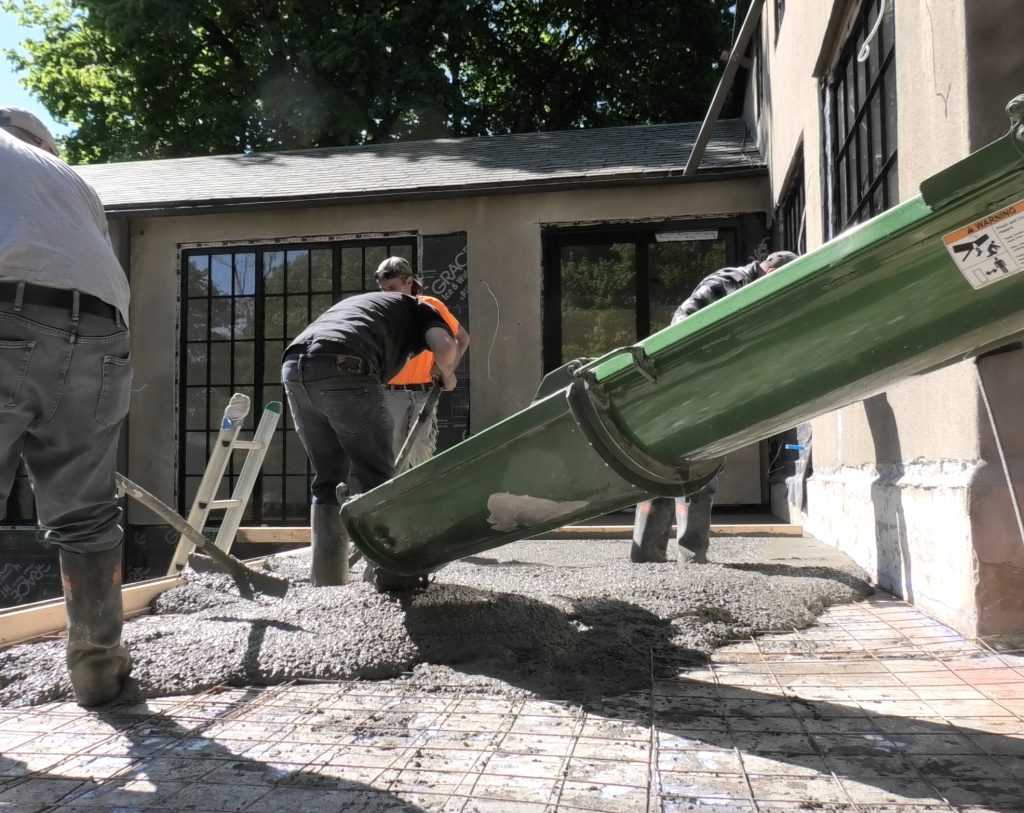 May 11th, 2021
Another great concrete pour by General Concrete Services, this time for our Belmont Hill deck.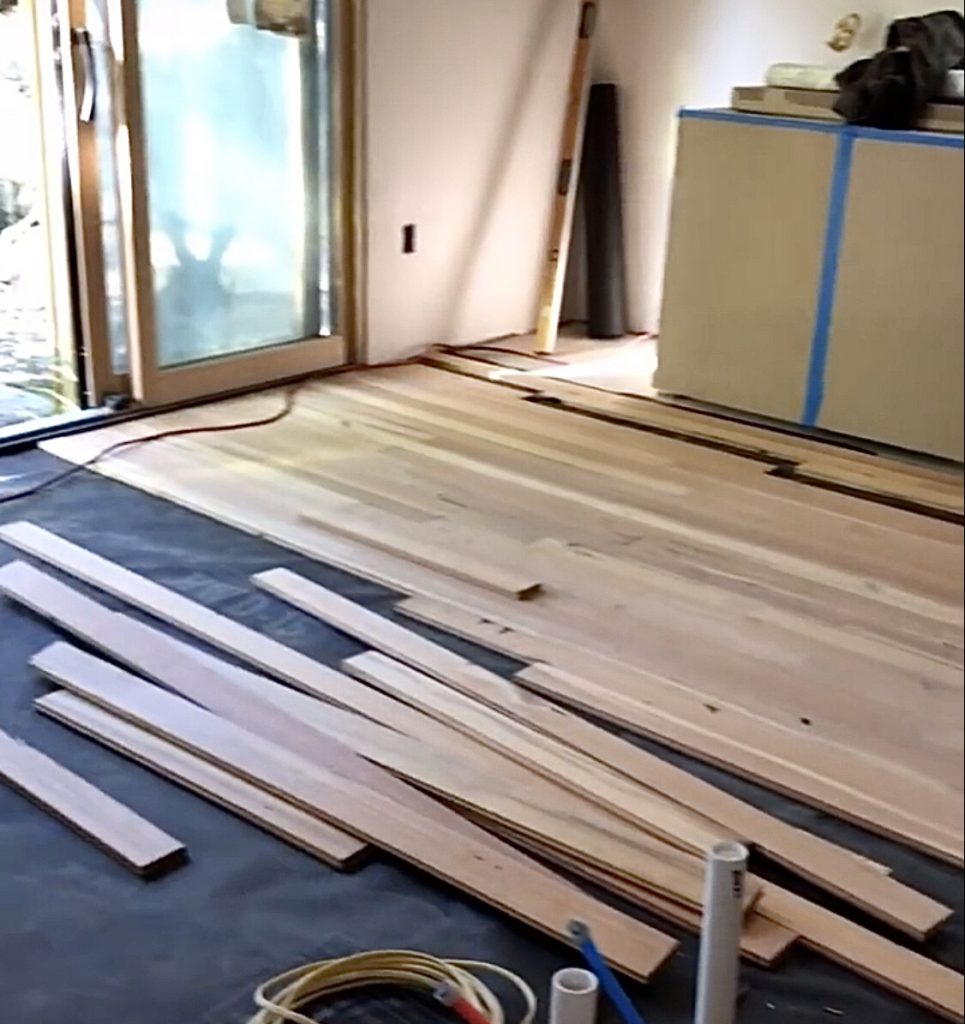 May 7th, 2021
Reclaimed heart pine flooring is getting installed in our kitchen today.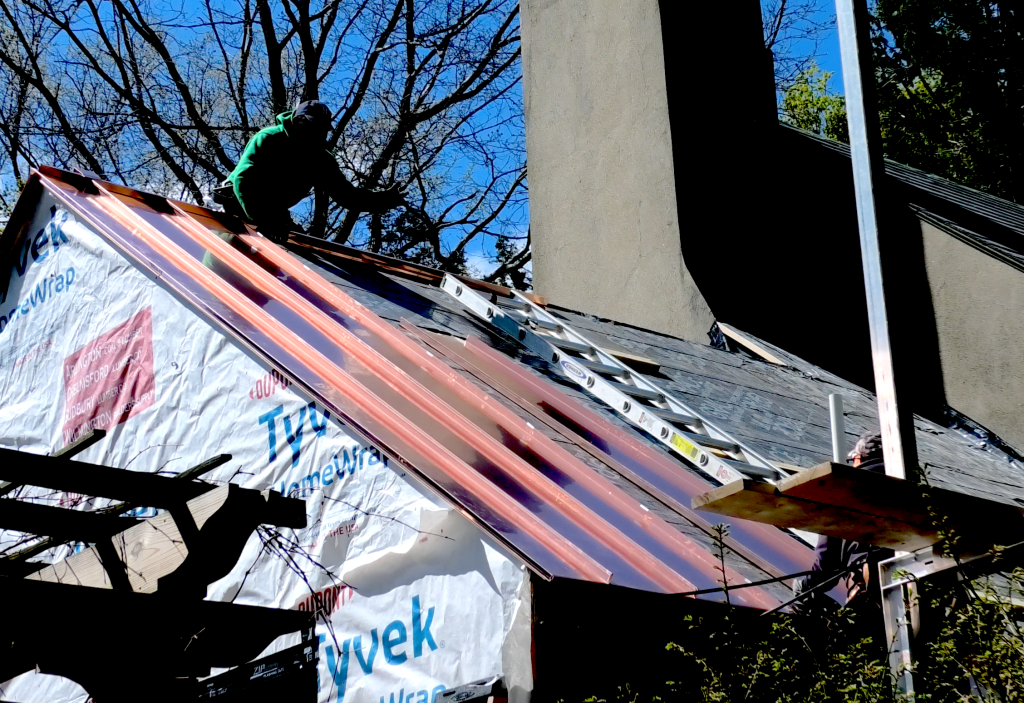 April 23rd, 2021
Installing a brand new copper roof today over the kitchen. Very shiny!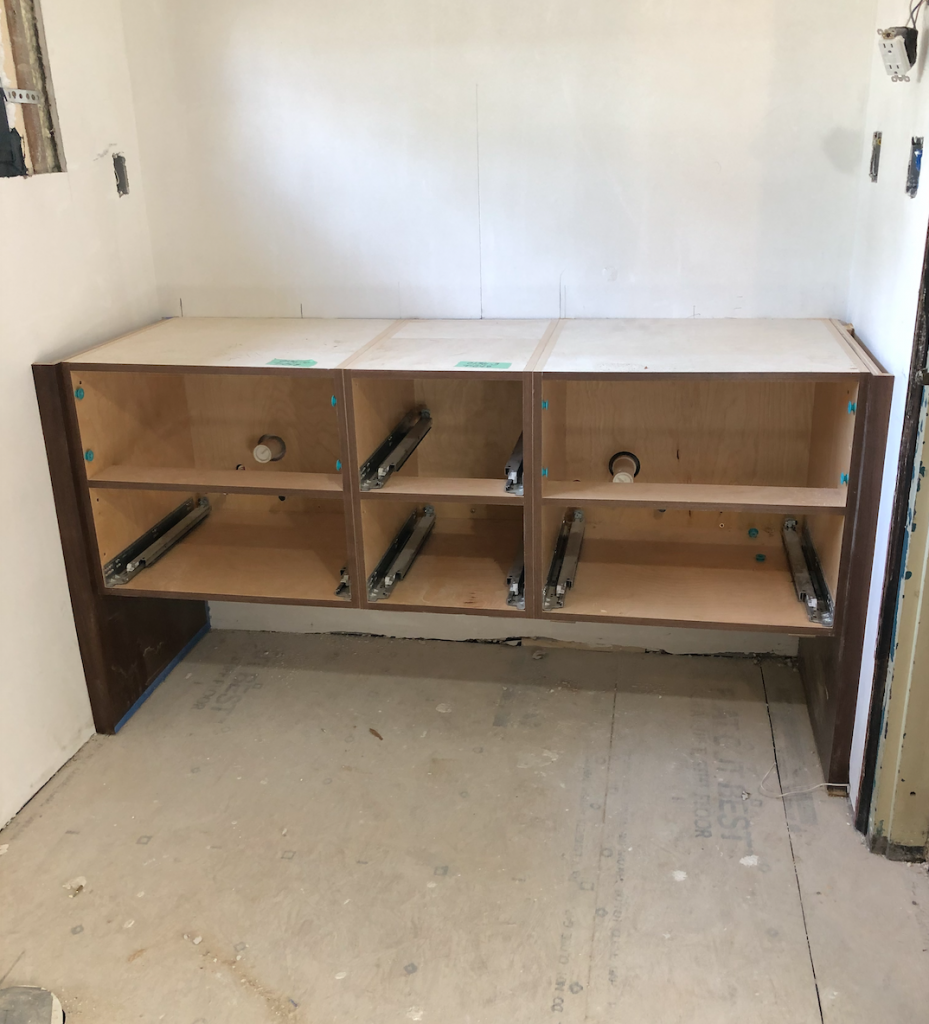 April 19th, 2021
In the process of installing this beautiful vanity for the Master Bathroom.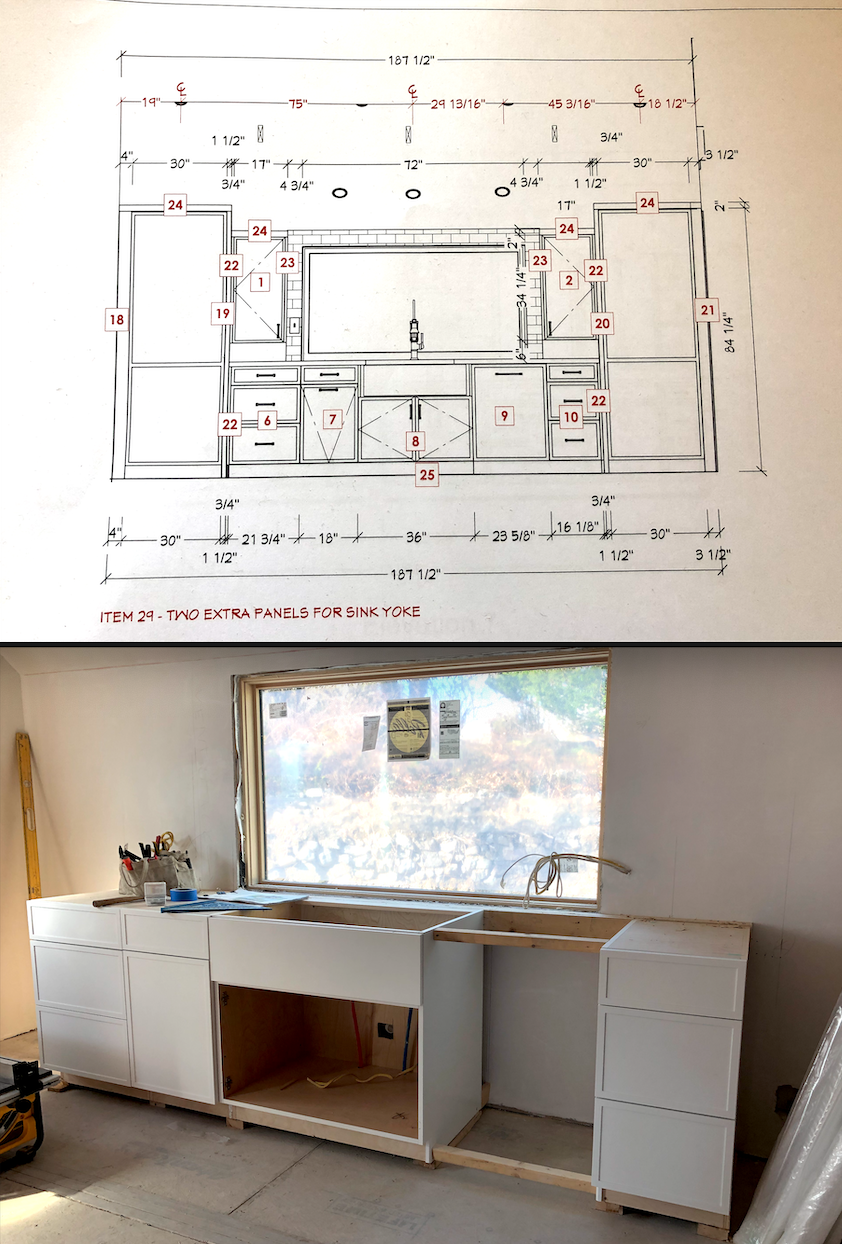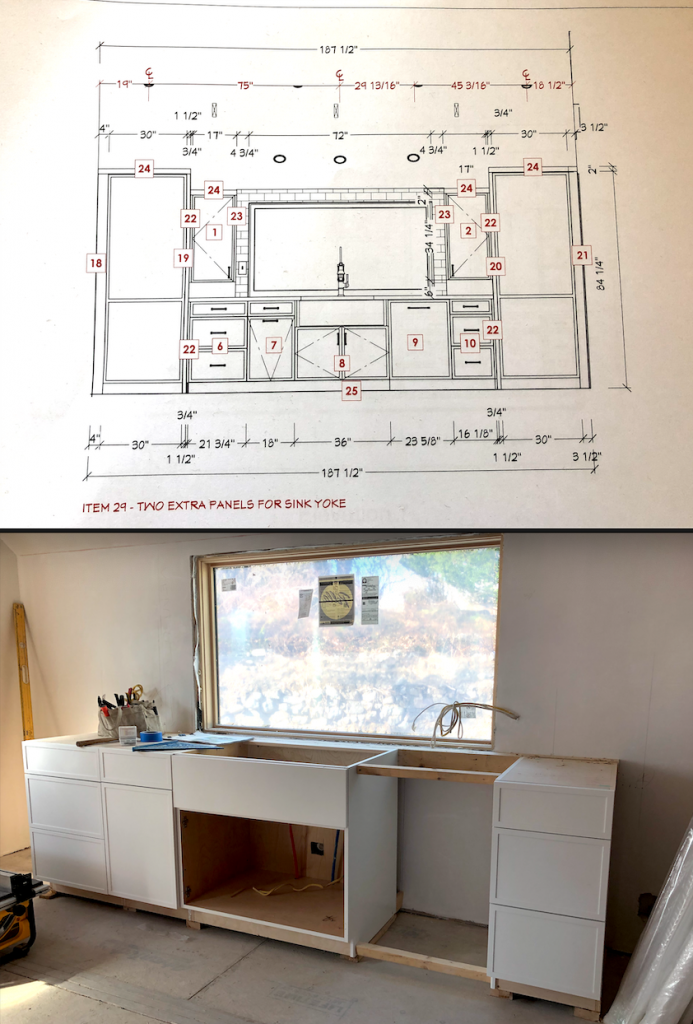 April 9th, 2021
The kitchen cabinetry is going well so far. The plans here at the top show just how elegant this design will be when it is completed.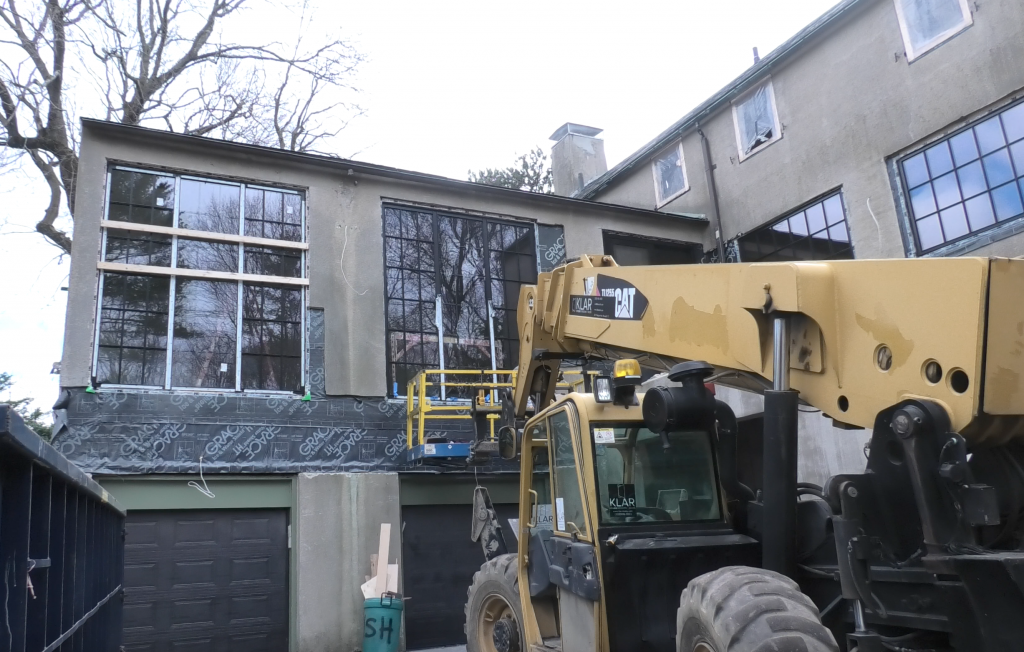 April 2nd, 2021
KLAR has almost finished installing our massive European windows. These things are built to last!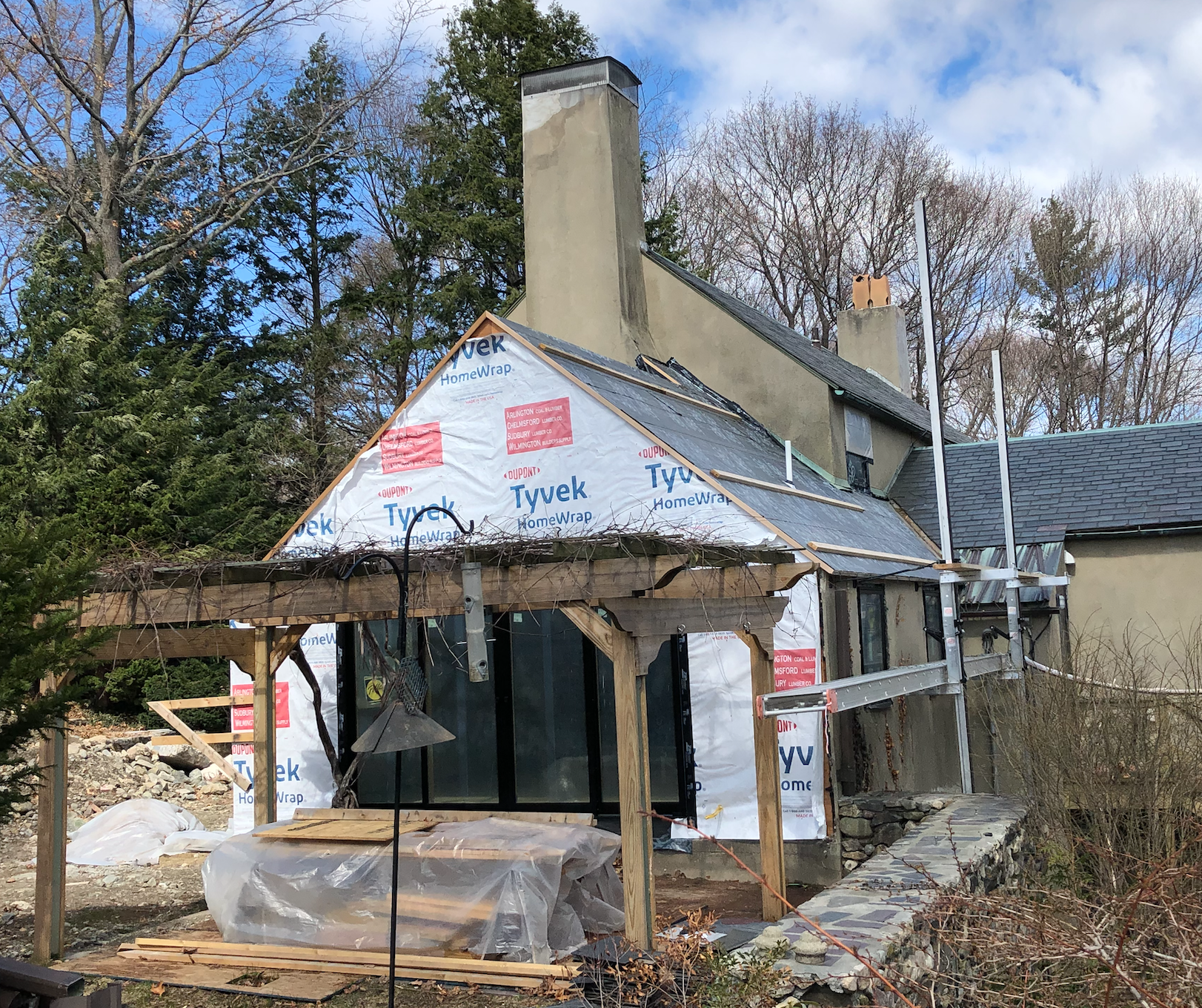 March 29th, 2021
Back of the house already looking a lot different with the Pella slider doors and kitchen addition.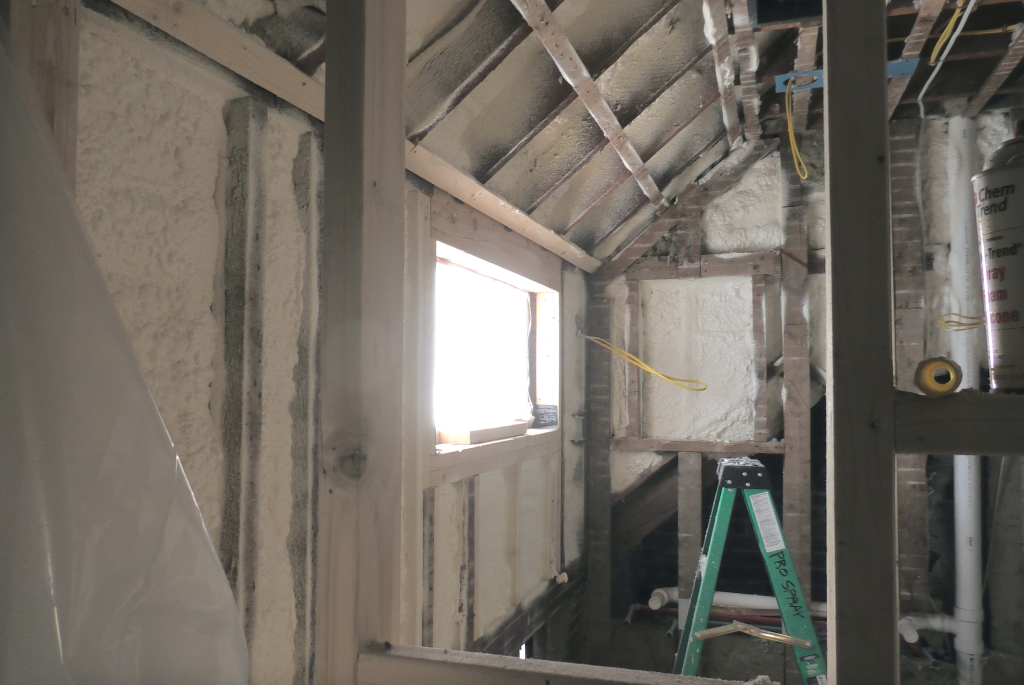 March 10th, 2021
Thank you to Steve Silverman and Pro Spray Insulation for buttoning up our Contemporary Belmont Hill project. The 80 Somerset house is ready for finish!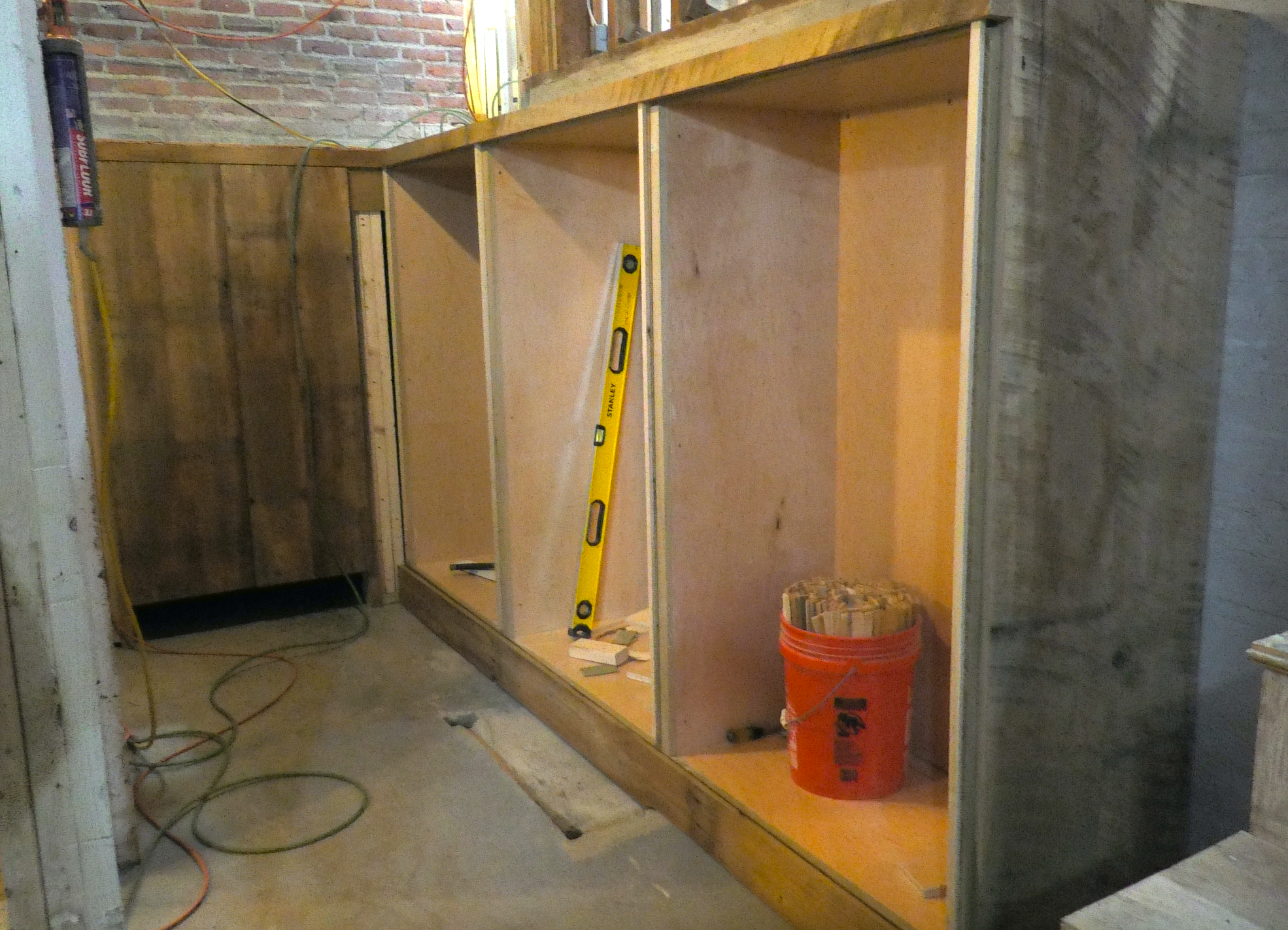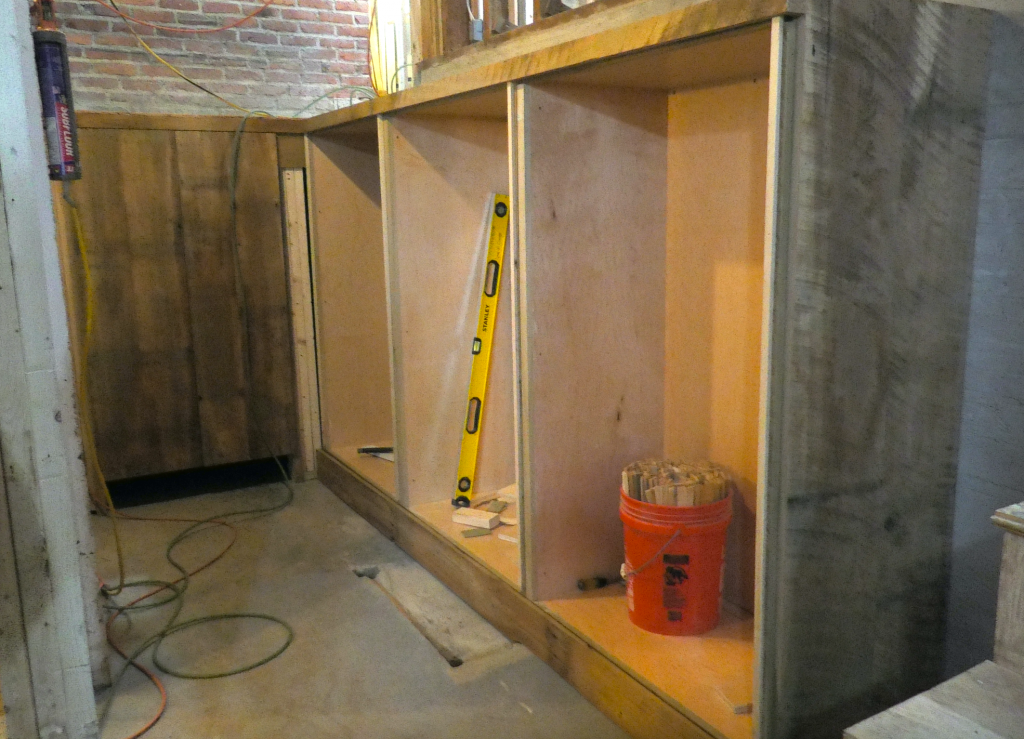 March 5th, 2021
Jensen Hus is a premier design builder in Belmont because of details like these– custom-made built-ins from 100 year old poplar that we found from our friends at Longleaf Lumber in Cambridge.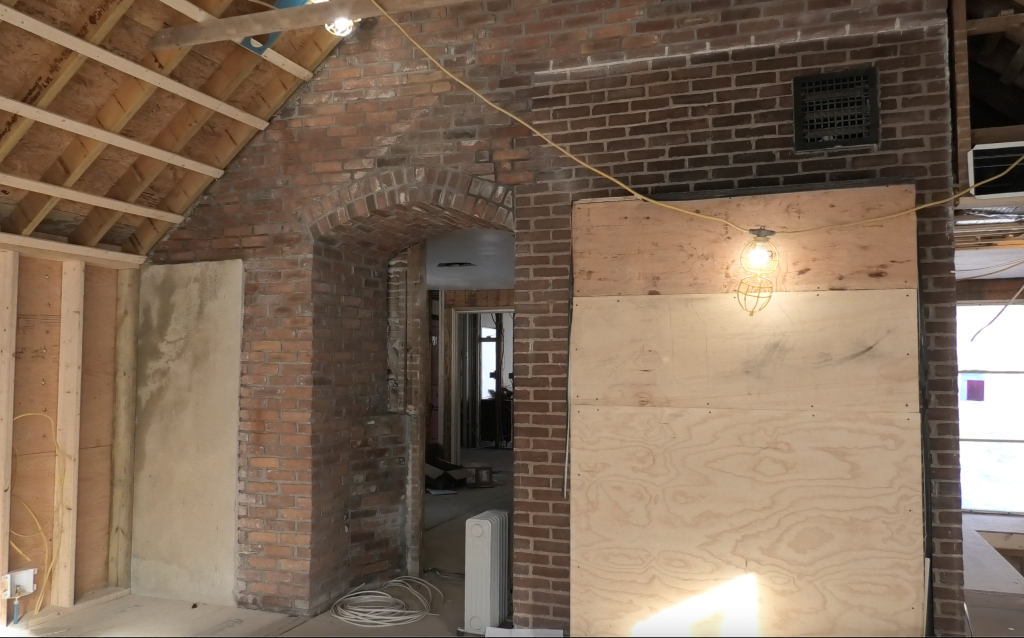 February 24th, 2021
Patched up all this brickwork which will stay exposed in our modern kitchen design. Kitchen Visions will provide our new cabinetry along with some custom pieces that the Jensen Hus team will build onsite.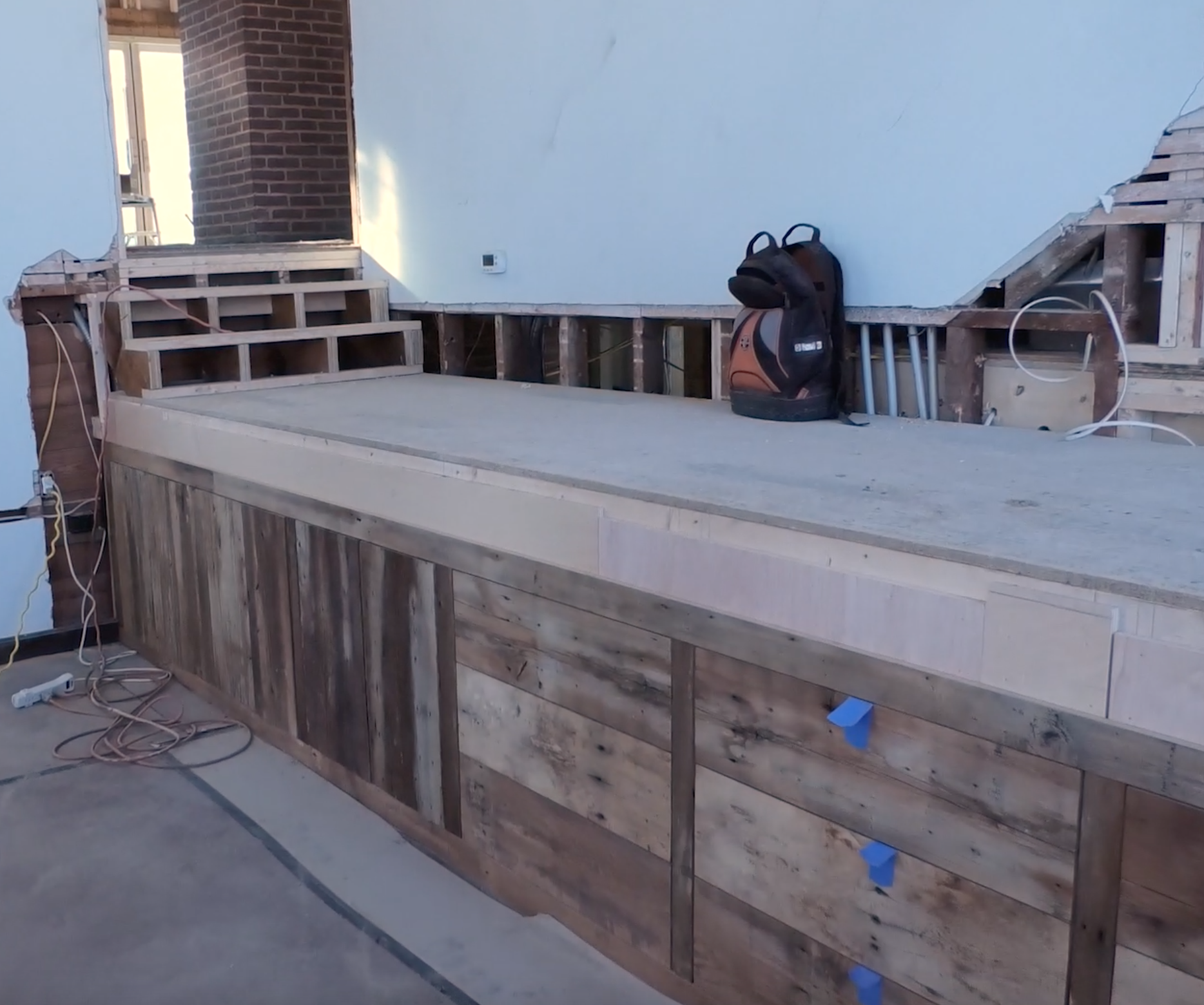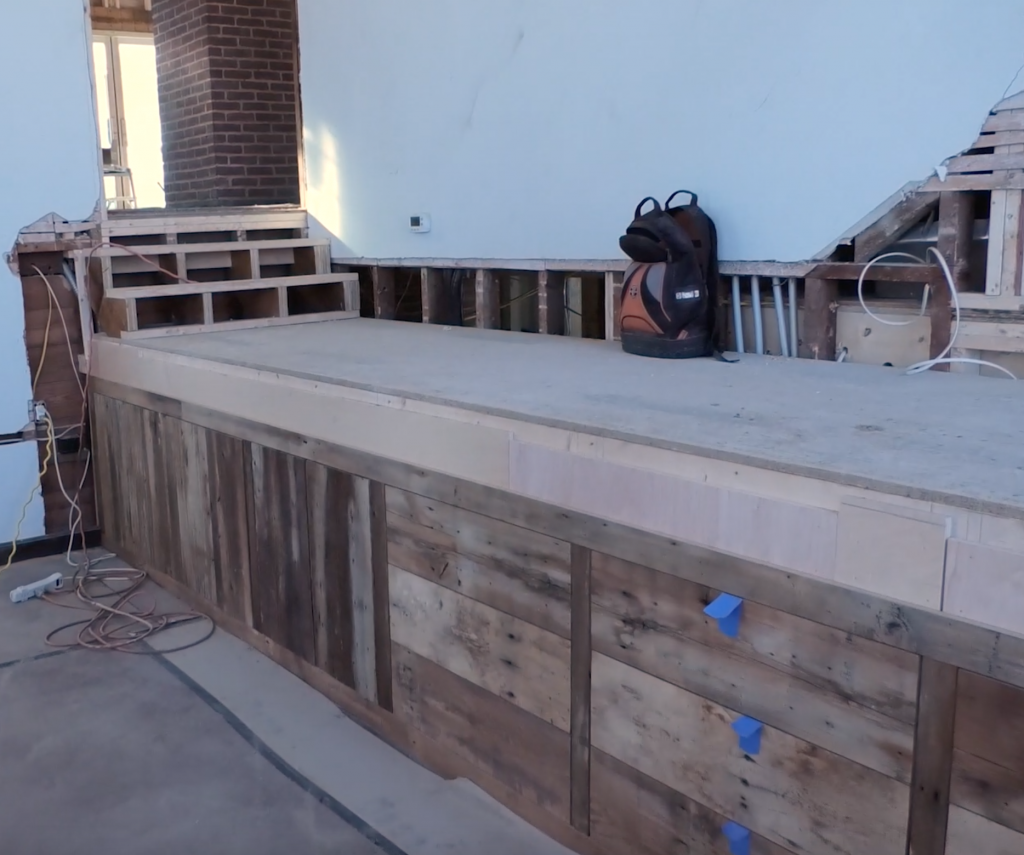 February 12th, 2021
A first look at our new custom built-ins in the great room! Jensen Hus is the best design build remodeling firm in Belmont for details like this!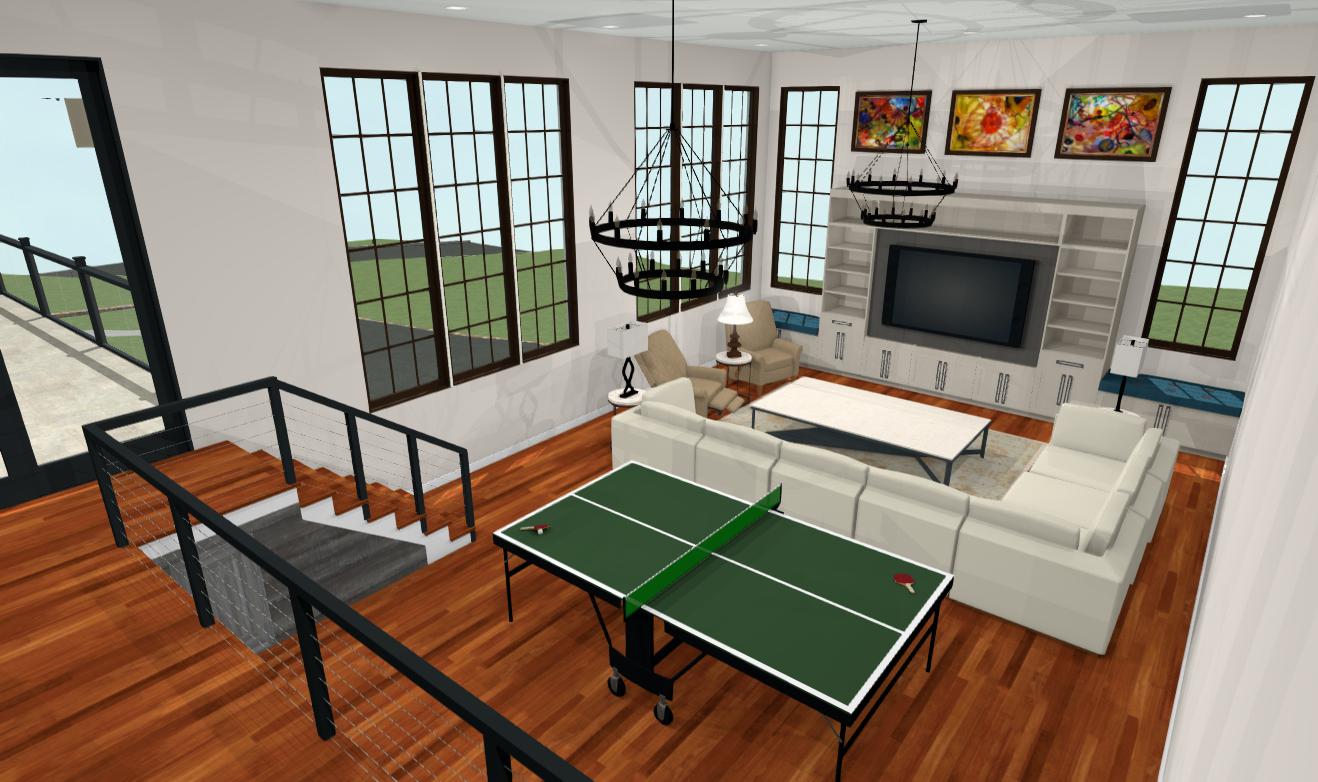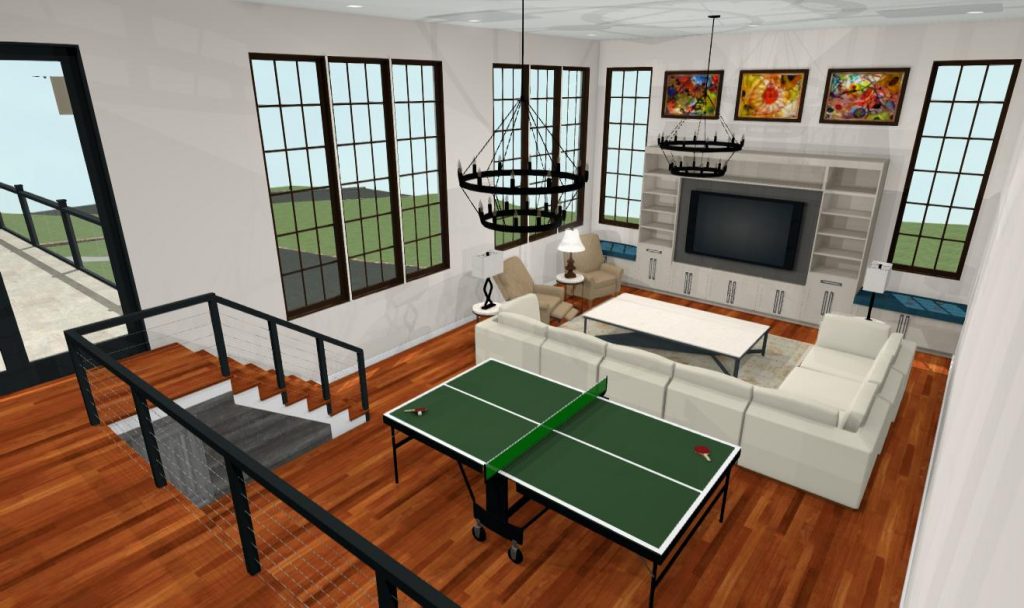 January 13th, 2021
A 3D render to give our clients a sense of the new lighting in their great room. Design and scope development is key to a successful project and this rendering will help our Belmont clients visualize their future space. Check out those industrial windows from KLAR!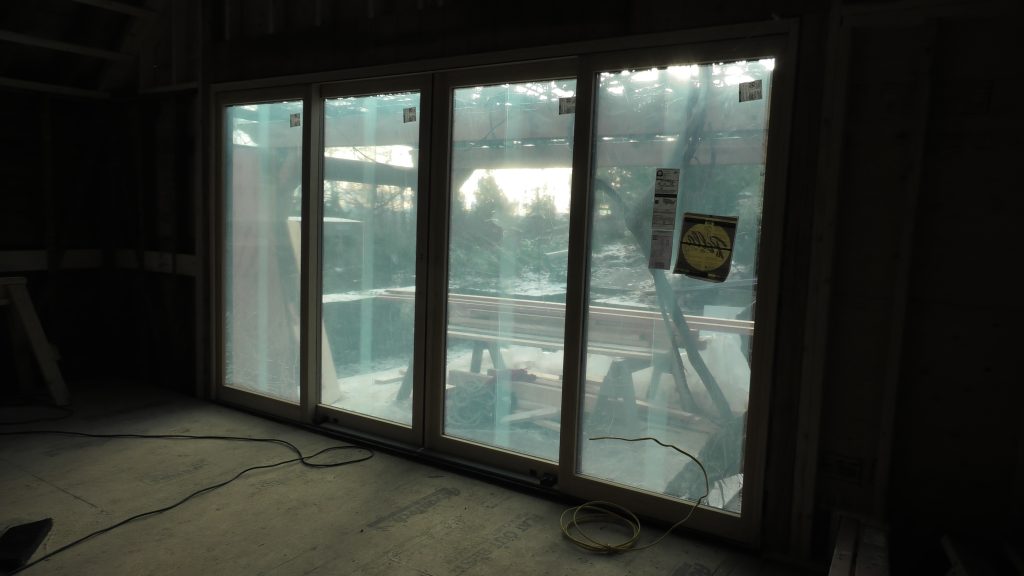 January 6th, 2021
Thank you Pella for our 12 foot slider in our new kitchen at our Belmont Hill project.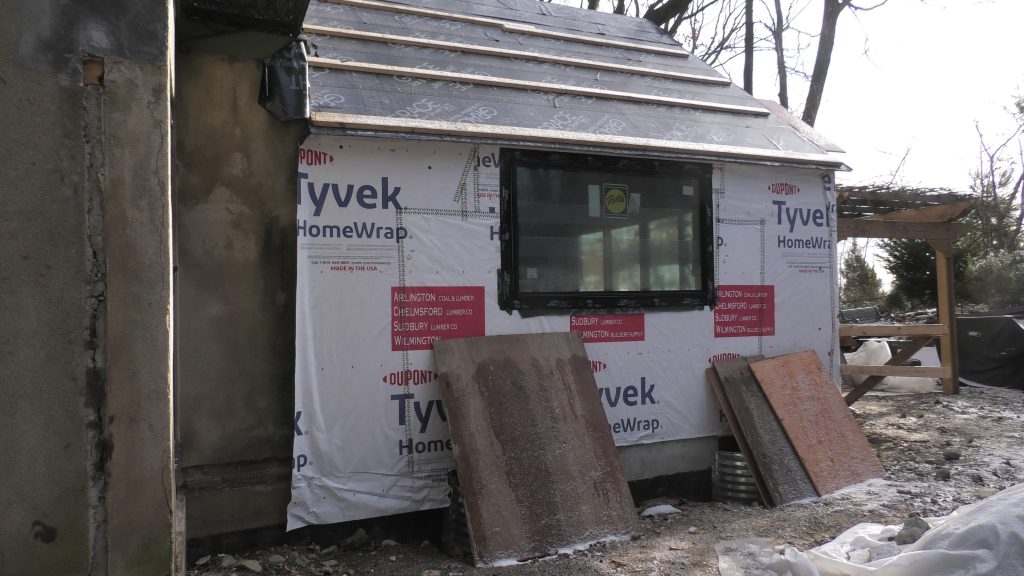 January 3rd, 2021
Addition is almost completed, and Pella windows are installed. Contemporary details for our classic French farmhouse on Somerset St.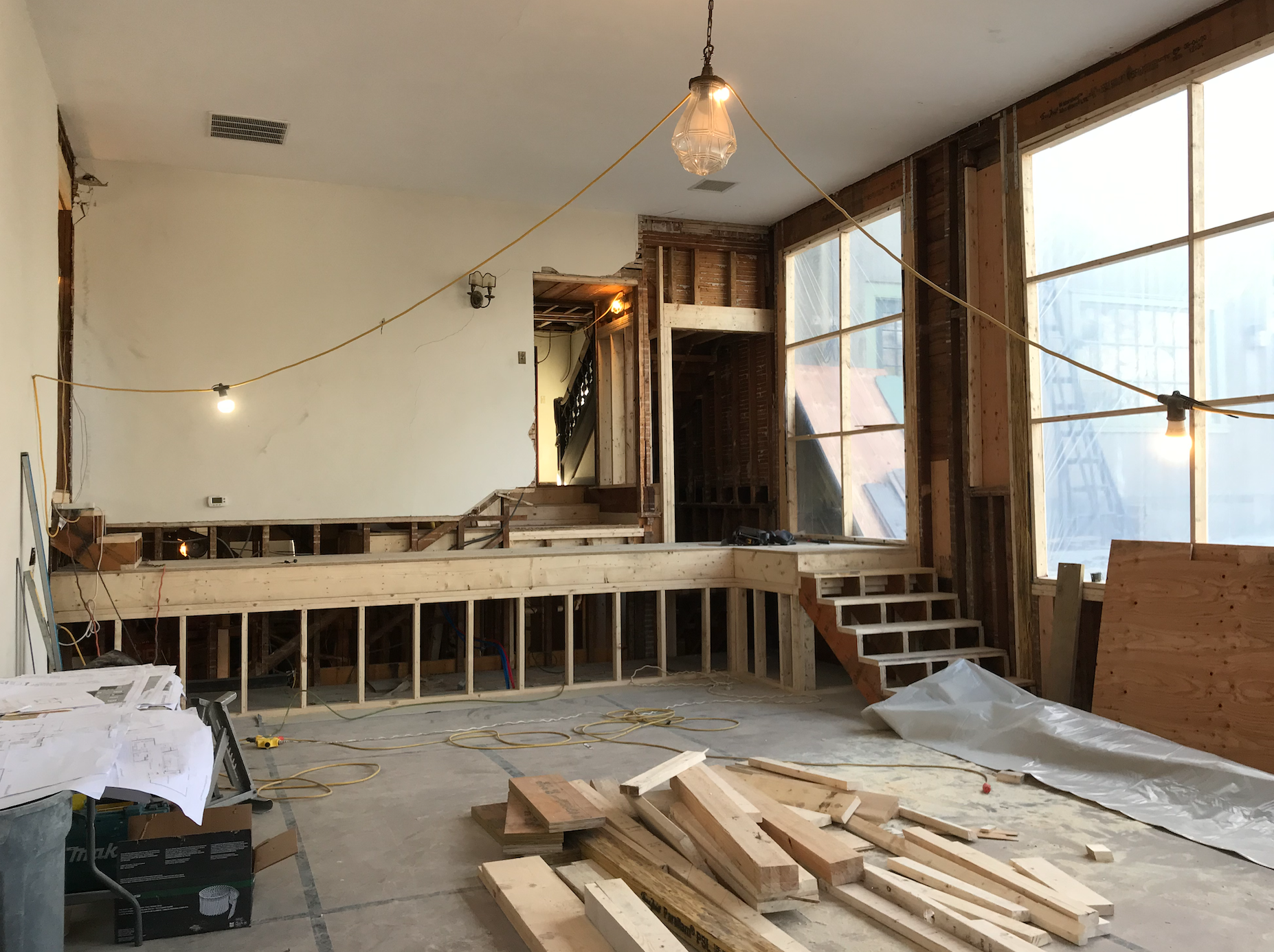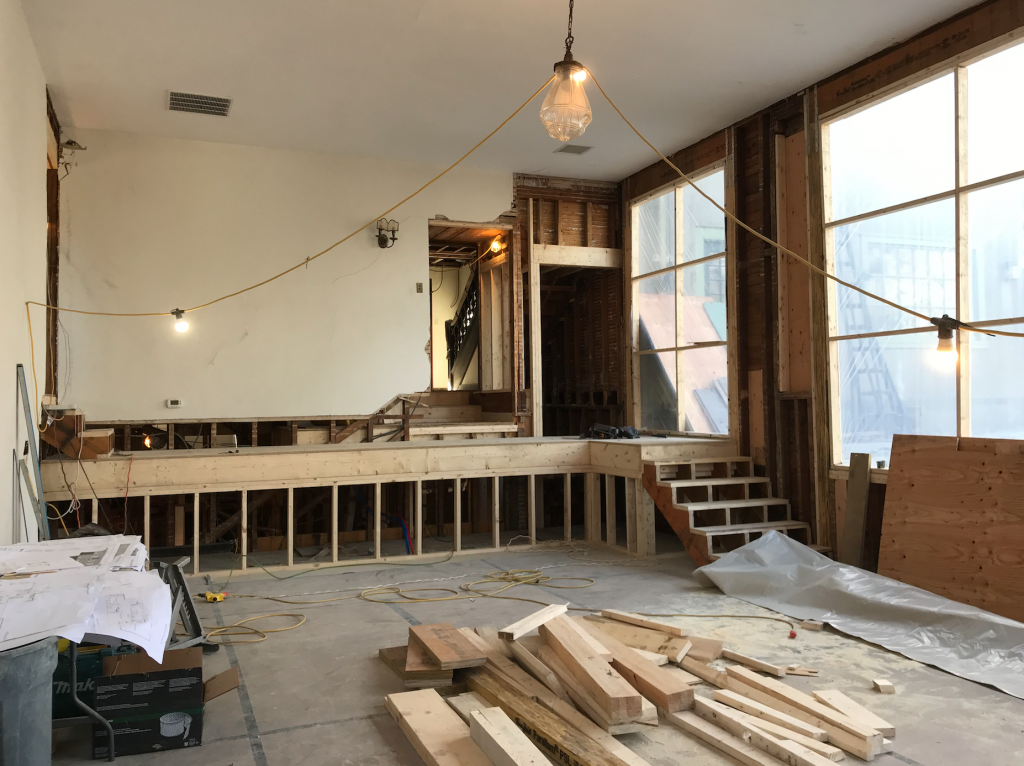 December 4th, 2020
Our main "hub" of the house is coming together. The new windows are cut and our central platform established.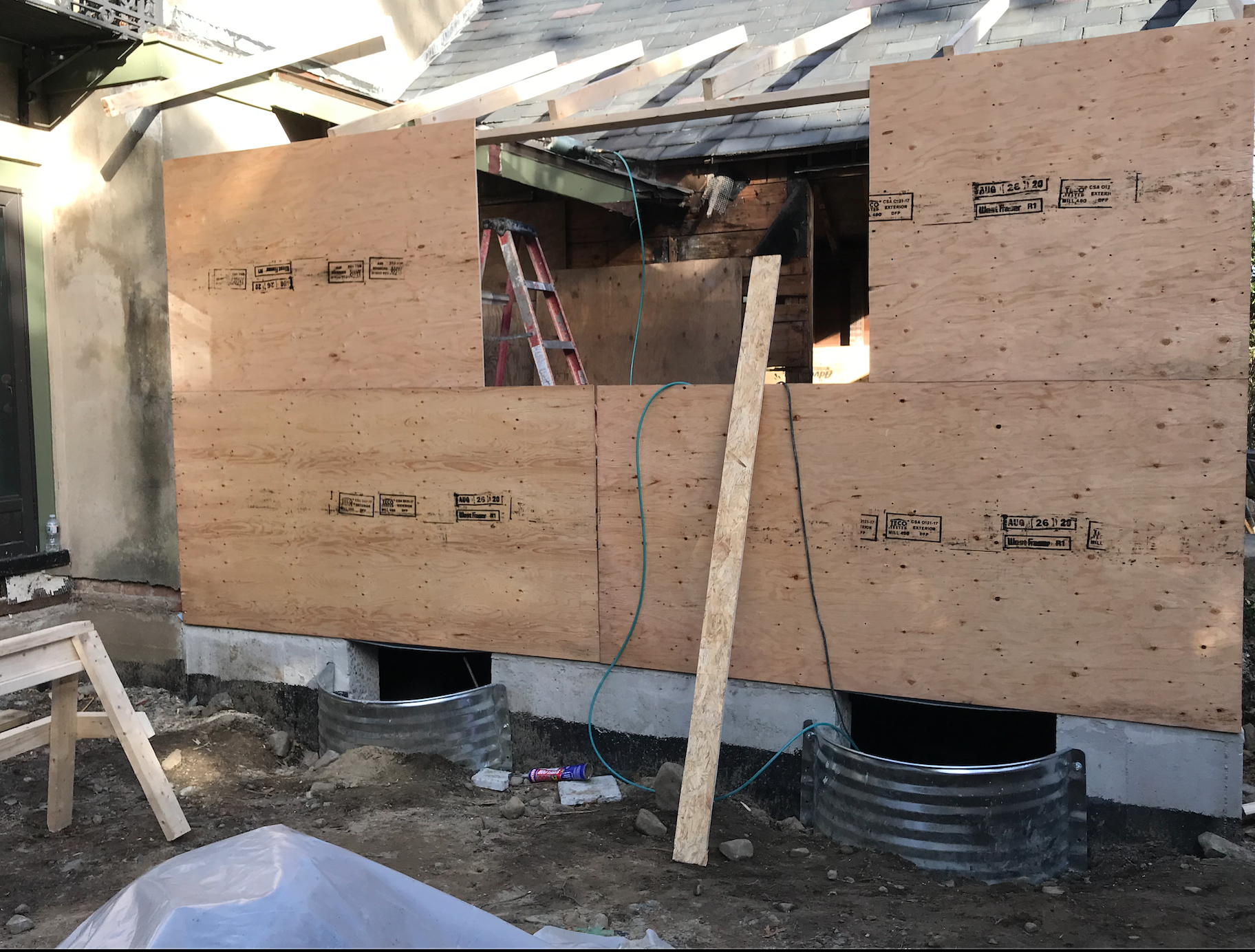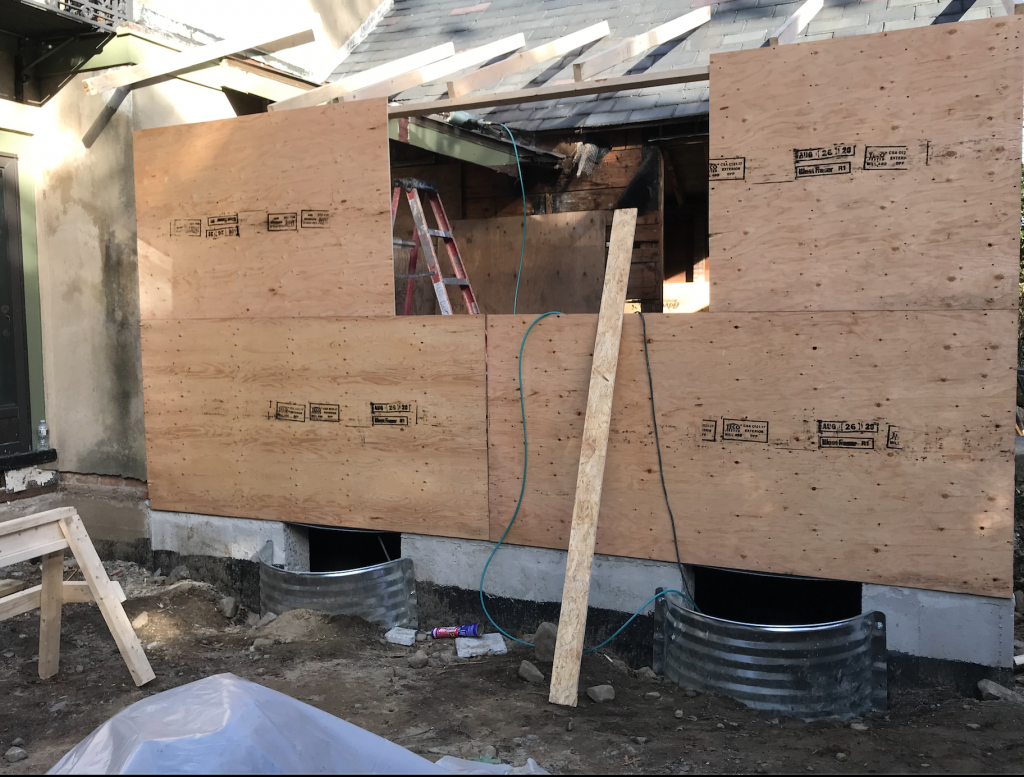 November 30th, 2020
The addition is getting closer every day.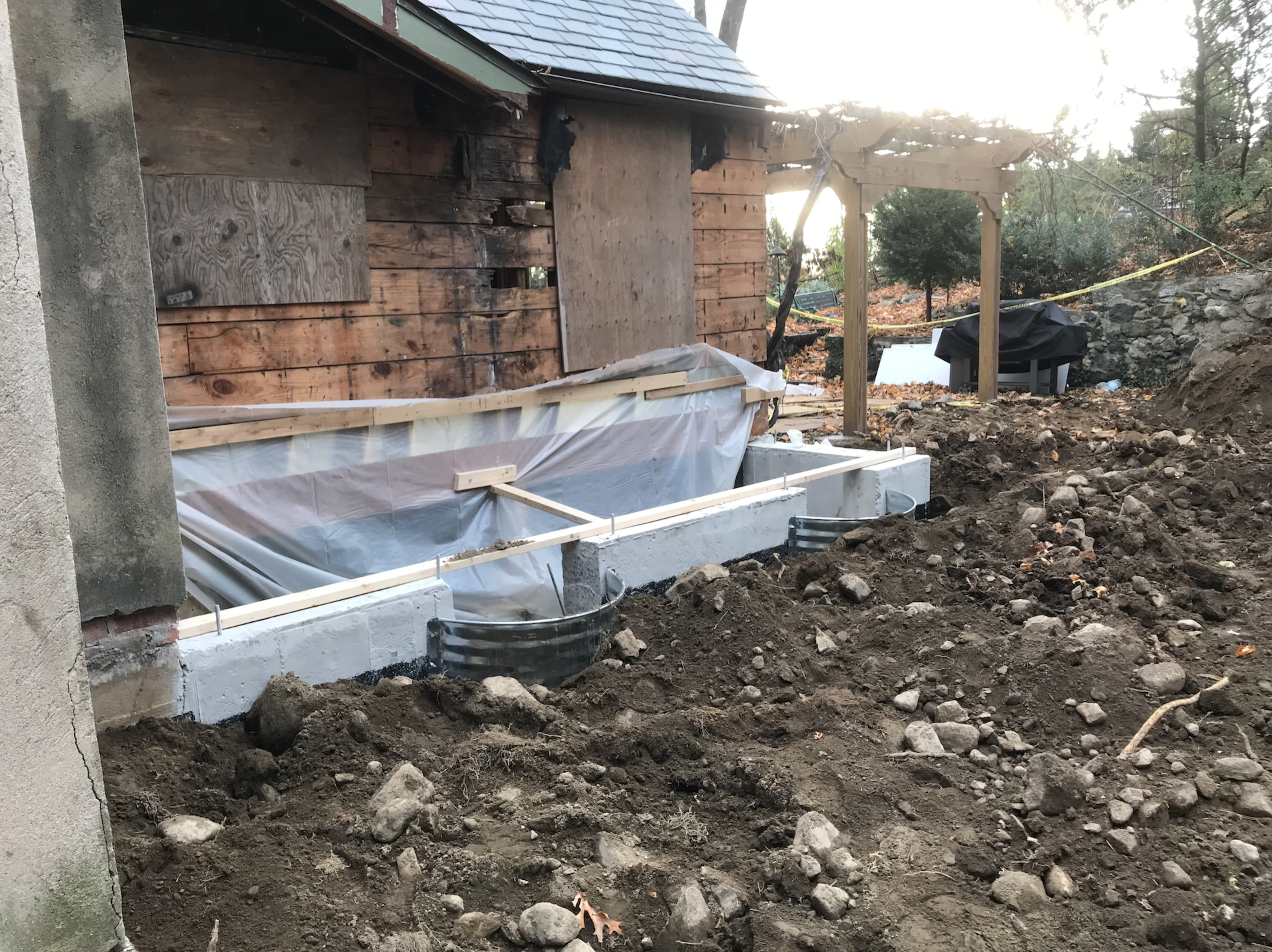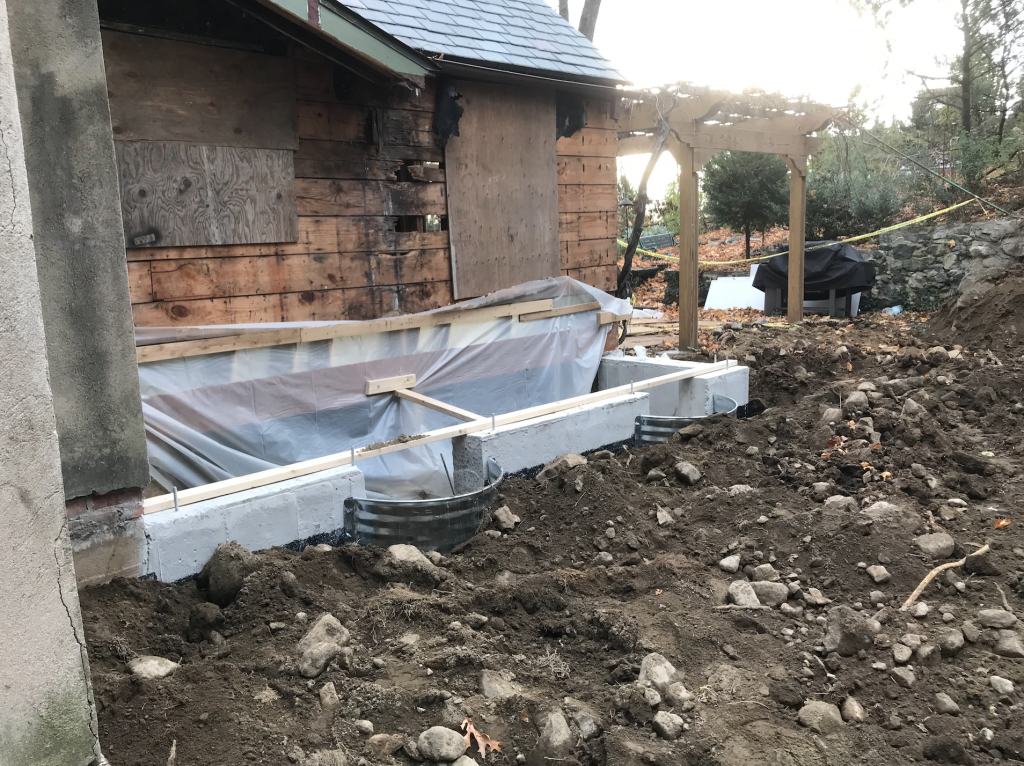 November 20th, 2020
The new foundation for the kitchen addition is almost ready to go!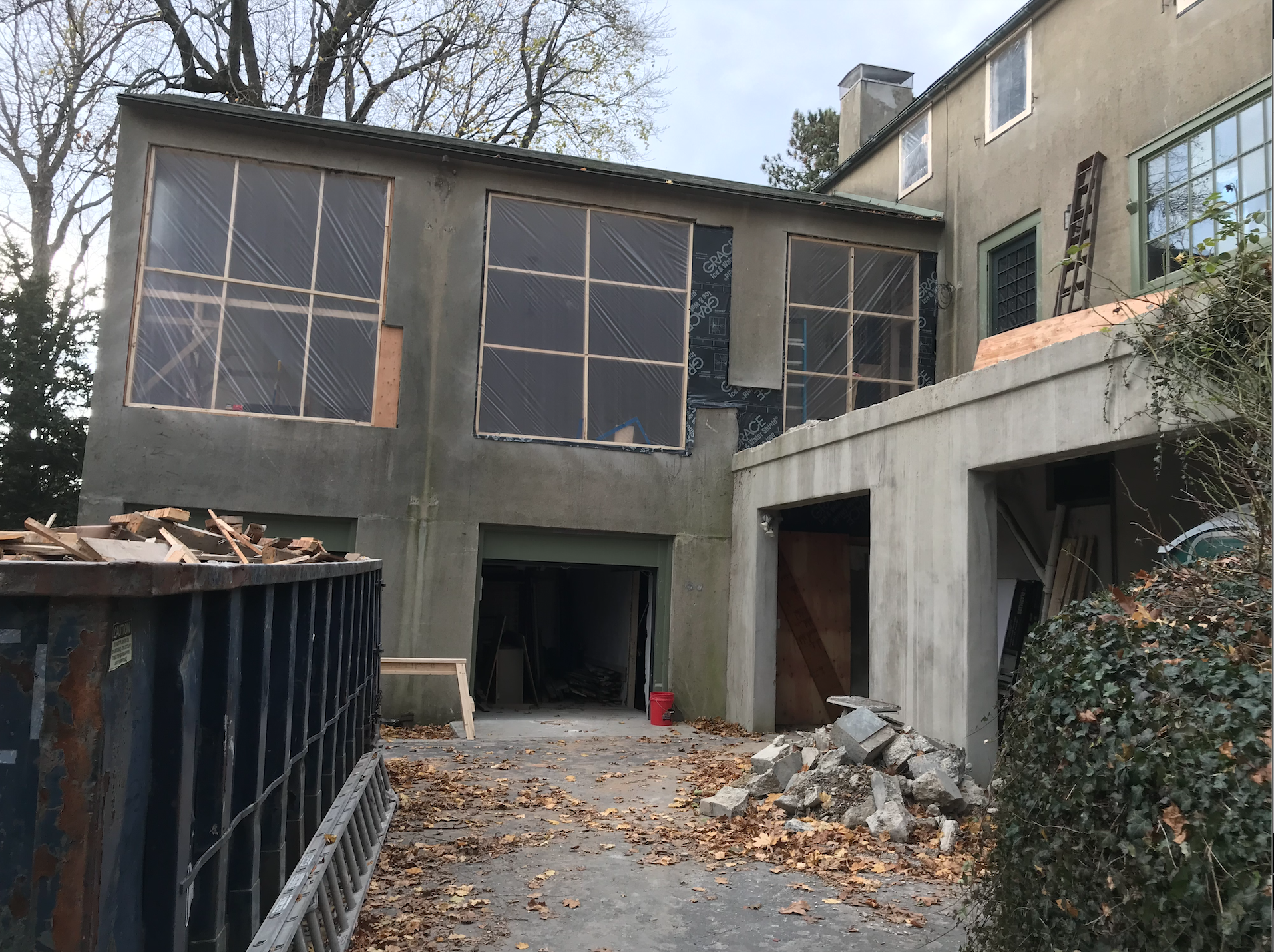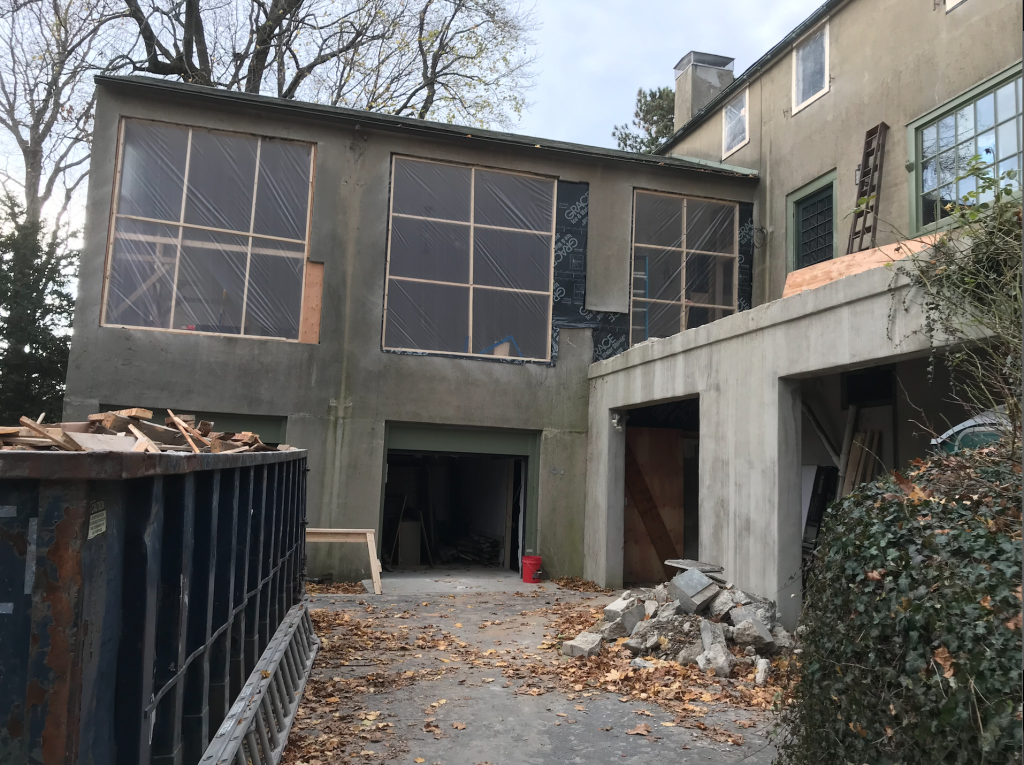 November 18th, 2020
Space for the new windows has been cut. So much more light now!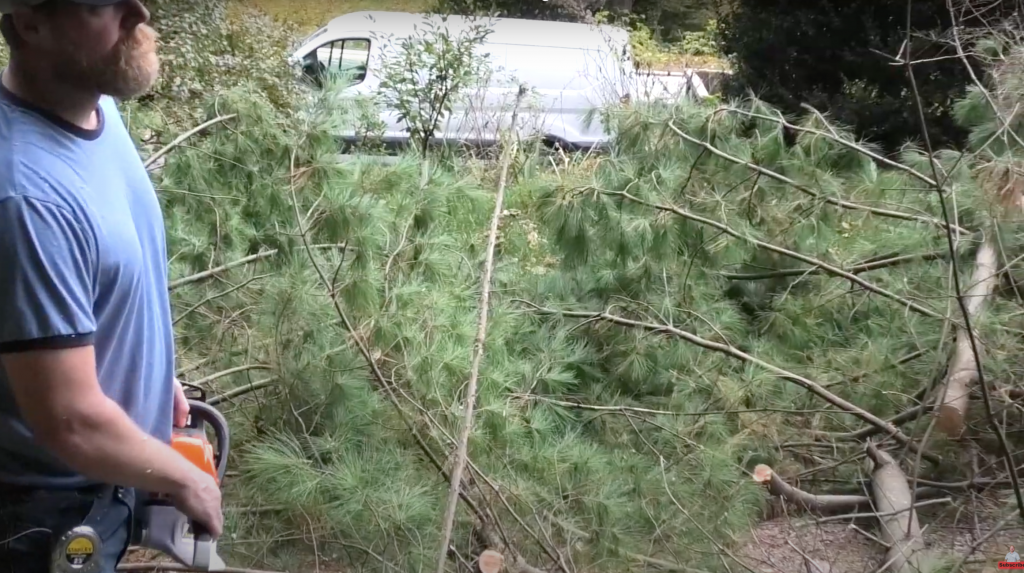 November 13th, 2020
Clearing trees out of the driveway today with a new steel chainsaw.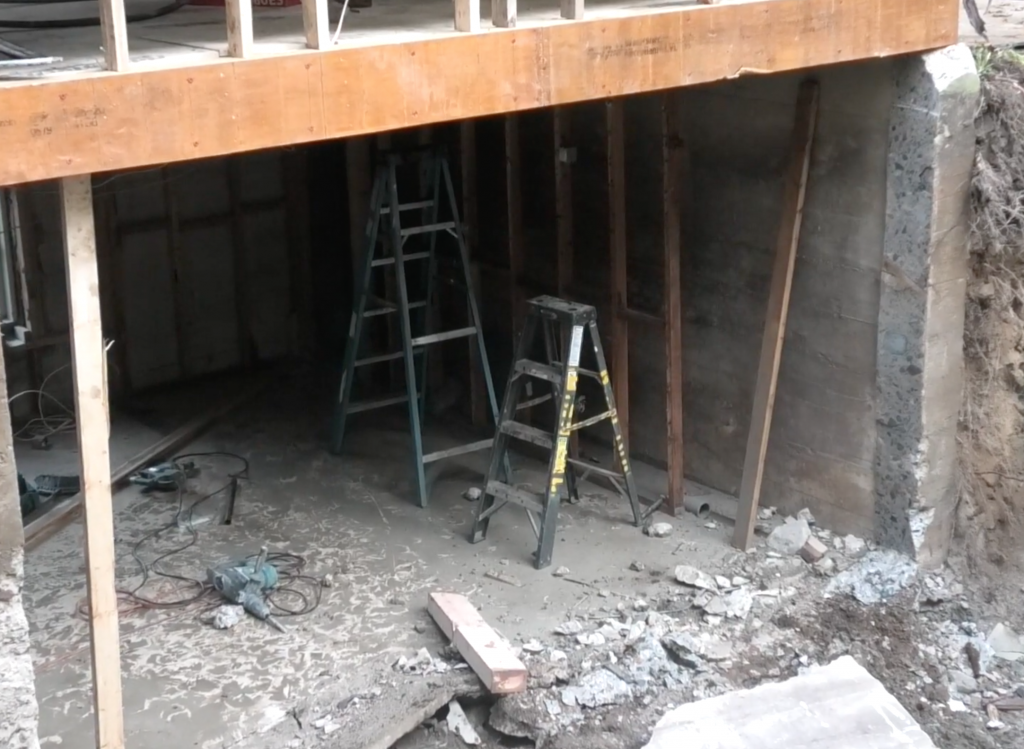 October 23rd, 2020
The basement wall is down for our addition. This will open up enough space for an exercise room!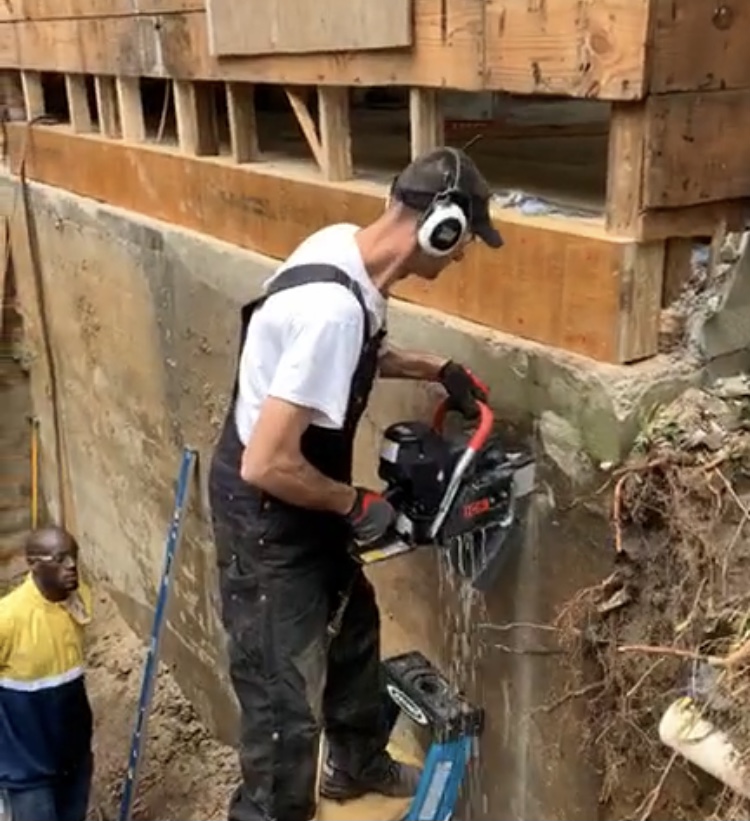 October 21st, 2020
Starting to carve out our hole in the old foundation with this epic concrete chainsaw.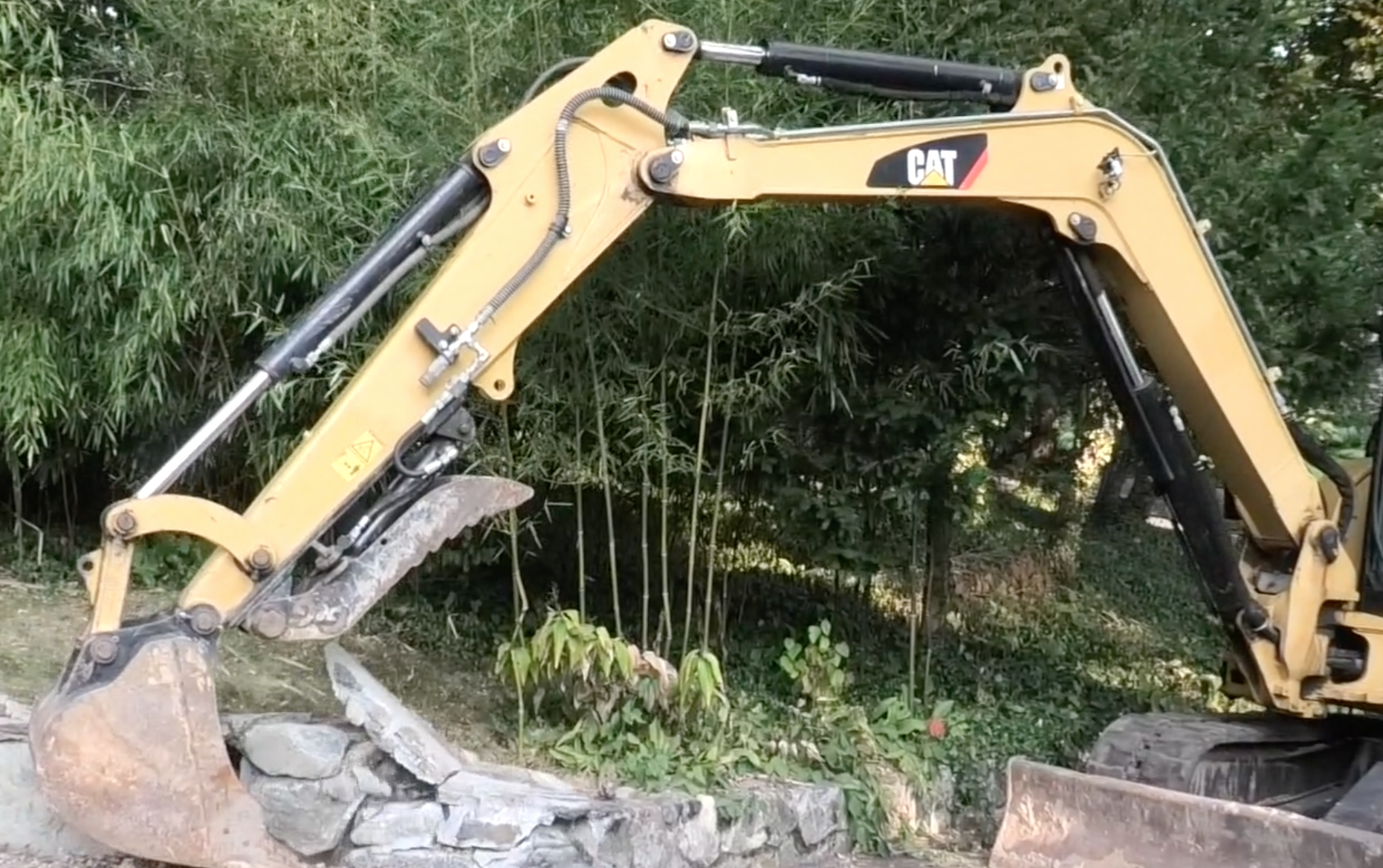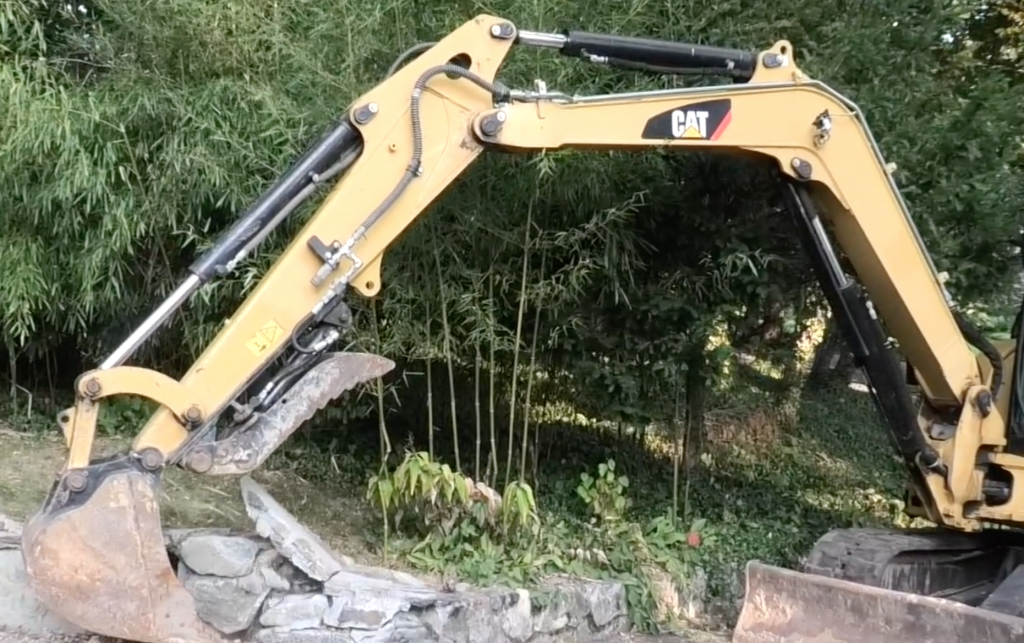 October 2nd, 2020
This rock wall beside the driveway had to go! Now we will be able to get big trucks up here.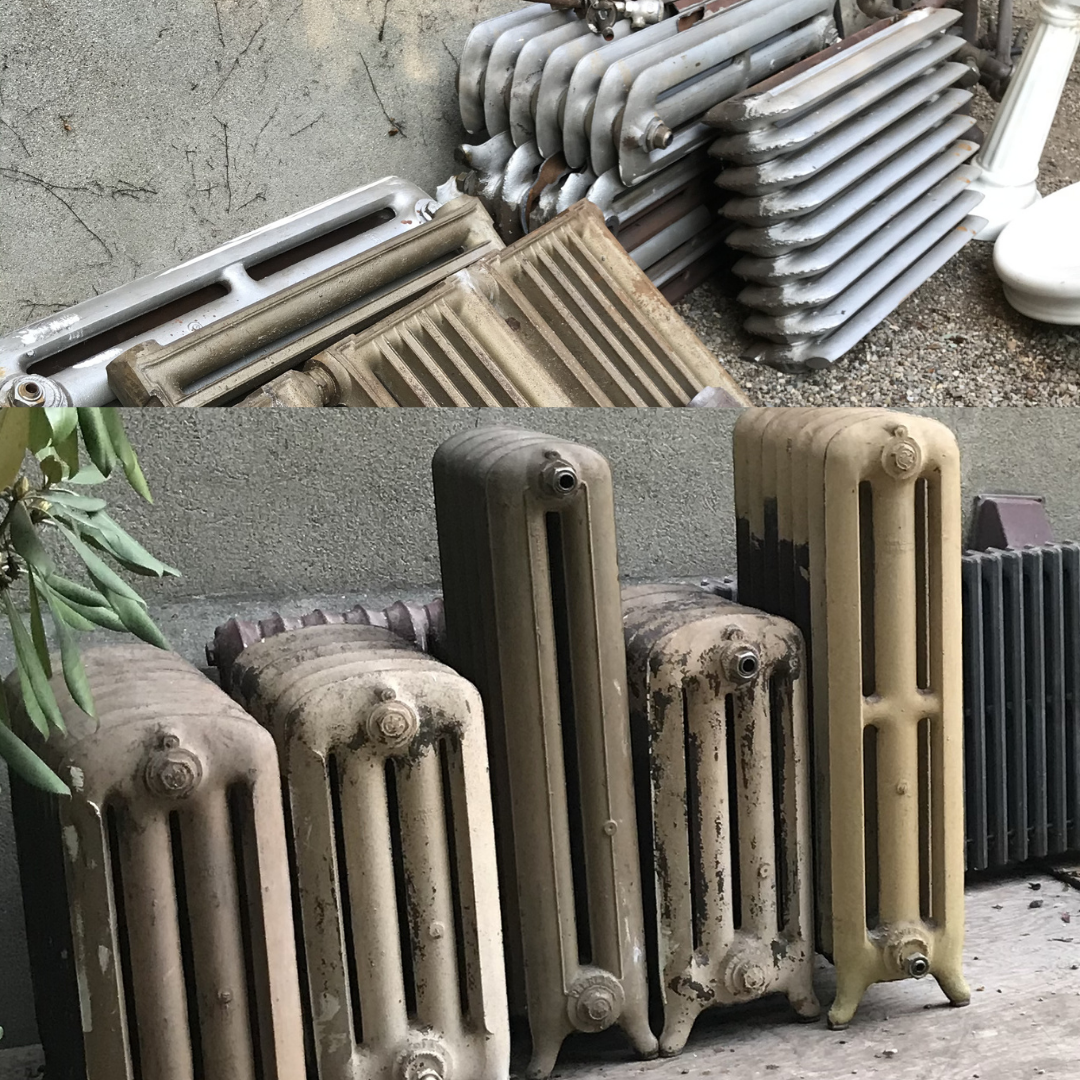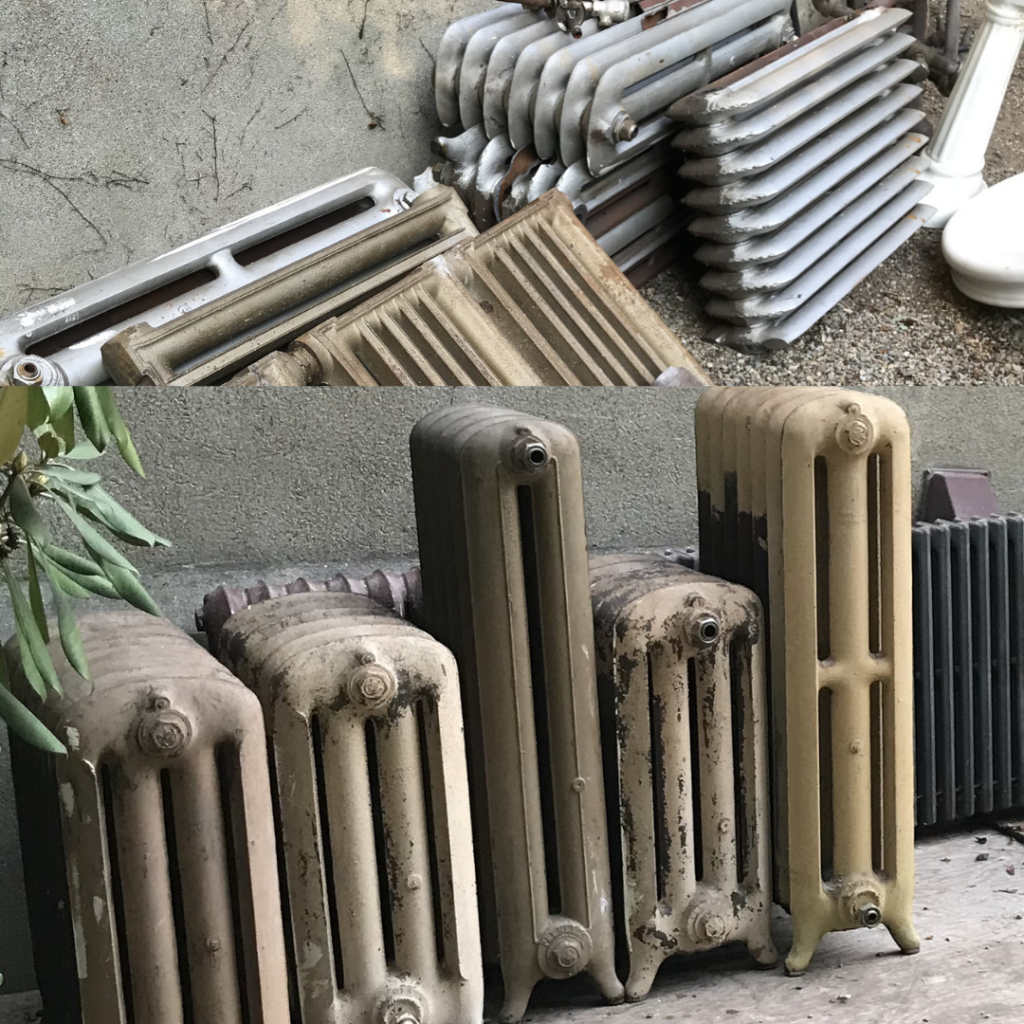 September 21st, 2020
The radiators are officially out and ready for scrap!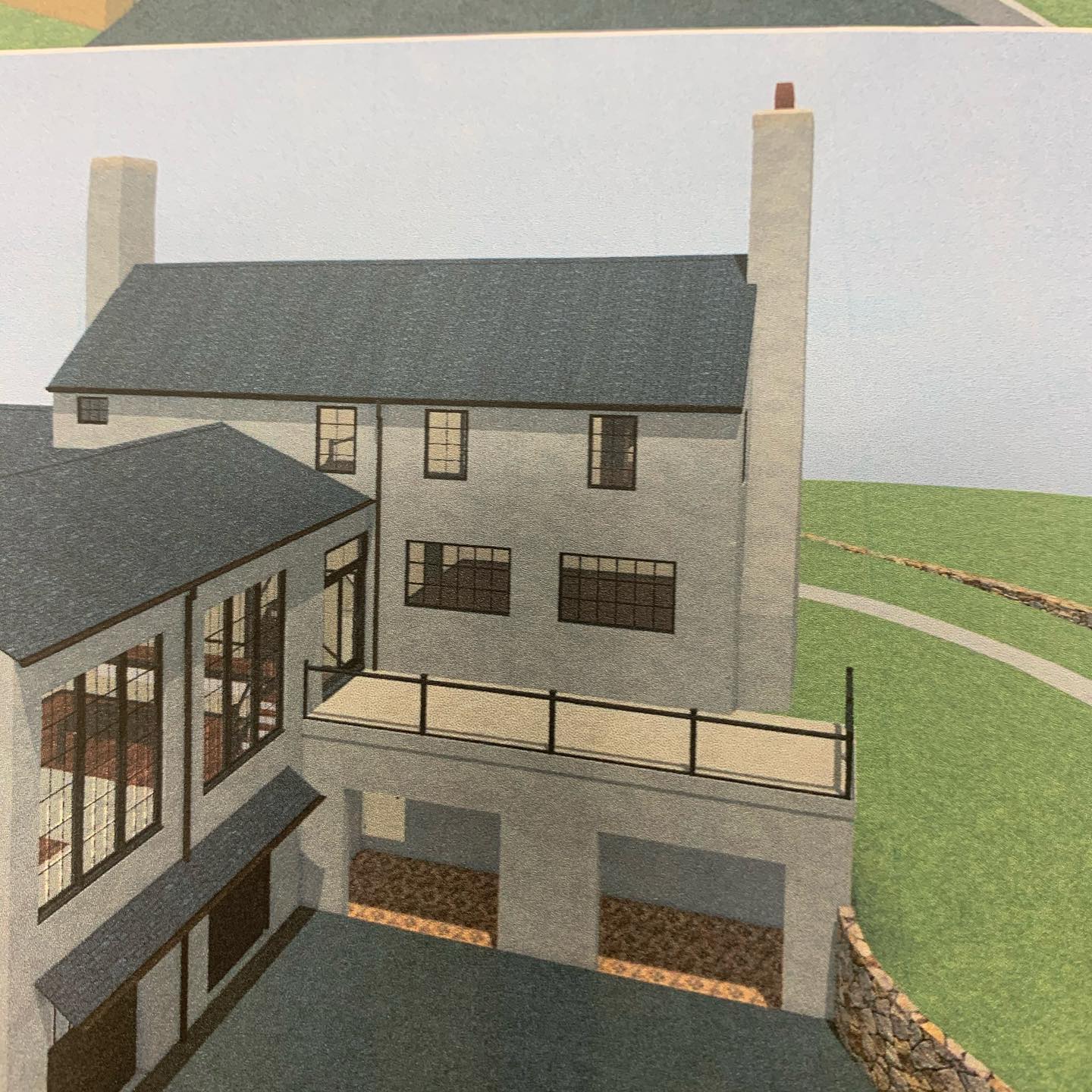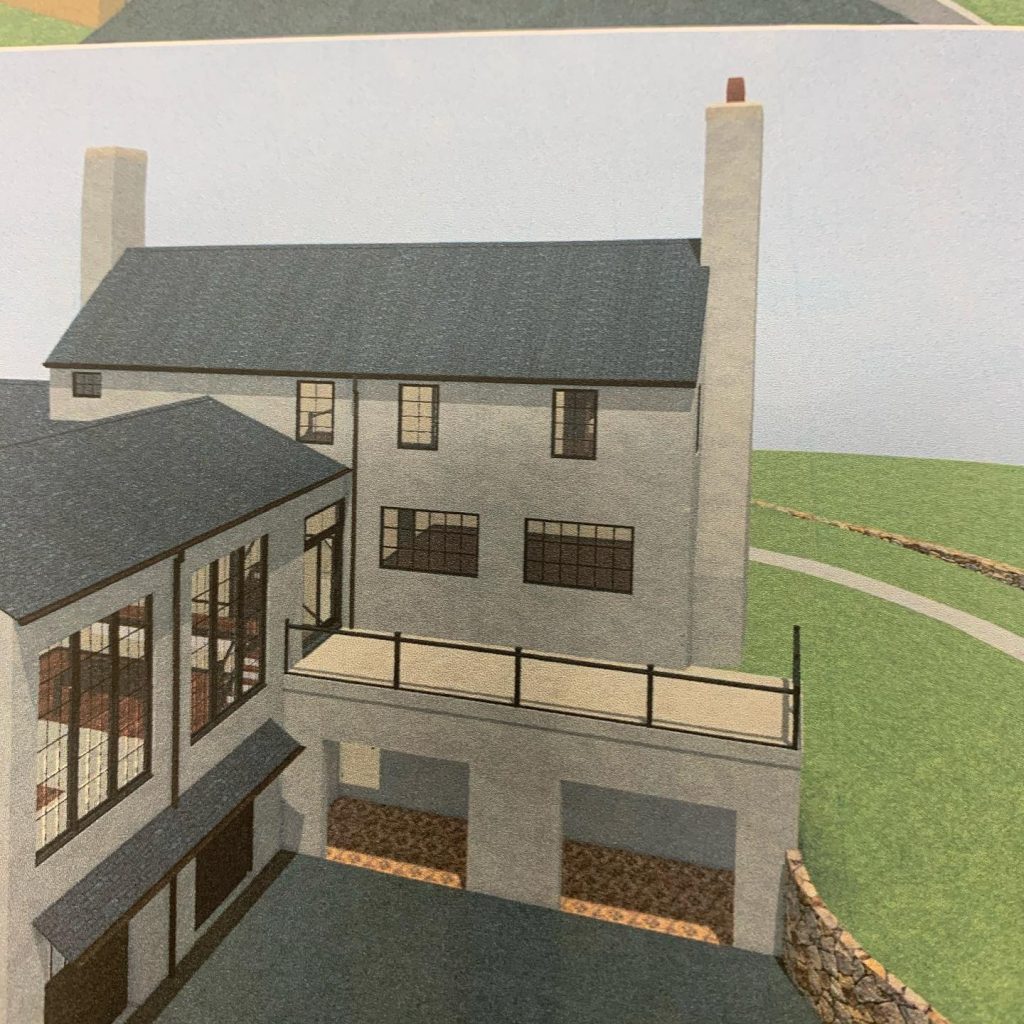 August 1st, 2020
Almost finished with the design scope and development.