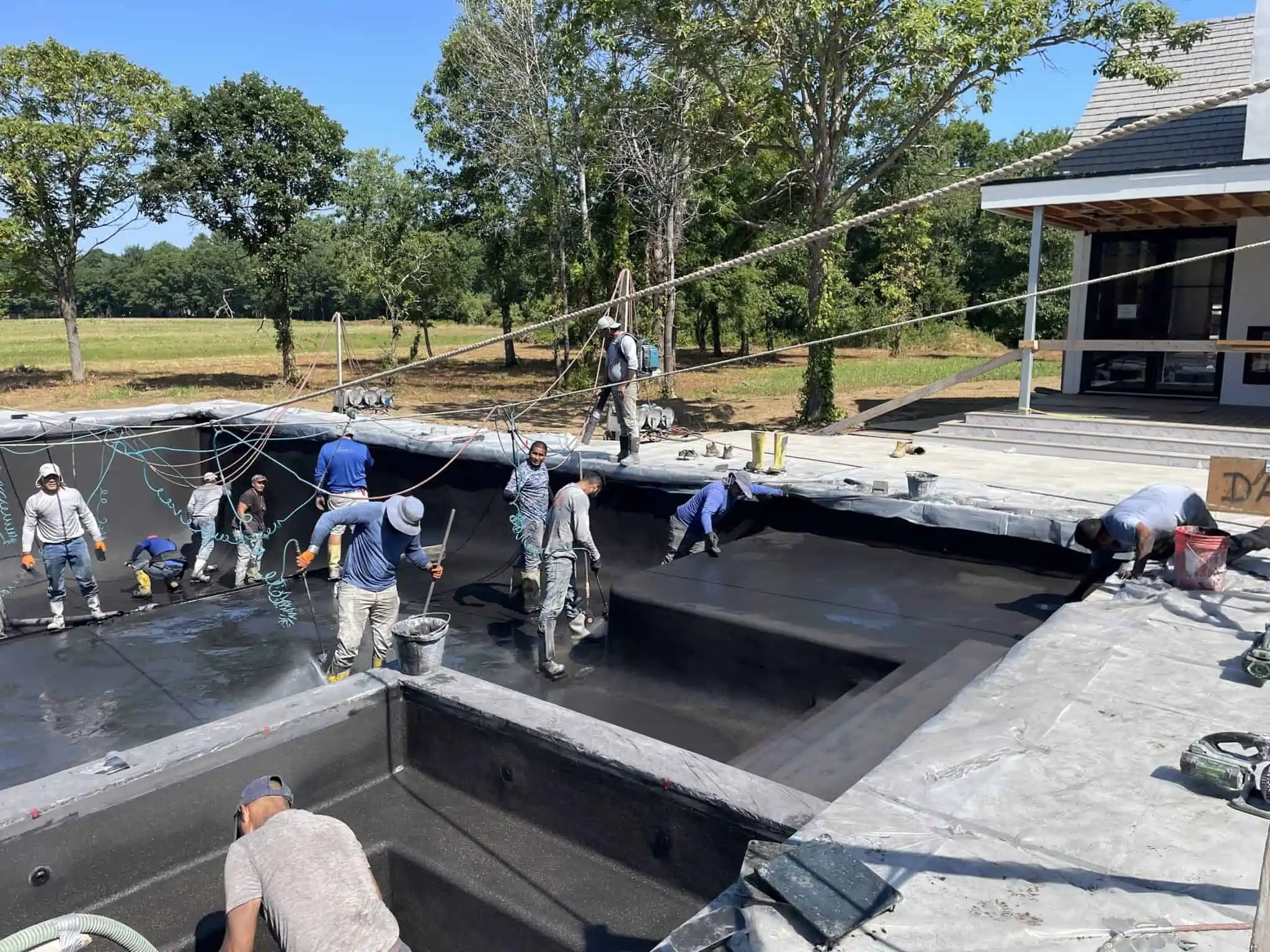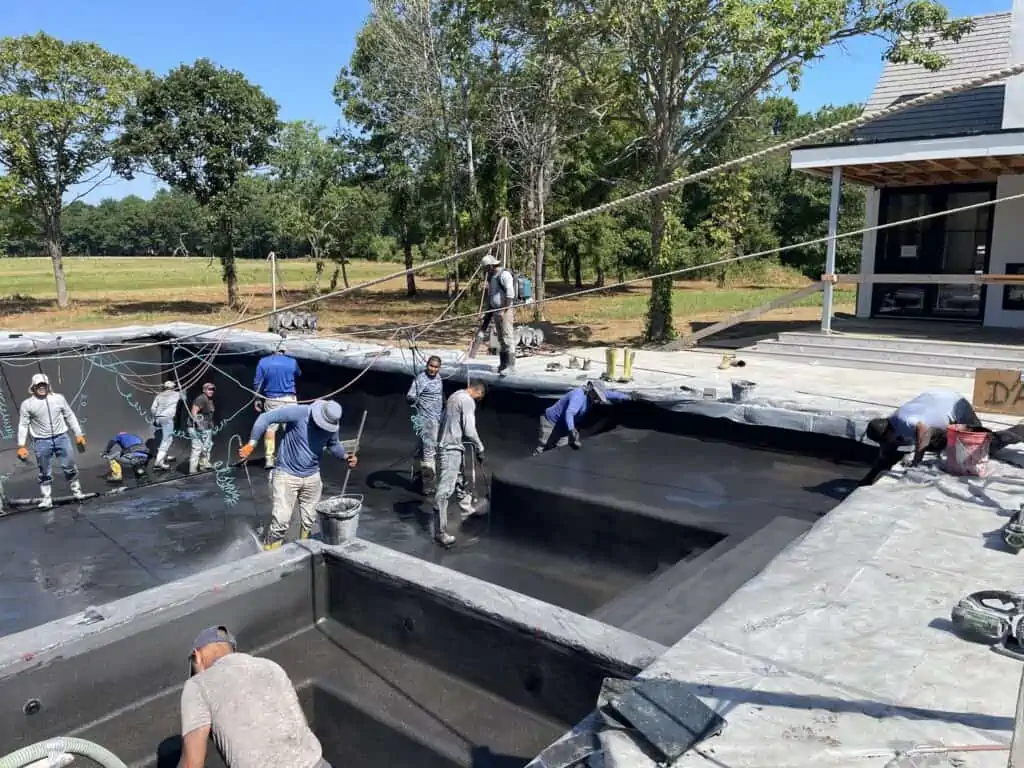 August, 2022
I've never seen anything like this before! 25 men installing the black Pebbletec finish for the pool at our modern farmhouse in Sherborn. I can only imagine all the years of trial and error to perfect this process. They used all sorts of tools and techniques that you won't find in a book. Very impressive for this amazing pool. I cant wait to call these guys for our next Jensen Hus custom build.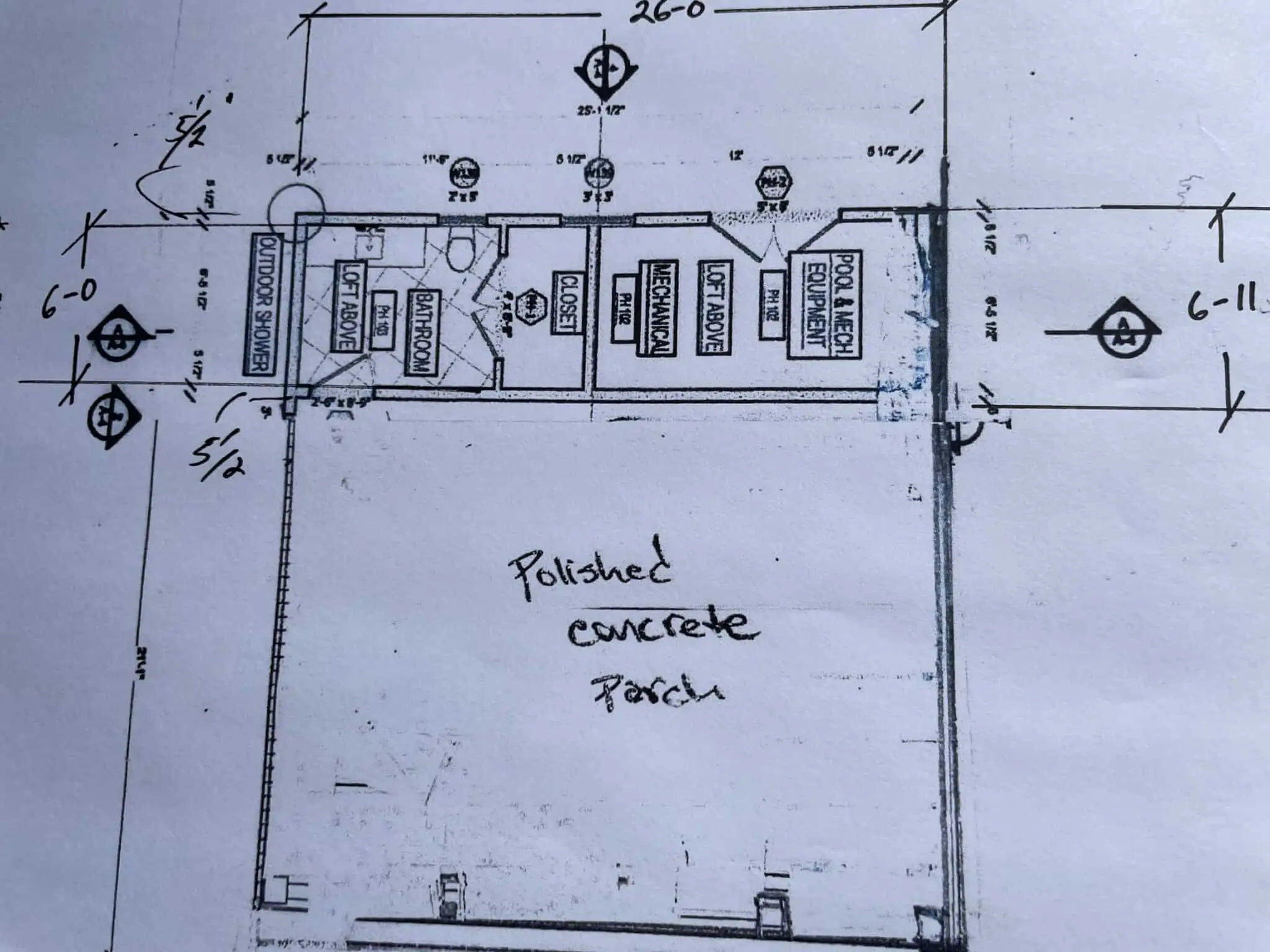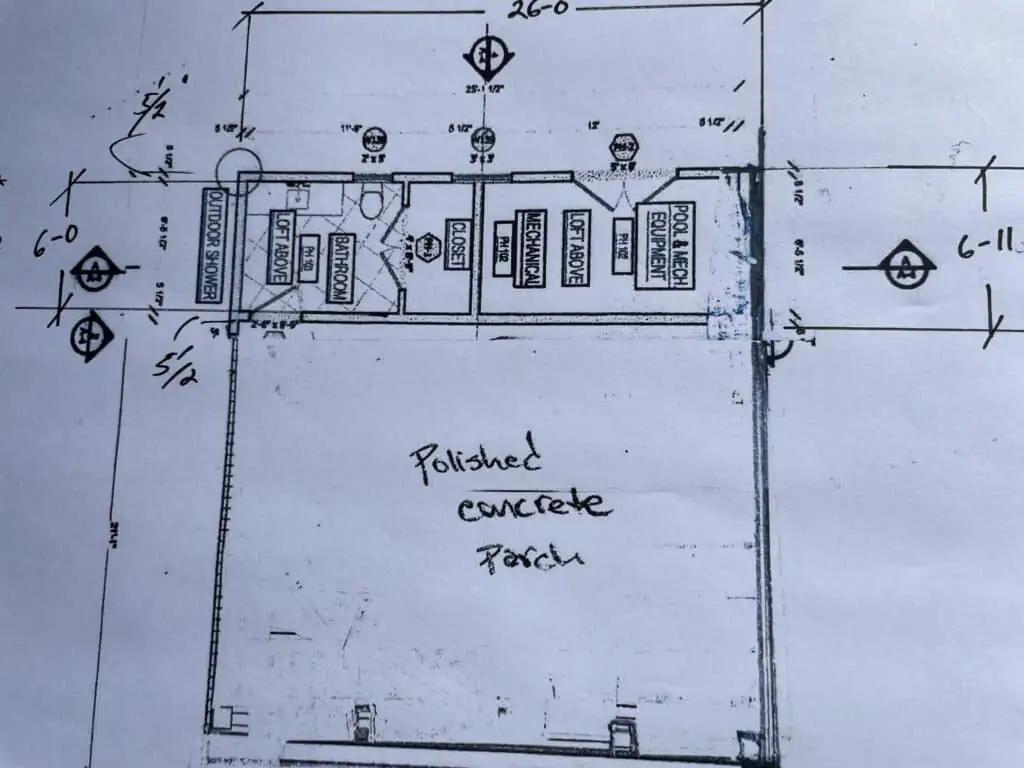 January 6, 2022
No matter how fancy or complicated the project, we still use the line drawing to revise plans and make changes. Not everything needs to be a perfect CAD drawing to do the job. Our pool house in Sherborn is a great example of this. Clients want to spice things up and customize this space so we have a foundation in before we have completed the final drawings. We know this is the footprint and the basic outline, but the final design is on the drawing board!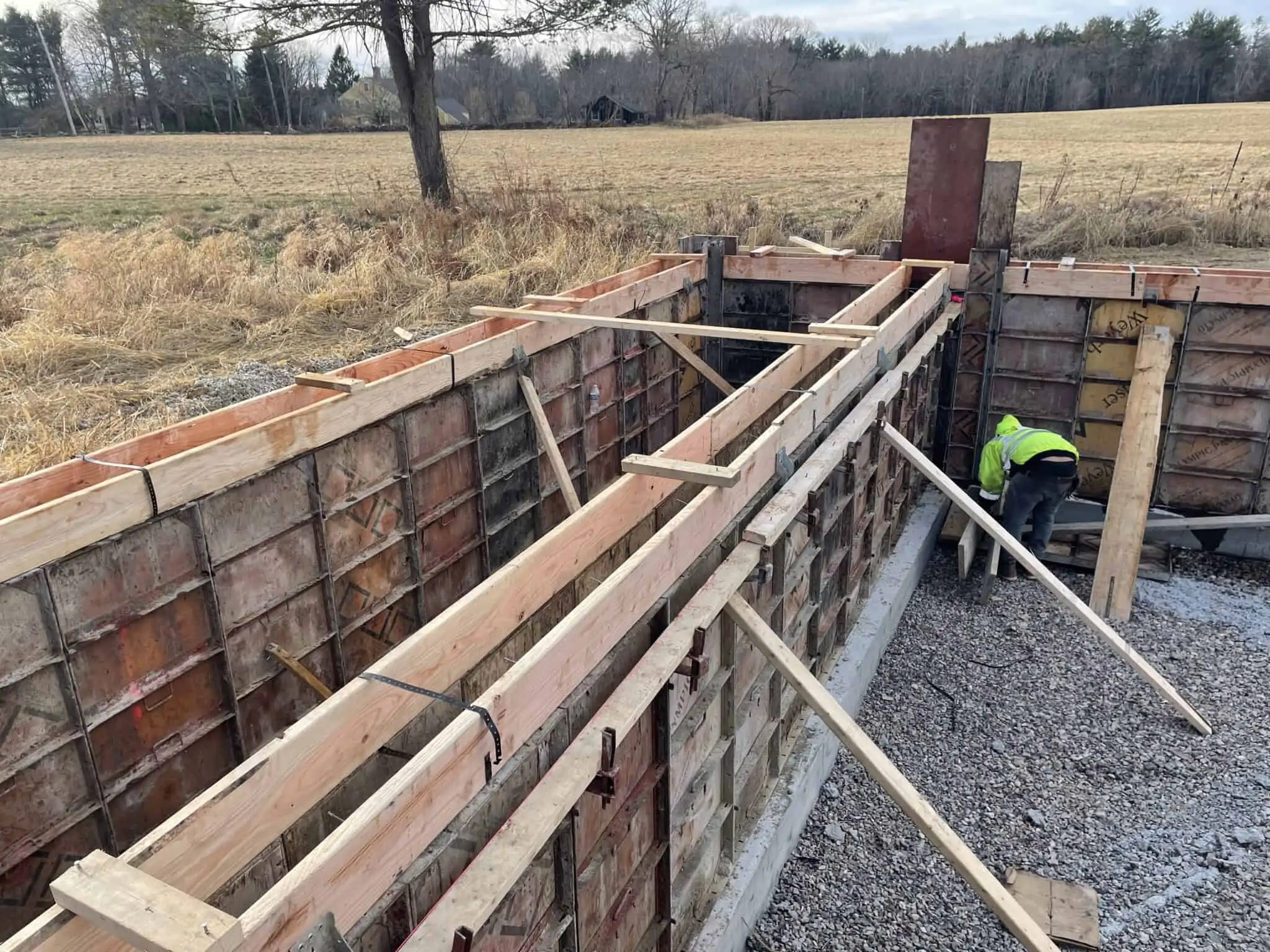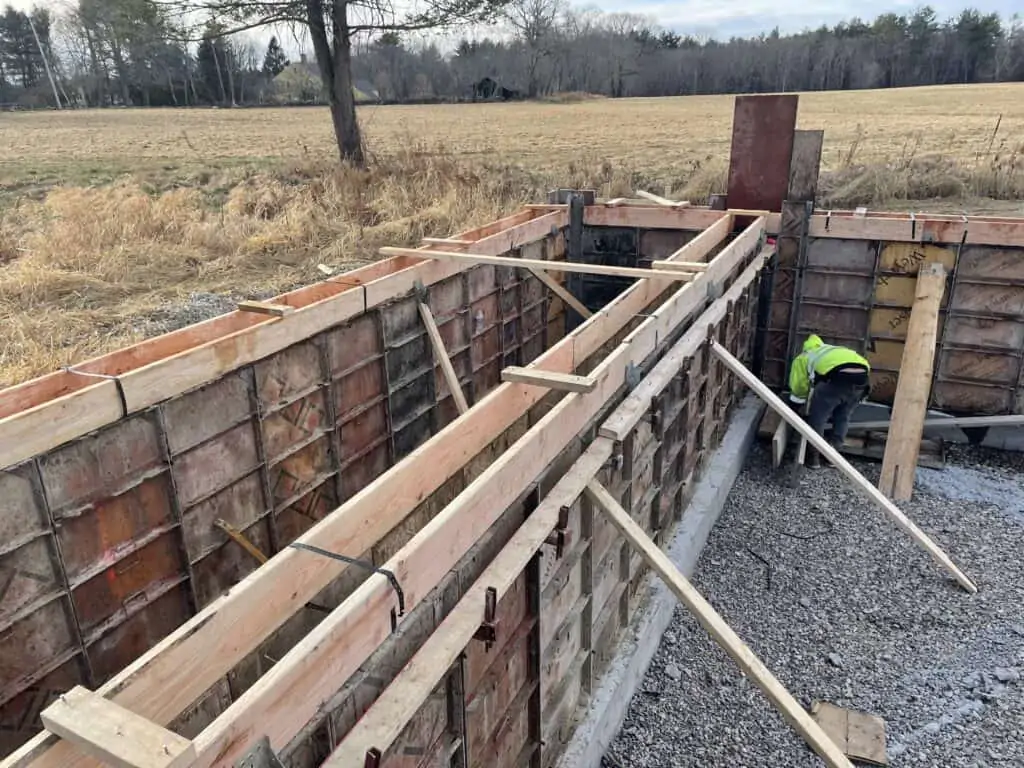 December 24, 2021
De Ja Vu as we set forms in December for the new pool house. These 5 foot frost walls will eventually frame our slab on grade contemporary accessory building to the custom new construction house. Polished concrete, cedar timbers and maybe some steel are on the menu for this custom project. stay tuned!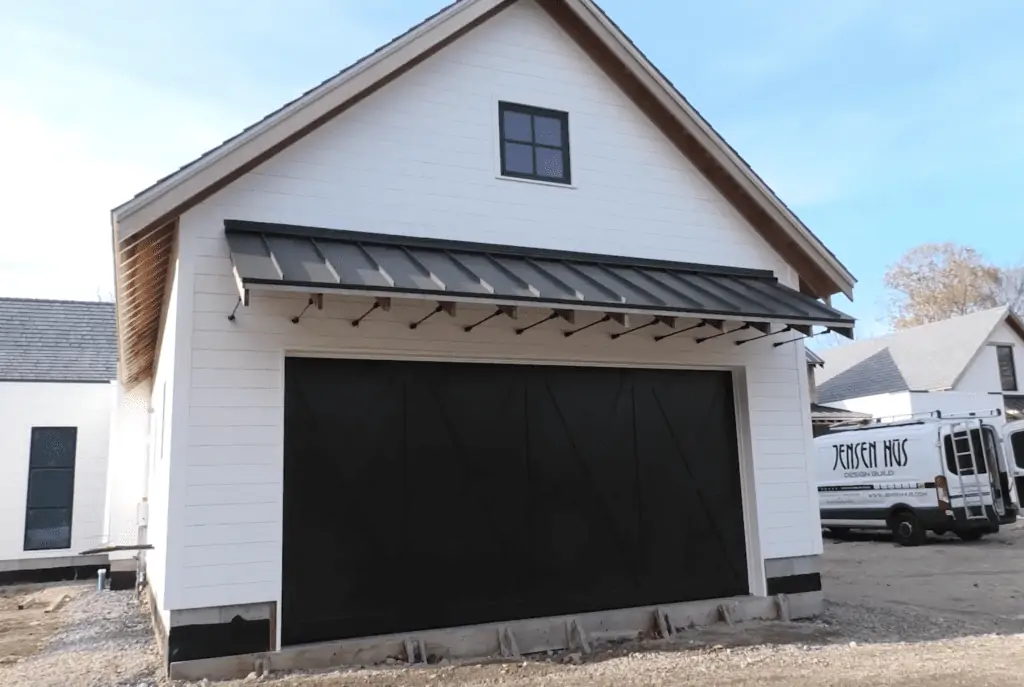 December 23rd, 2021
It doesn't get any more custom than this. We used tie rods as compression supports to hold up our garage awning. It seamlessly combines our natural cedar rafter tails with an industrial metallic look.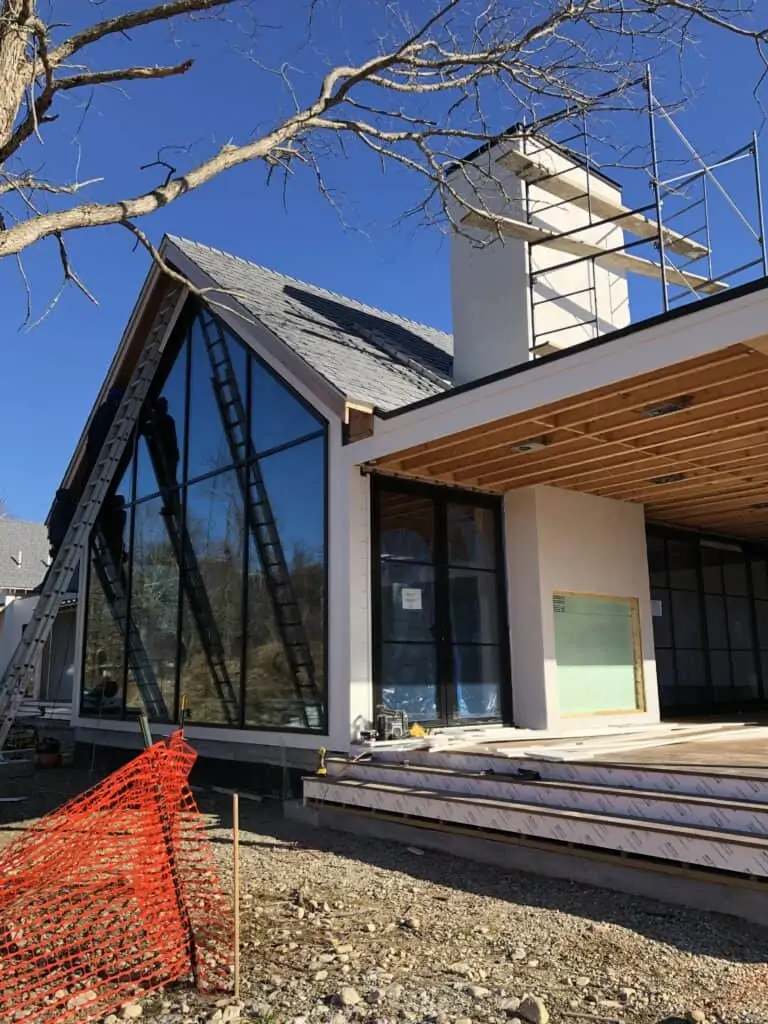 December 17th, 2021
The second curtain wall is up, and the chimney is covered in a new layer of stucco. It is a beautiful sight to see the house closed up for the winter!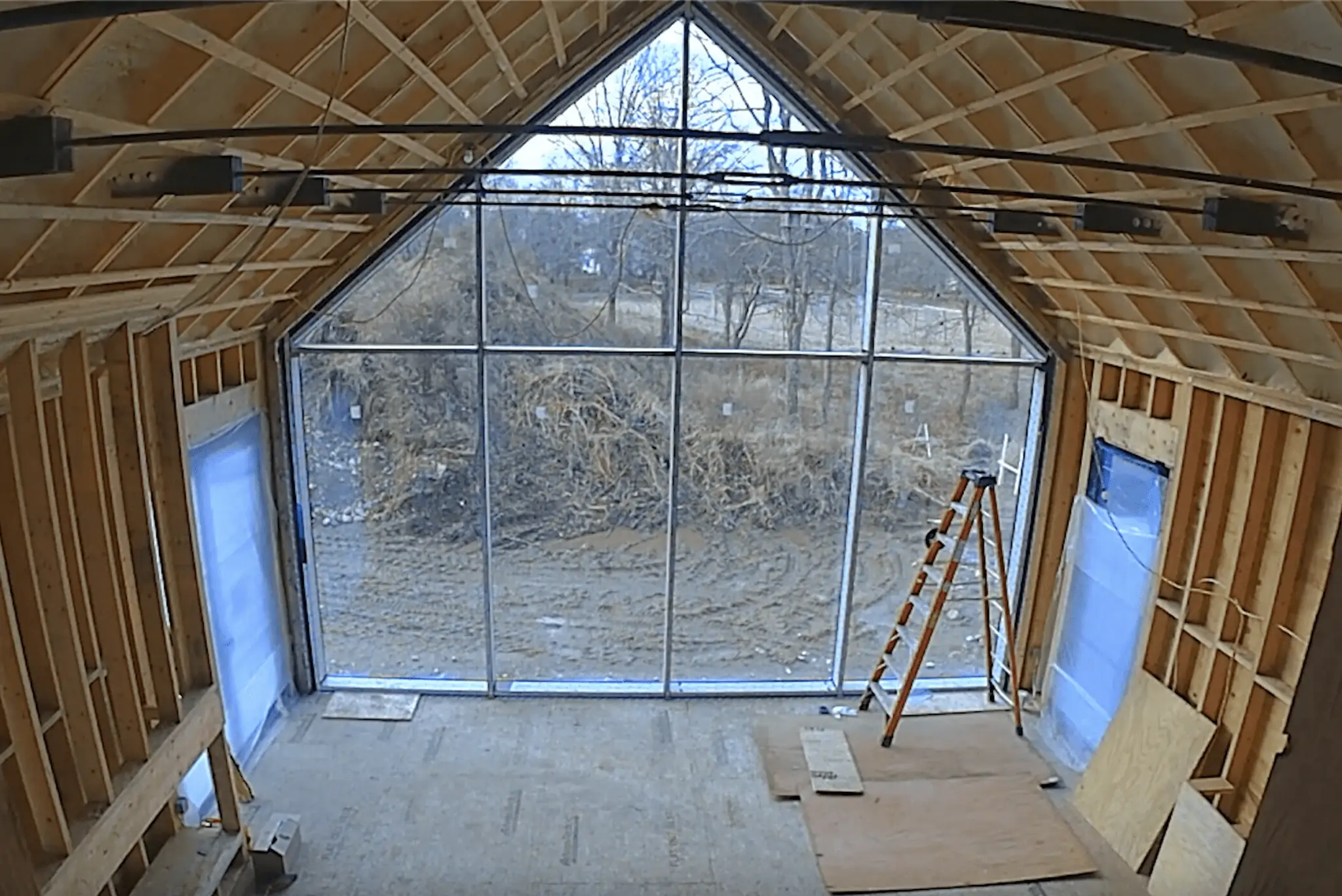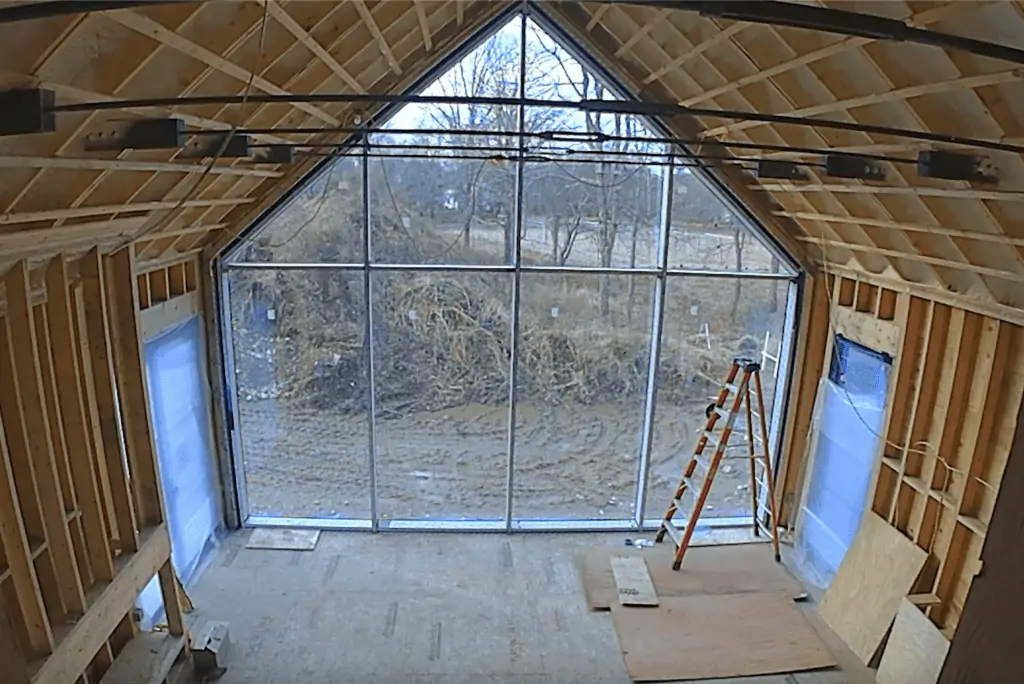 December 13th, 2021
Our huge KLAR curtain wall is finally up in the master bedroom. These custom European windows and exposed tie rods give the home a unique style that you won't find anywhere else in Sherborn.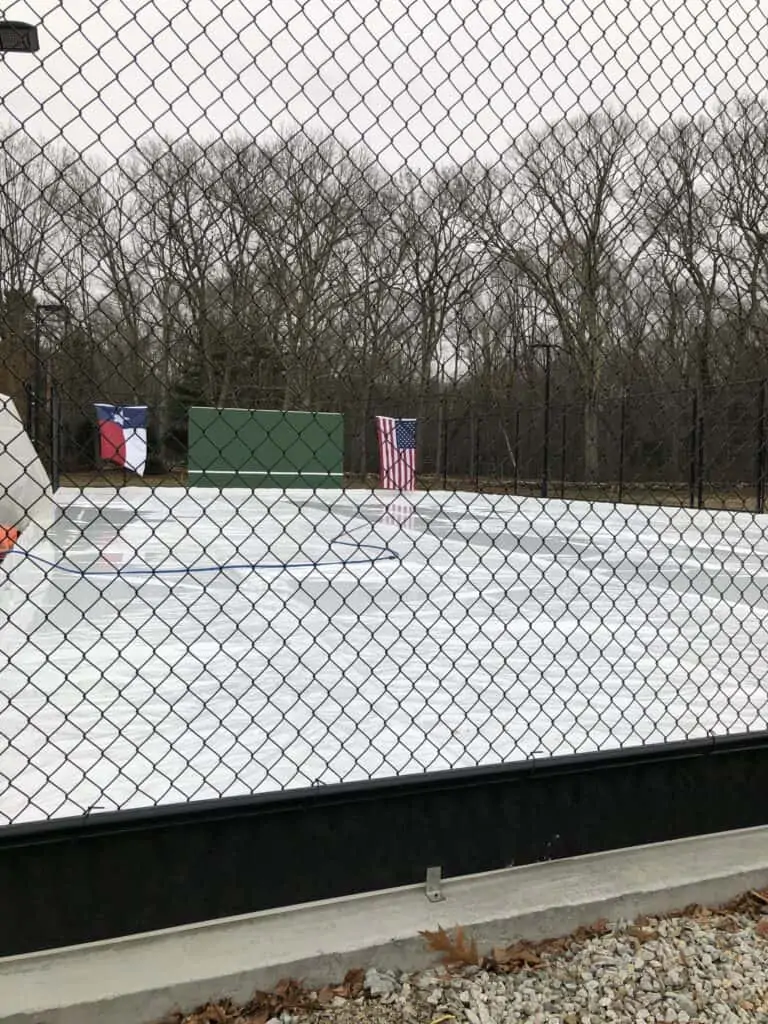 December 8th, 2021
The sport court is becoming an ice rink for the winter. Maybe the team can get some skating in before it thaws.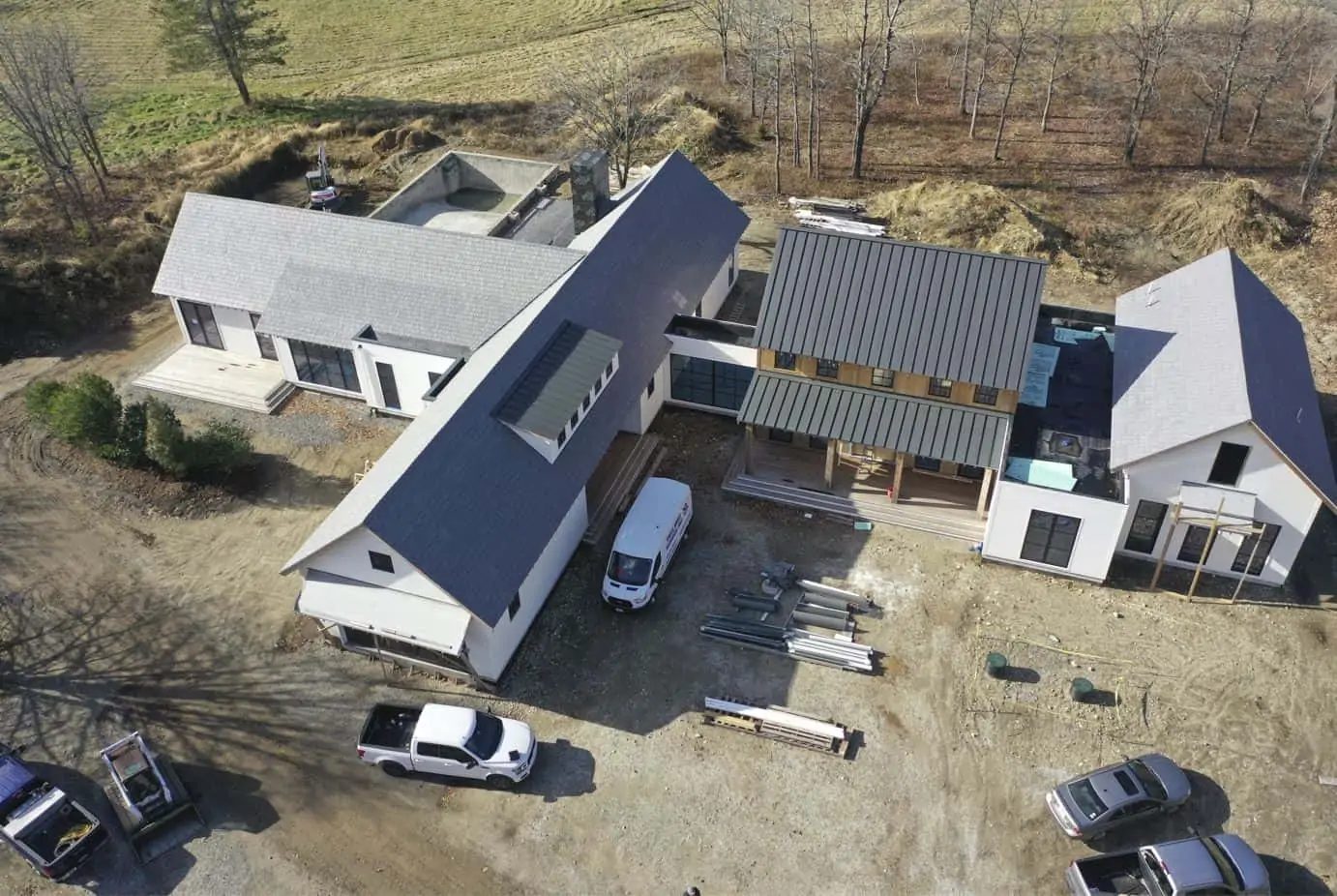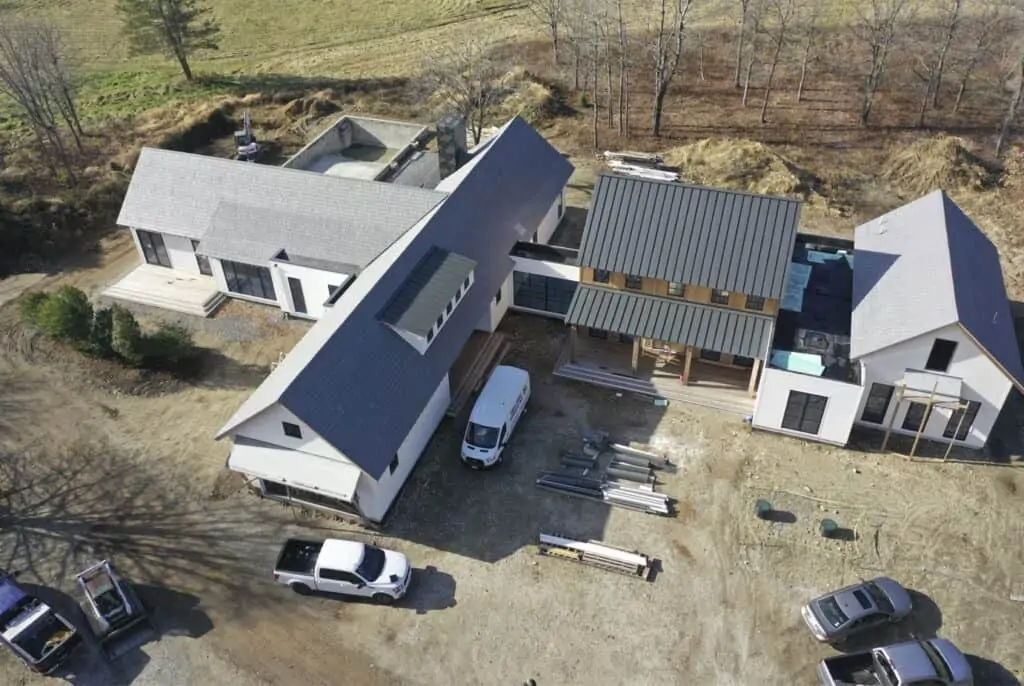 November 19th, 2021
Roof adjustments have been made before the snow hits. Gutters are the final step.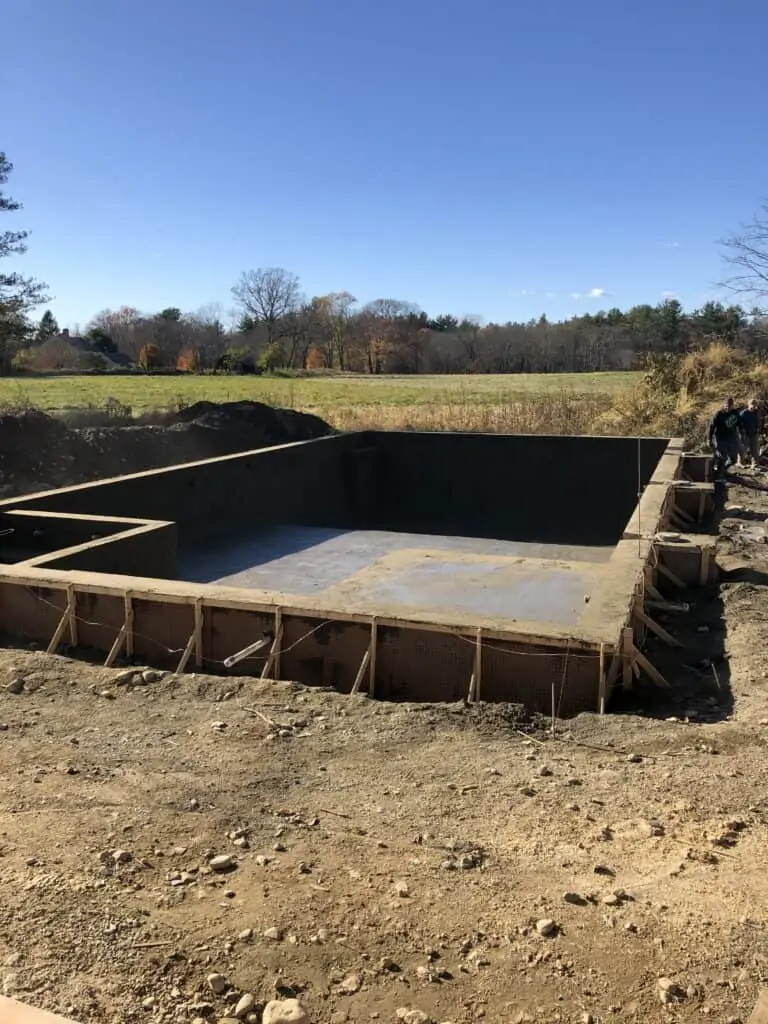 November 5th, 2021
Concrete was successfully shot into the pool and sculpted into shape. Hard to believe this was completed in just one day!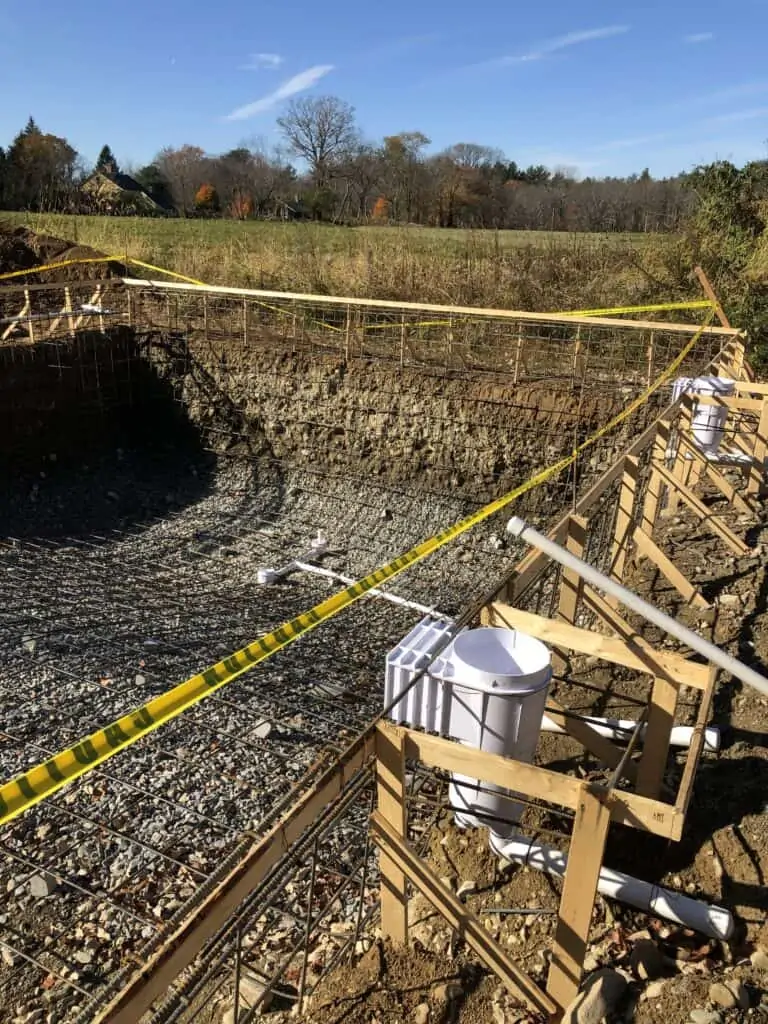 November 4th, 2021
The new pool is dug out, and plumbing system installed. Courtesy of Custom Quality Pools.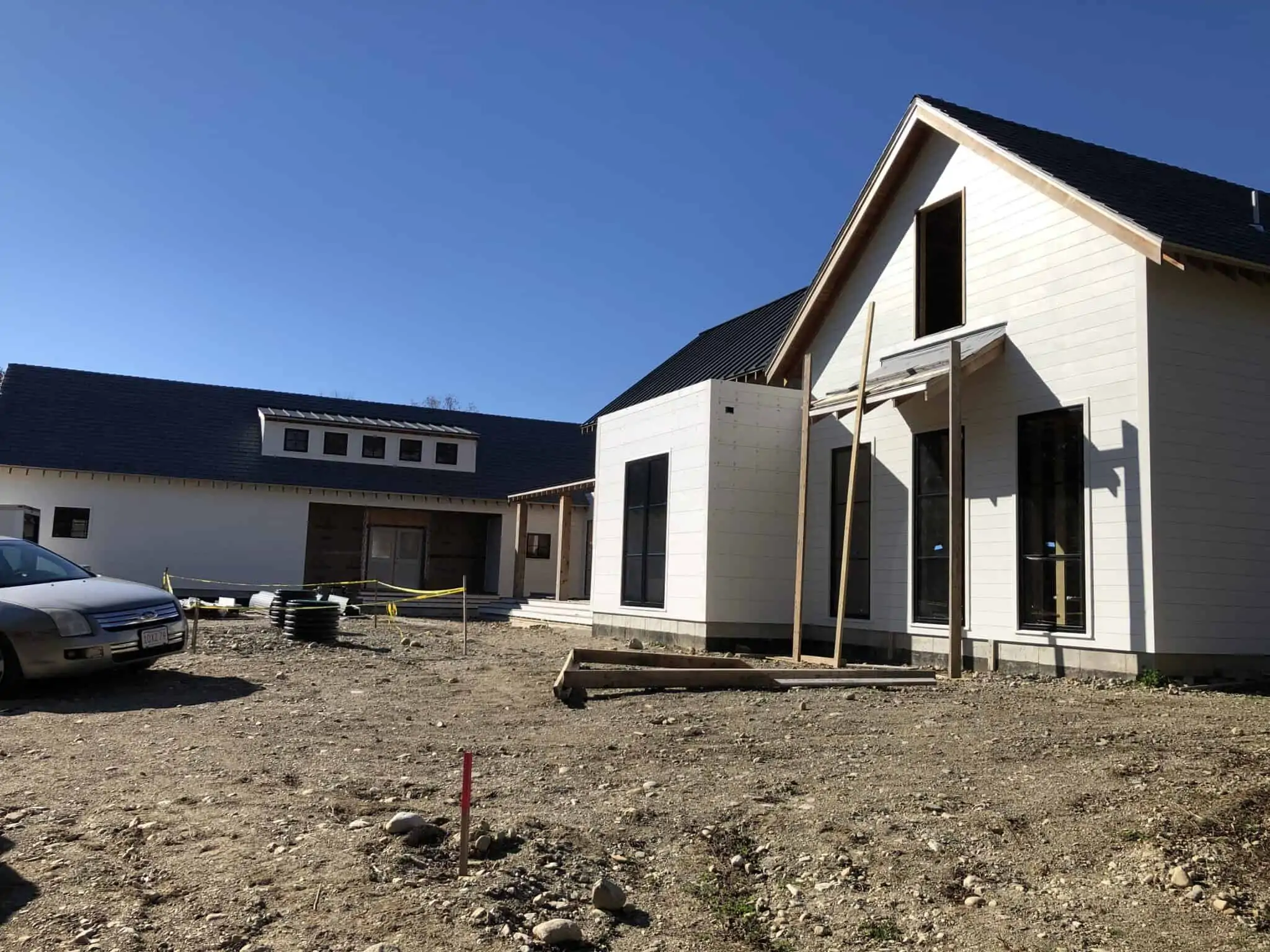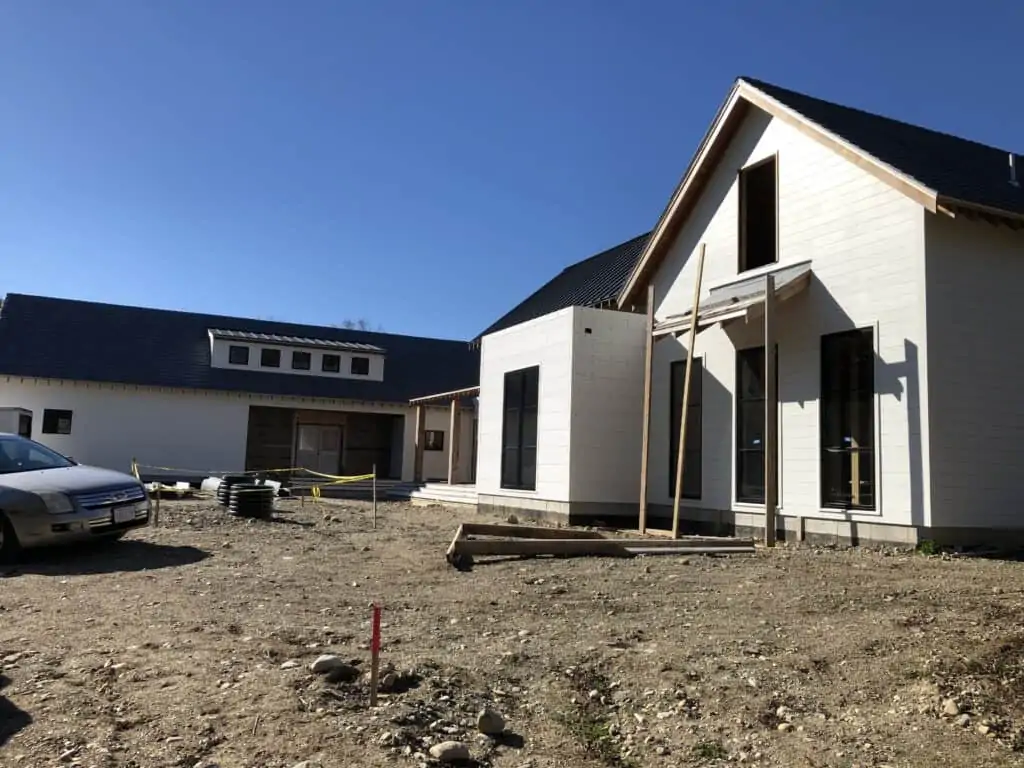 November 1st, 2021
Septic hole is filled in, and the Boral nickel gap siding is painted white on the left side of the house.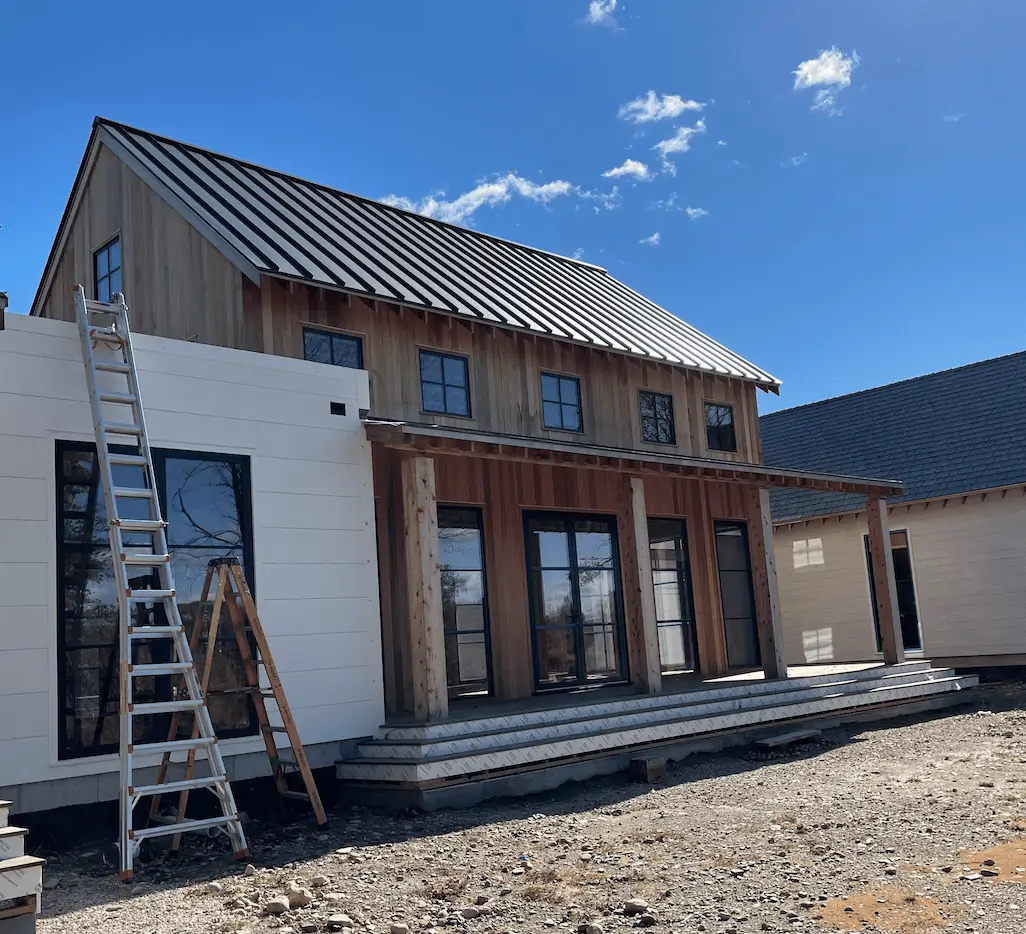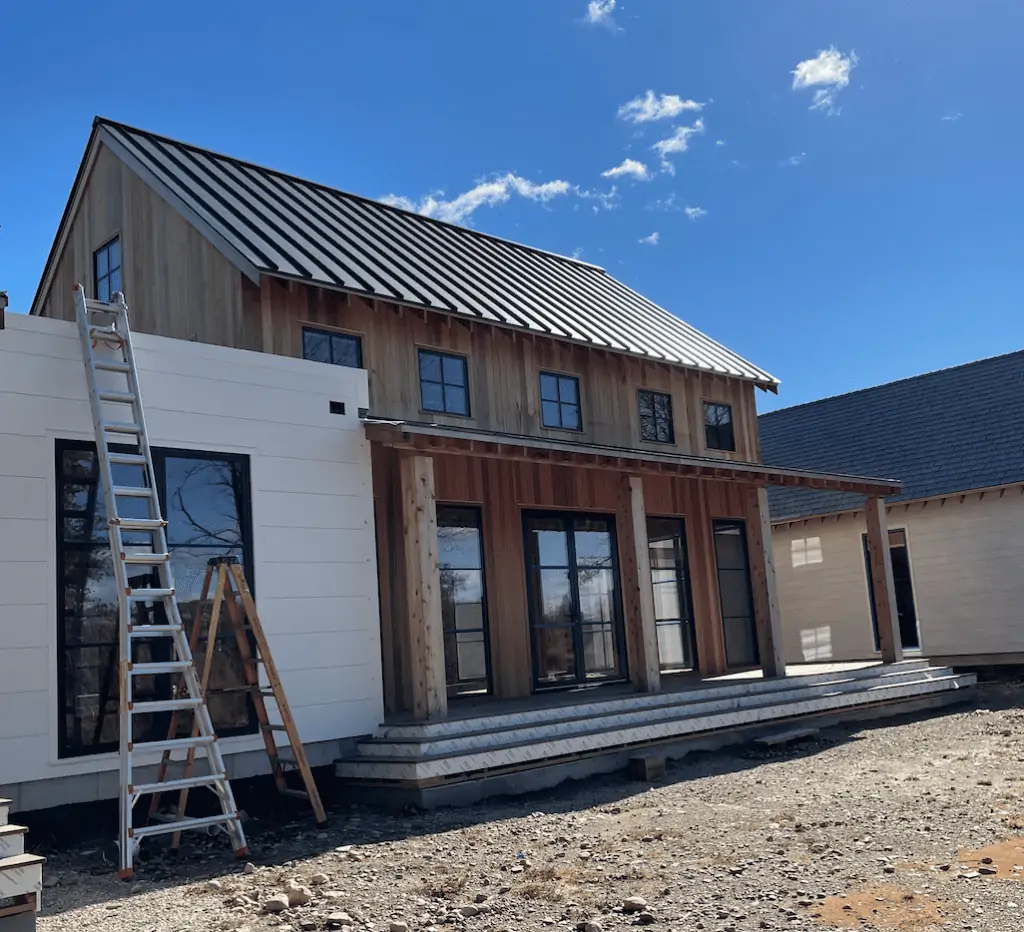 October 19th, 2021
More azek paneling on the back of the house, and the porch decking completed. Gutters are on the way.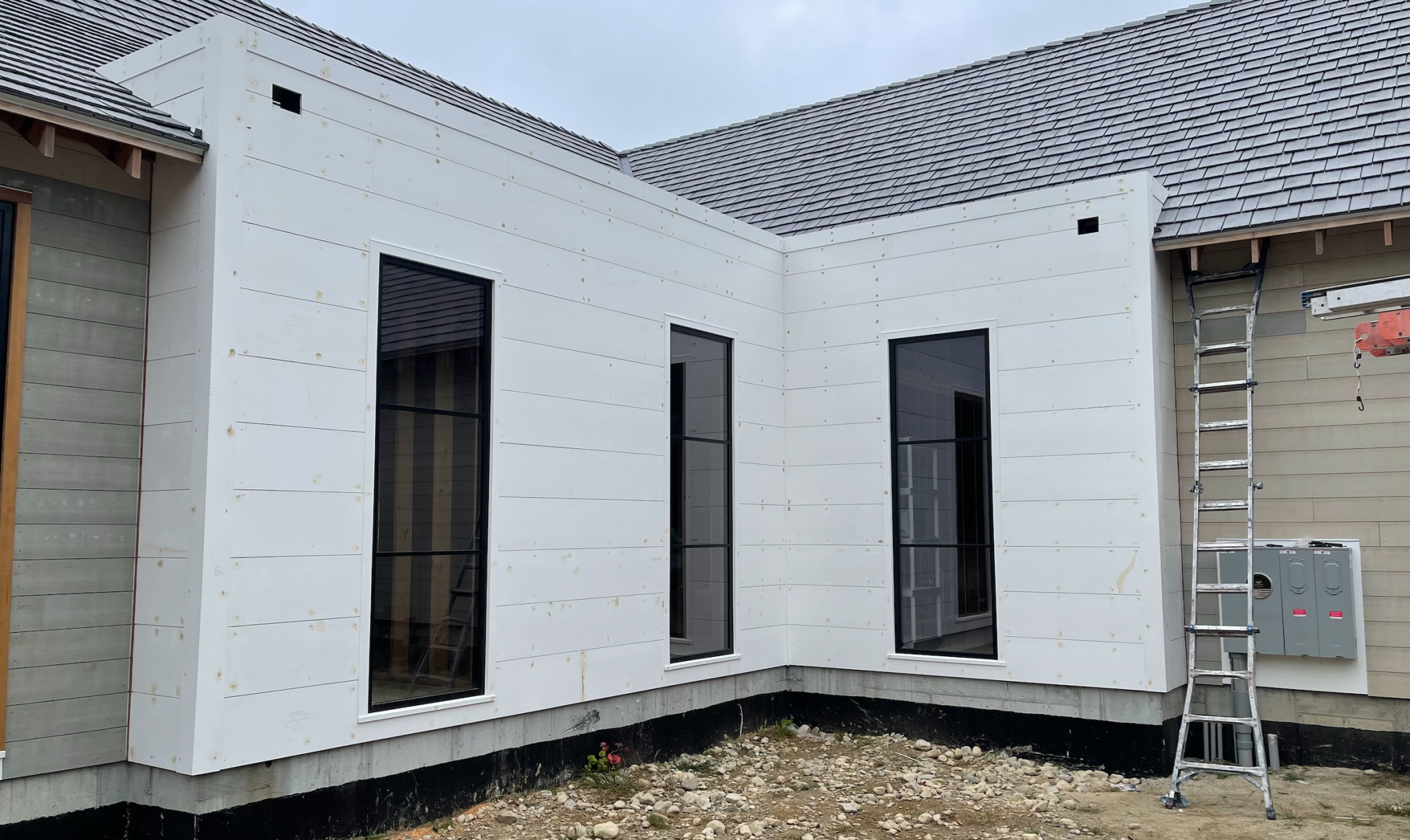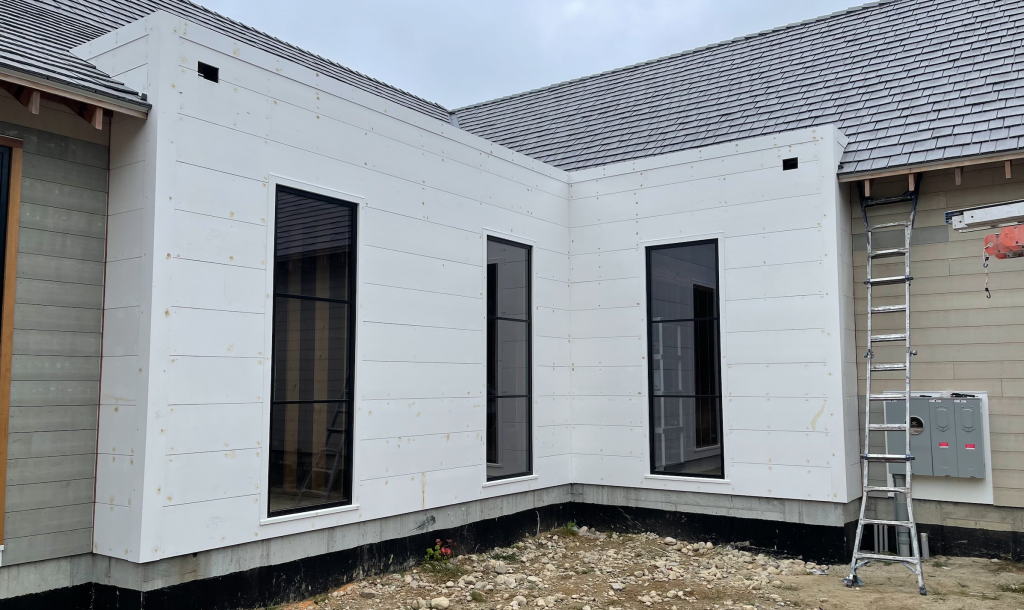 September 21st, 2021
Azek PVC siding is going up. These two windows on the left will lead into the master suite closets.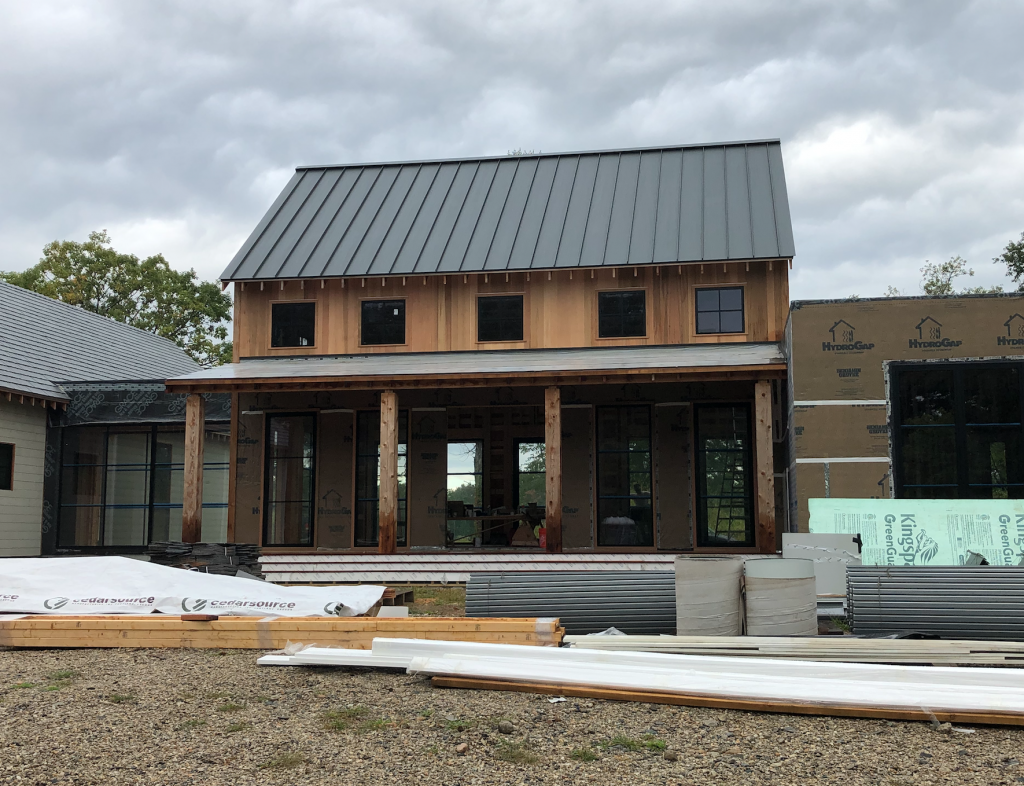 September 15th, 2021
The cedar siding install has begun. It will look even better with a light stain.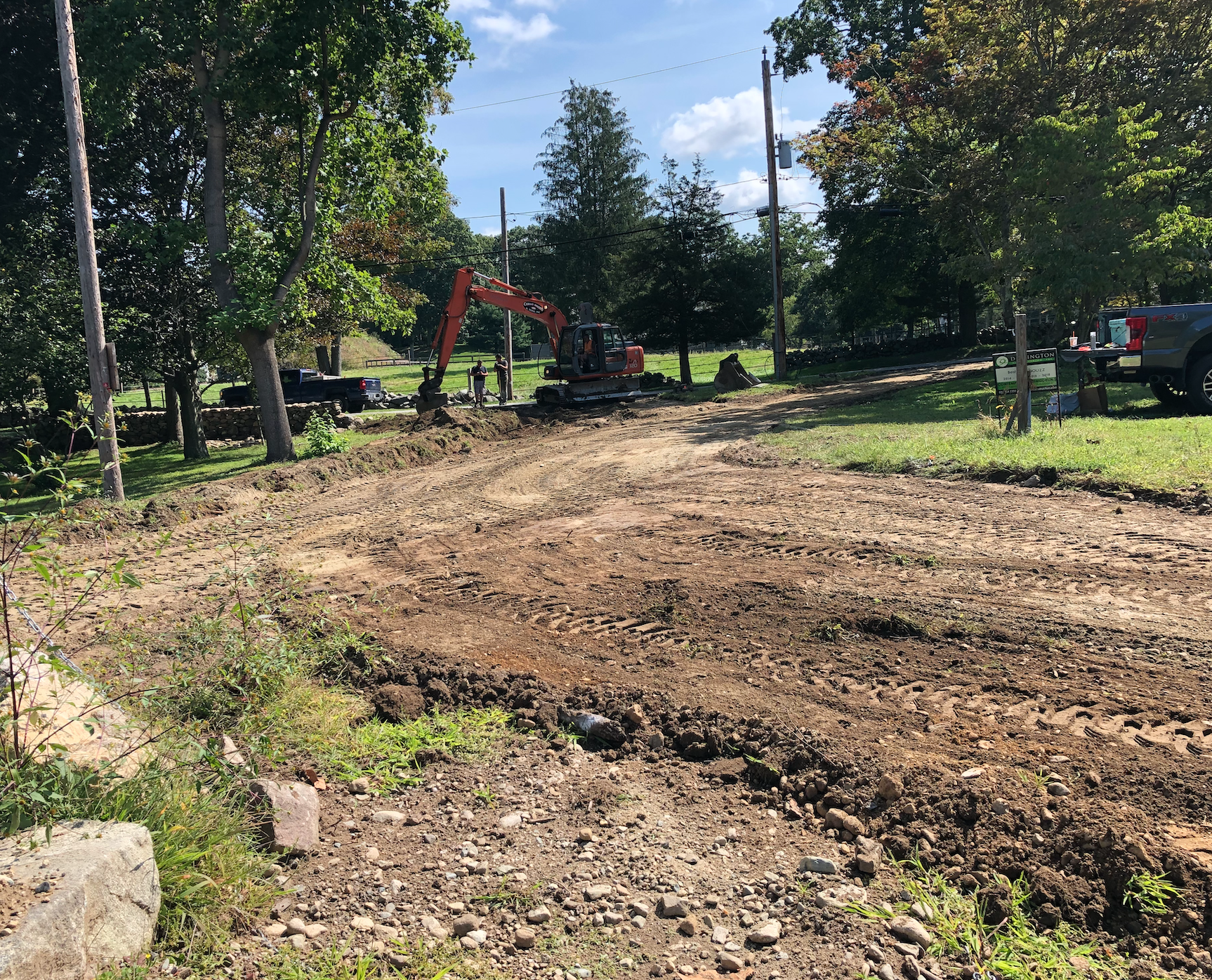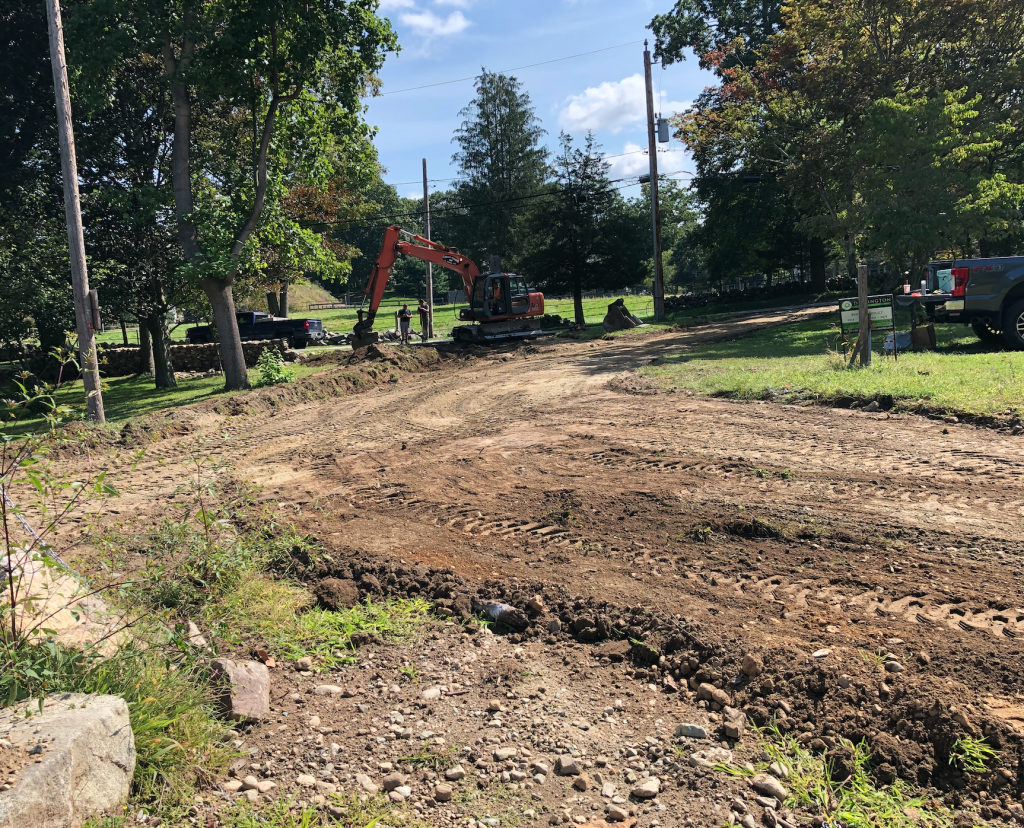 September 13th, 2021
Gaita Equipment is bringing out the heavy machinery to dig out the new driveway today.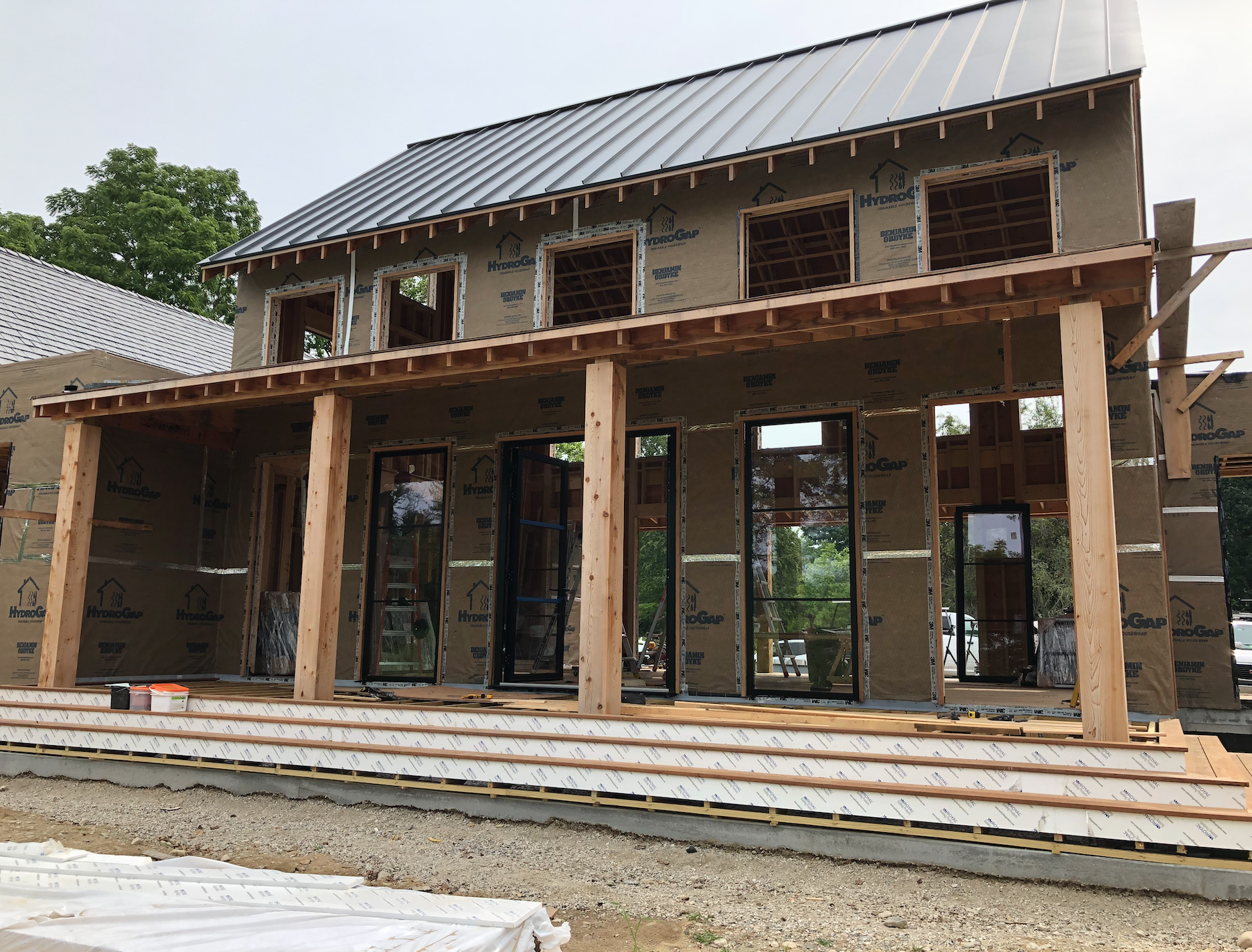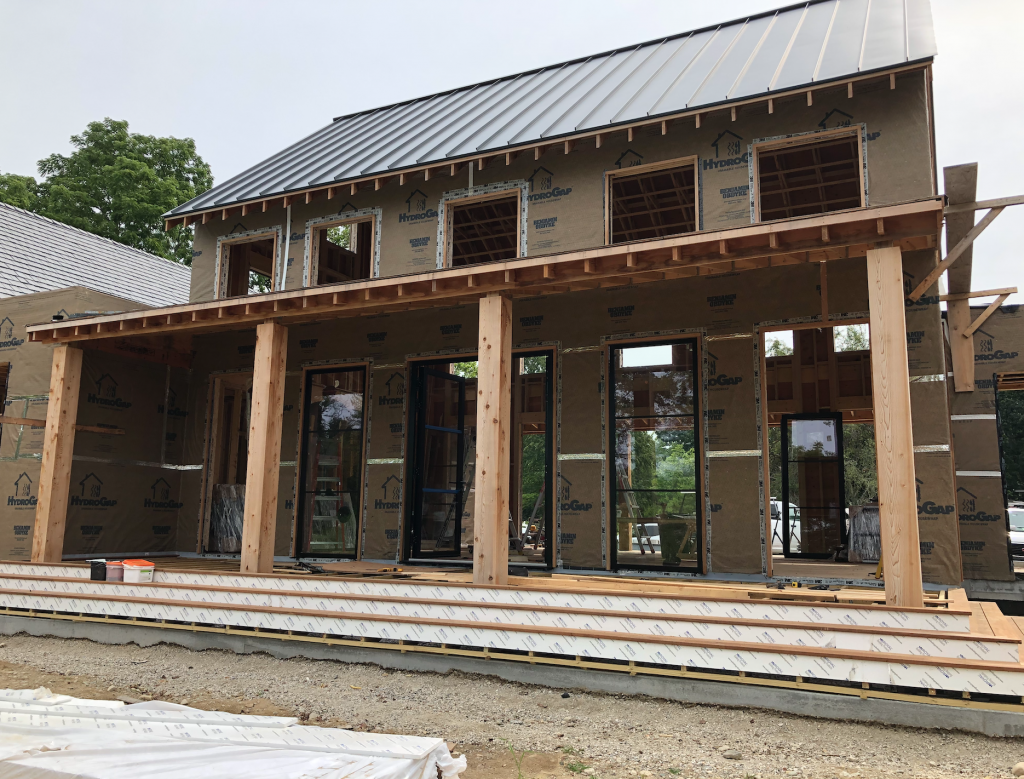 August 4th, 2021
Windows and sliding door installation with the KLAR team is transforming this home's several outdoor spaces.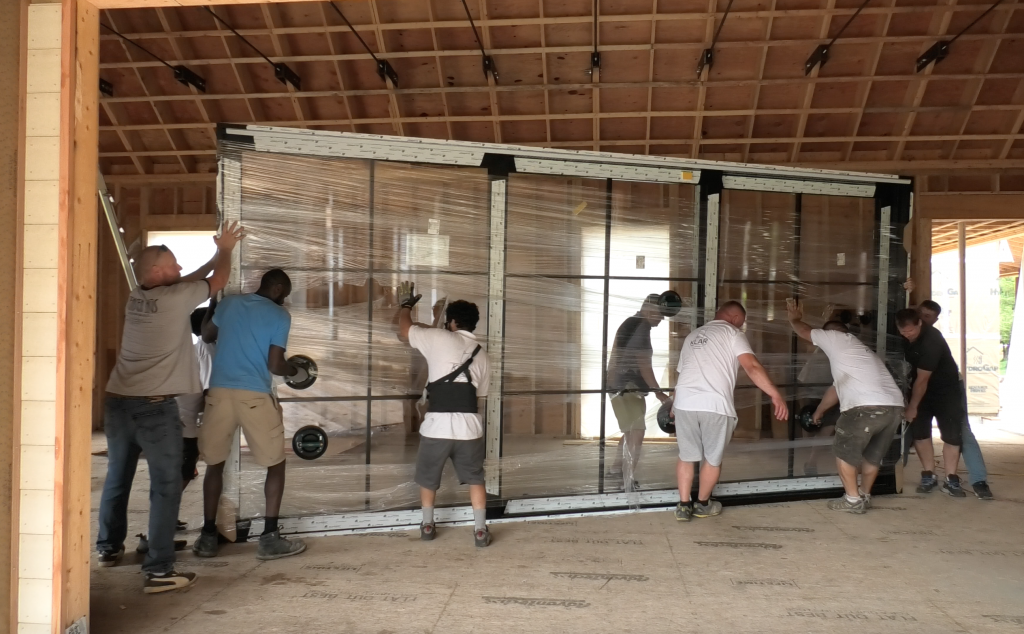 August 3rd, 2021
Our KLAR windows arrived today from Poland. It took many hands to move this huge sliding door!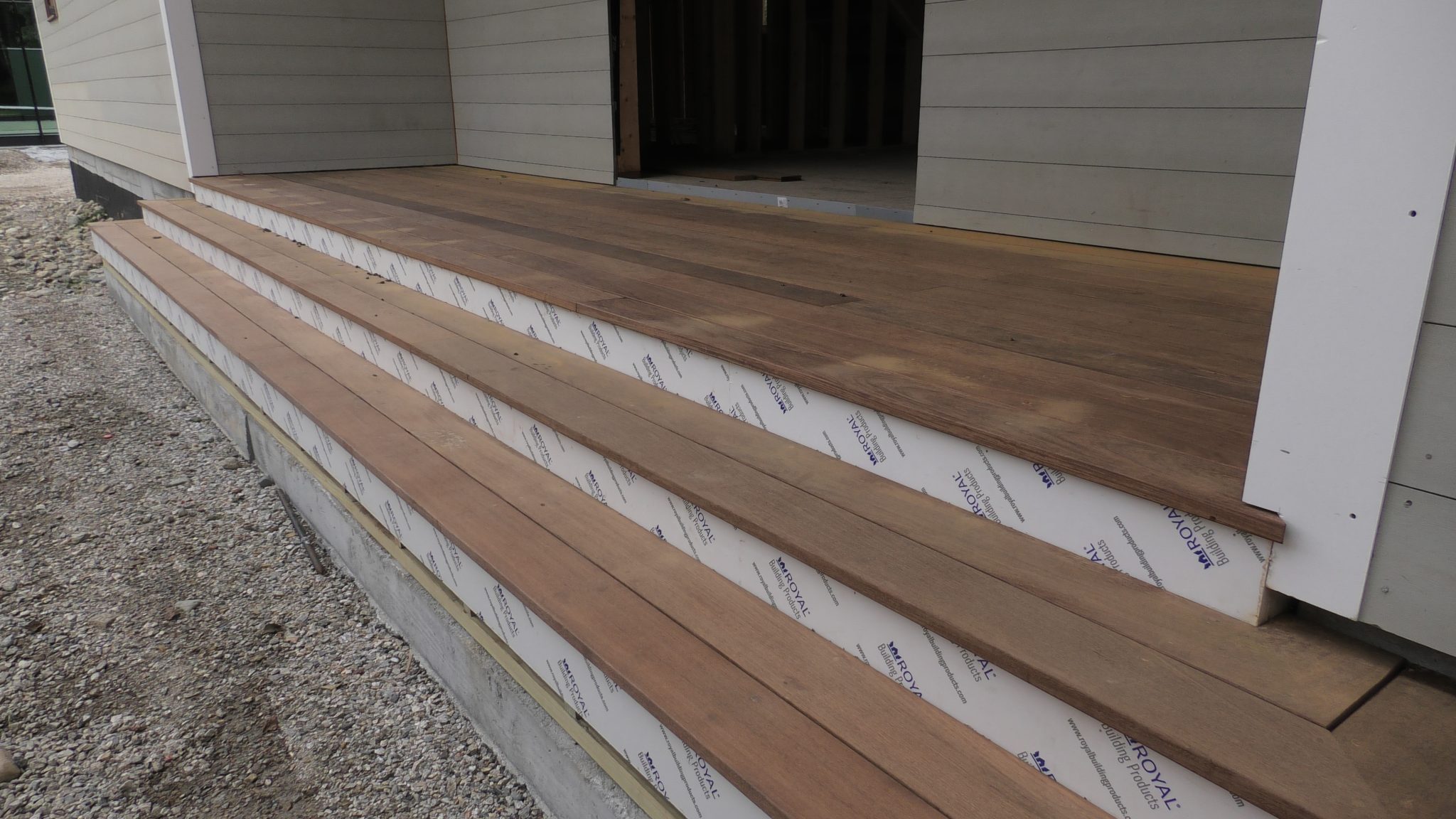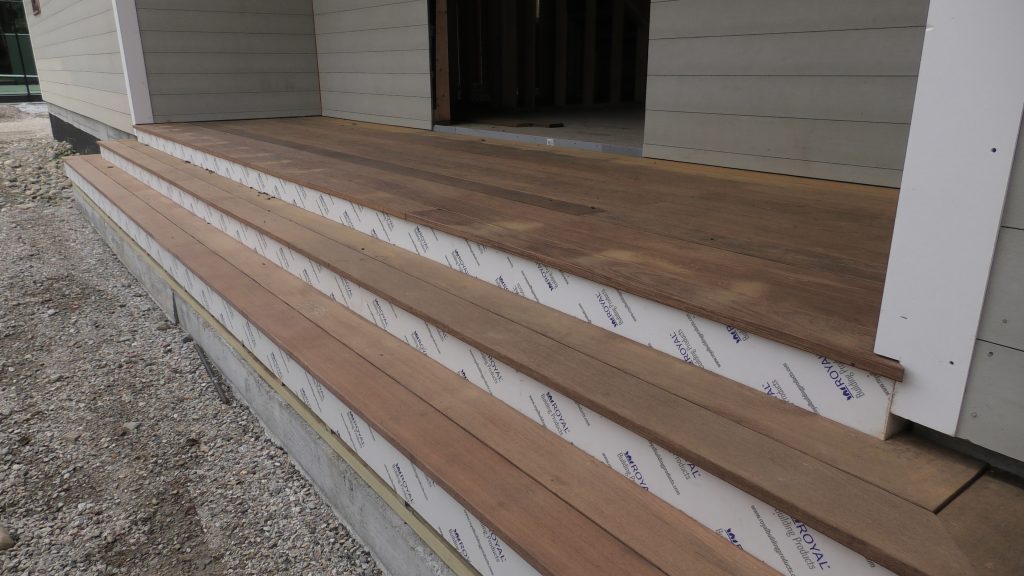 July 29th, 2021
One of the many outdoor decks for this home, looking beautiful already.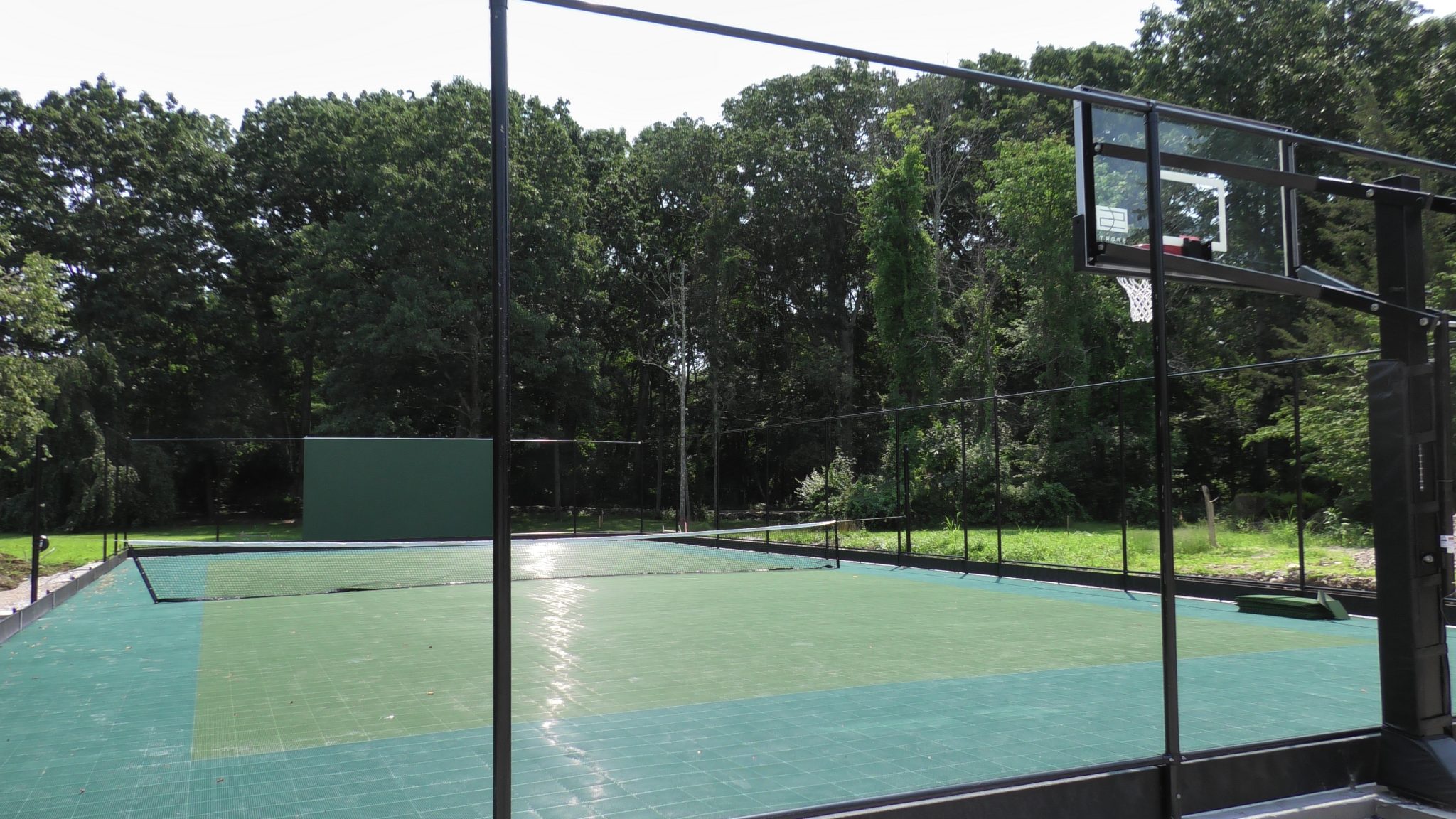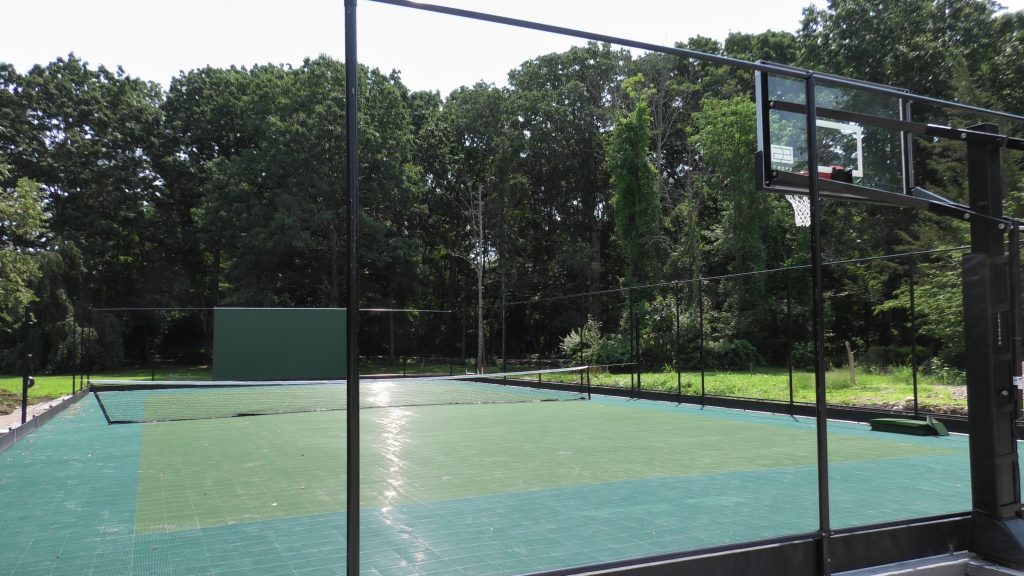 July 22nd, 2021
Sport Court is complete. This functions as a basketball/tennis court in the warm months and can be filled as an ice skating rink in the winter.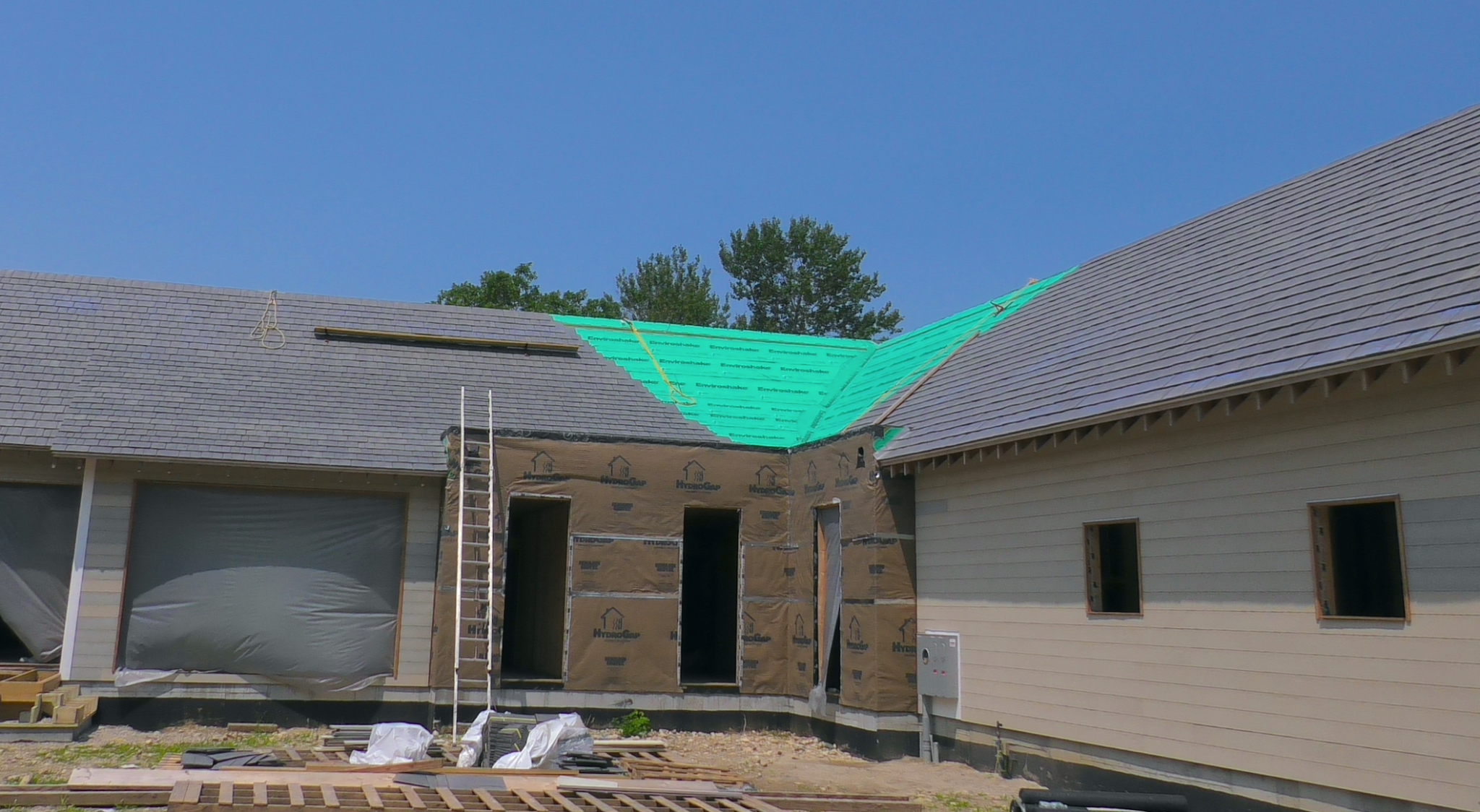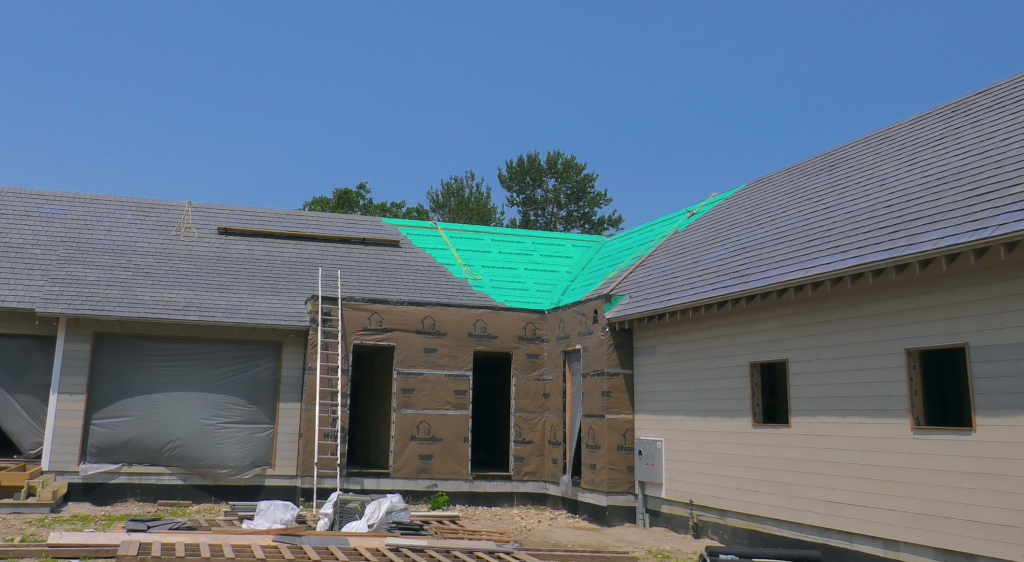 July 16th, 2021
Enviroshake roofing install by Dr. Roof is almost finished. These guys are the experts about this long-lasting quality material.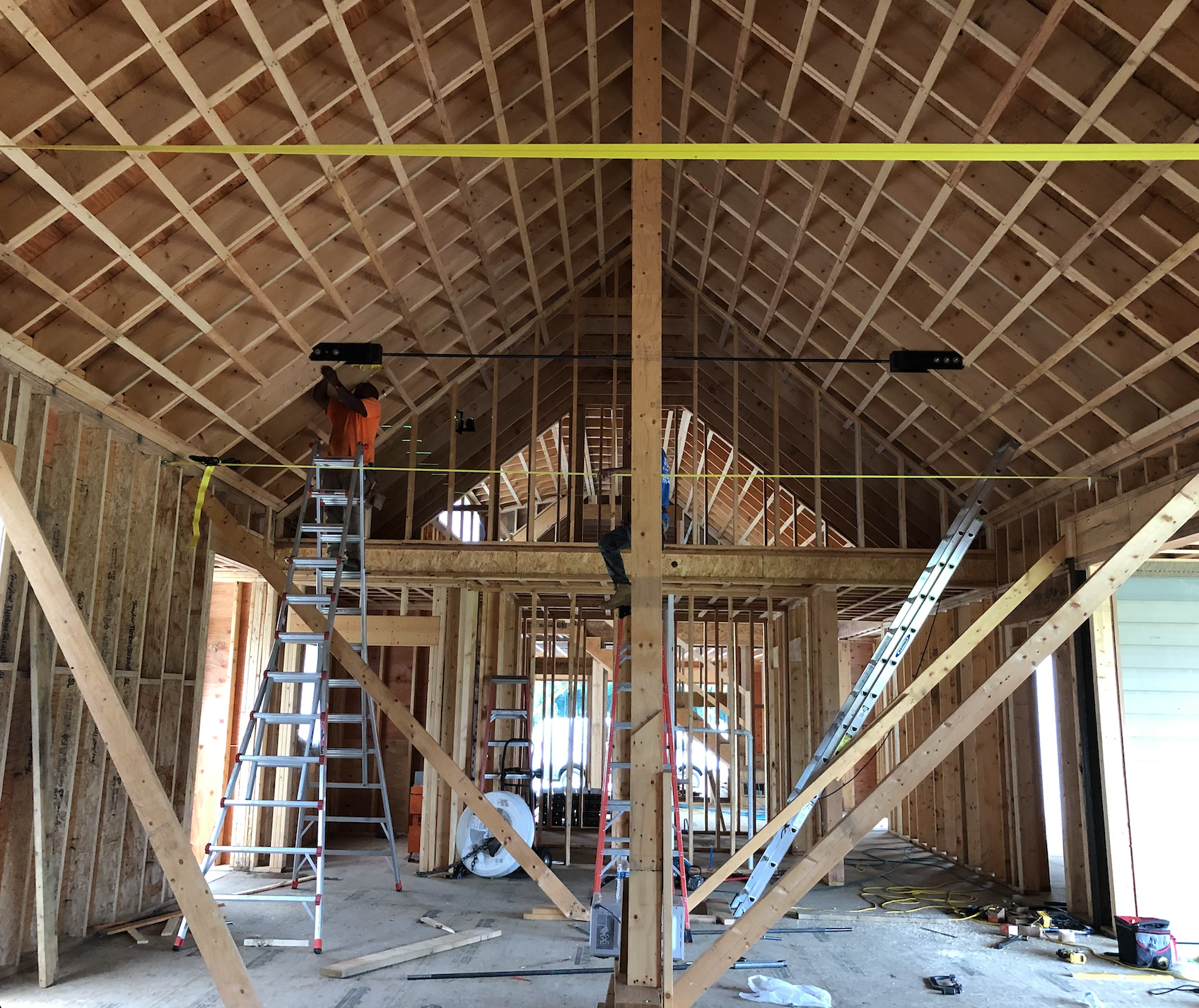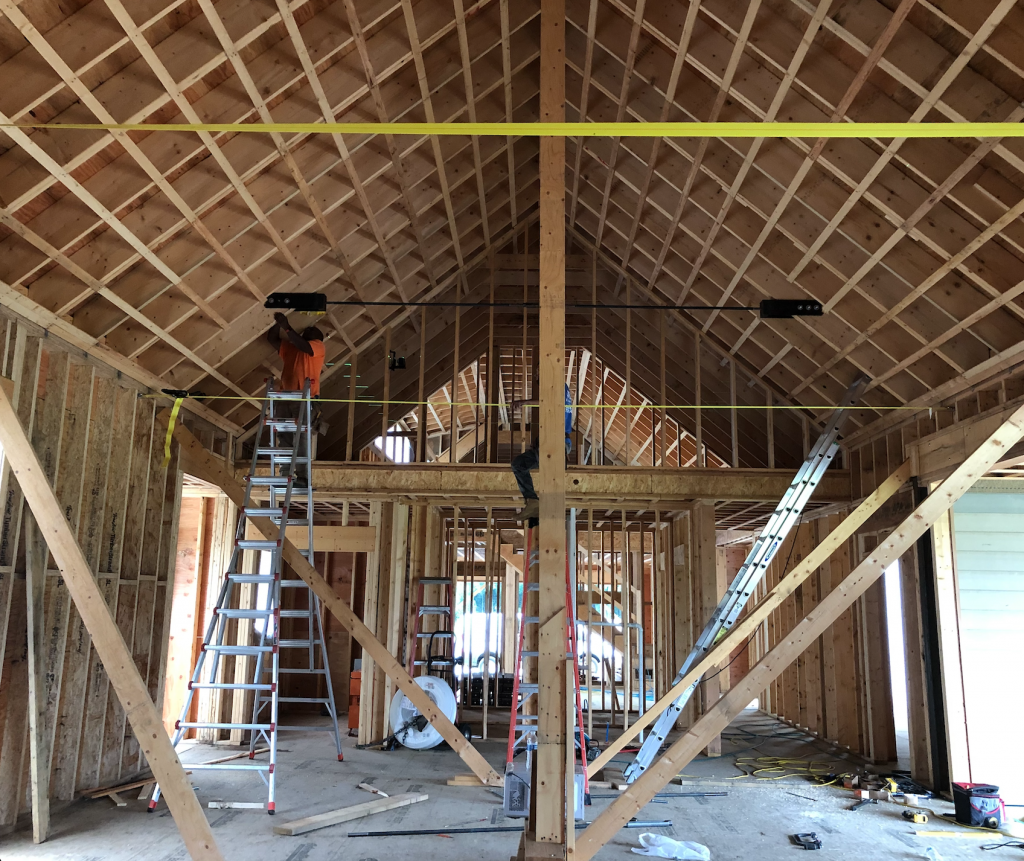 July 14th, 2021
W&U Framing has begun our tie rod installation above the kitchen. This is highly precise work that will give the space a unique flair.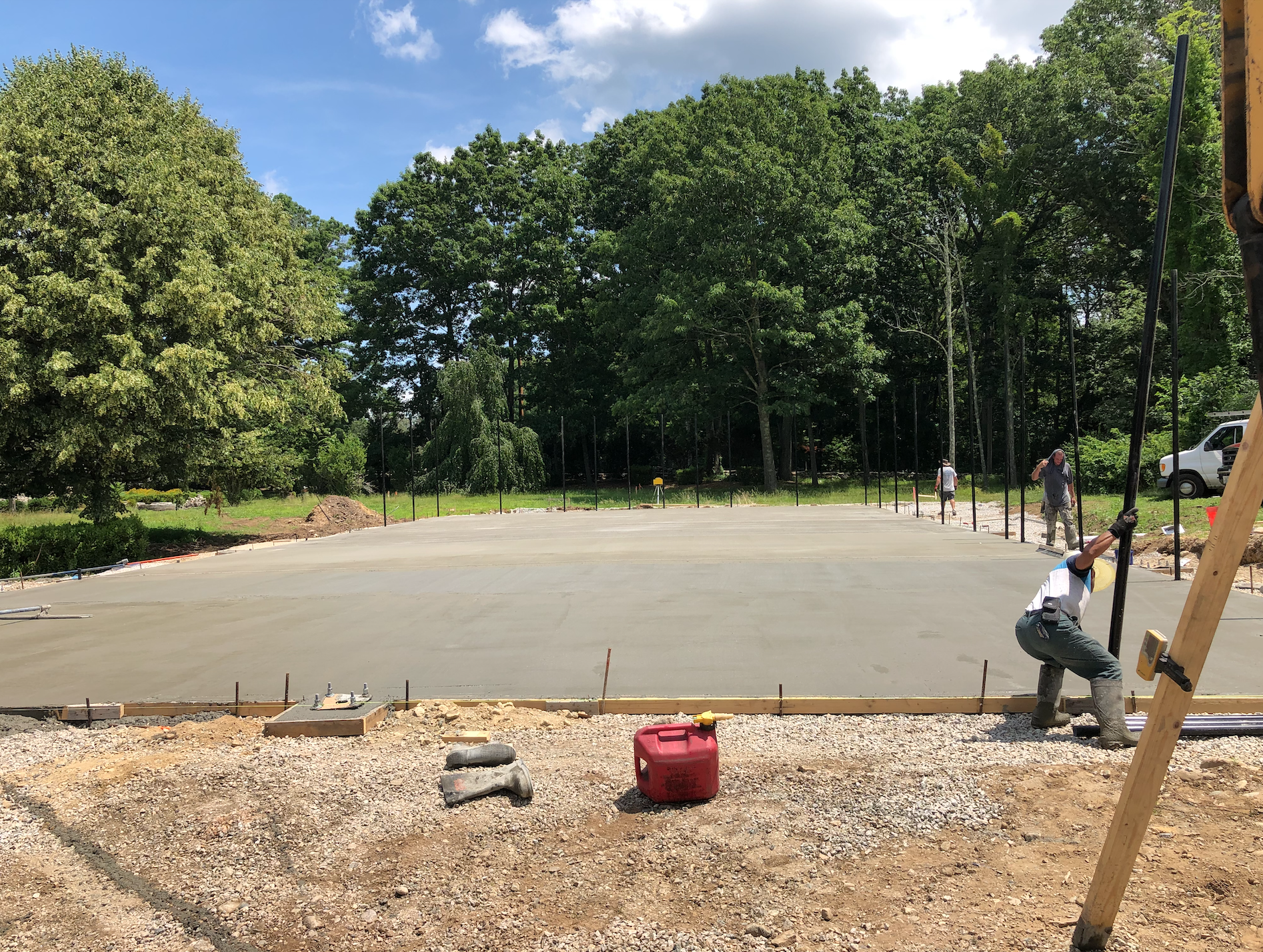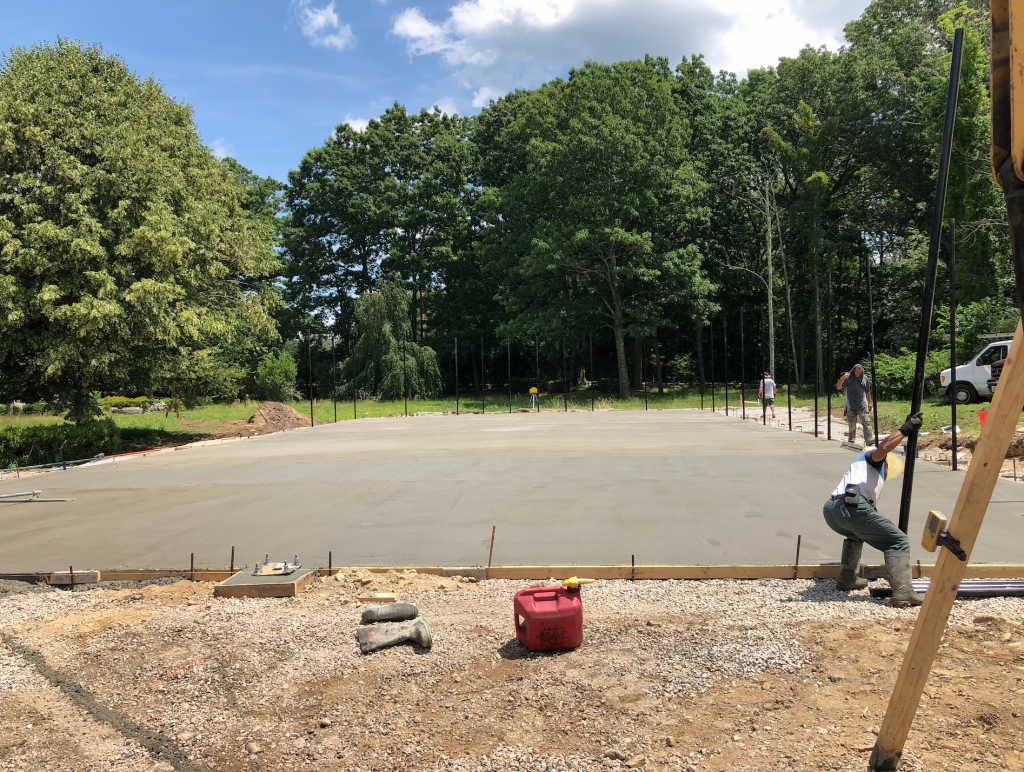 June 28th, 2021
This huge concrete pour by Sport Court of MA was very successful.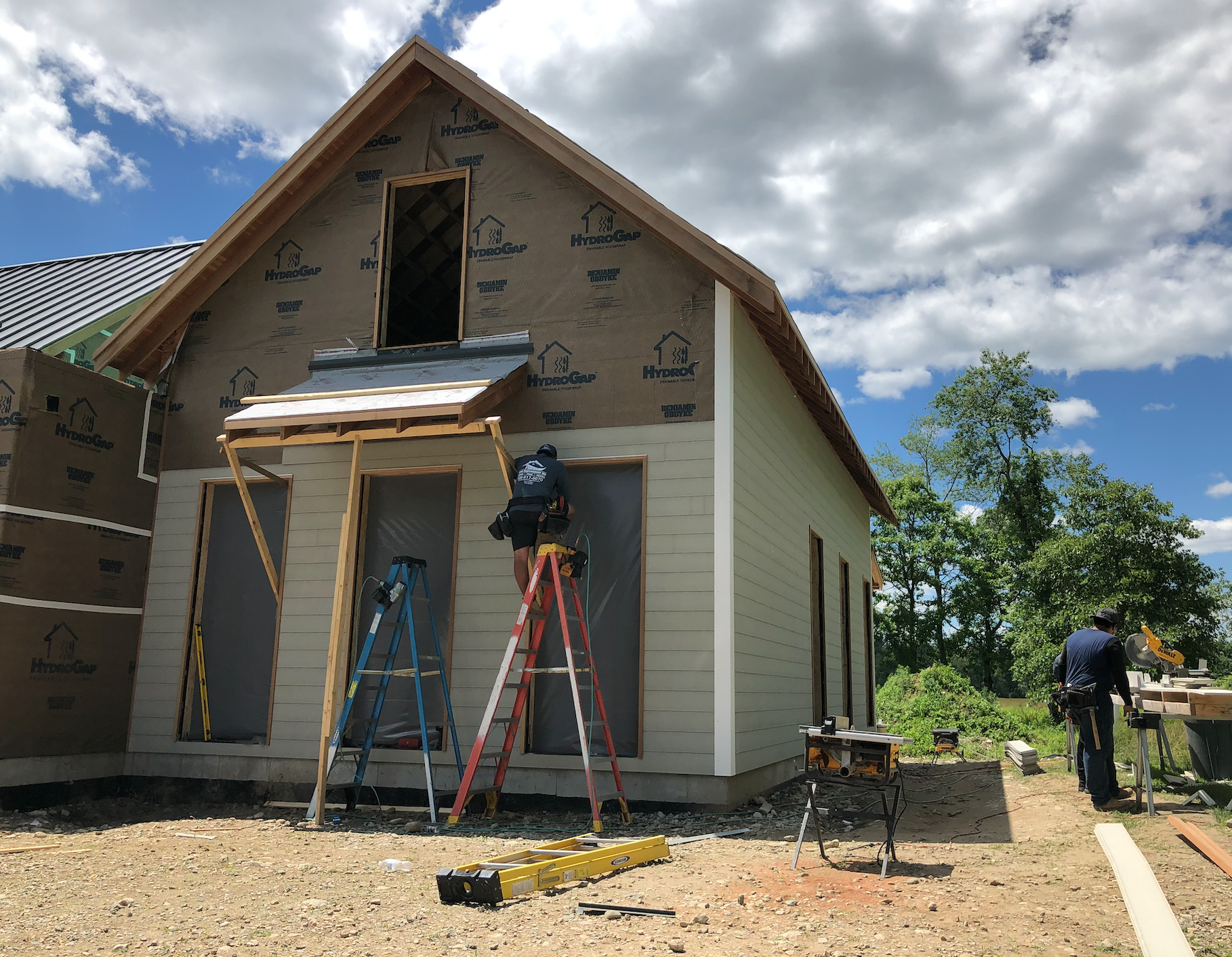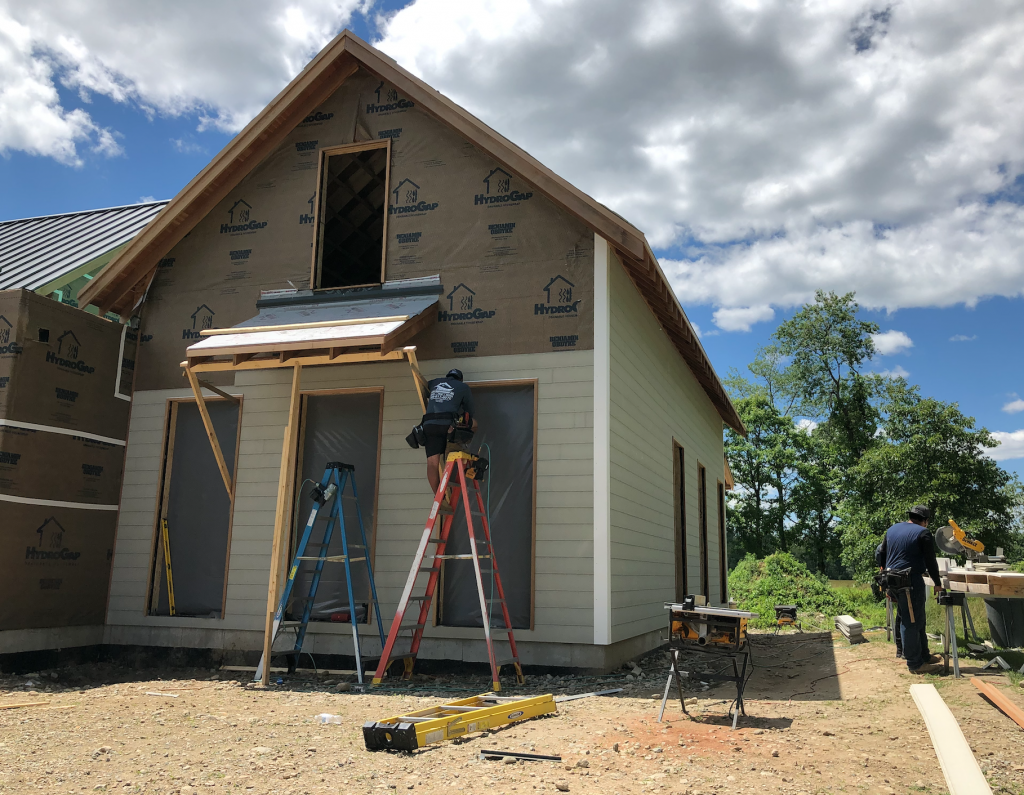 June 16th, 2021
Our T&G siding installation is in progress here in Sherborn.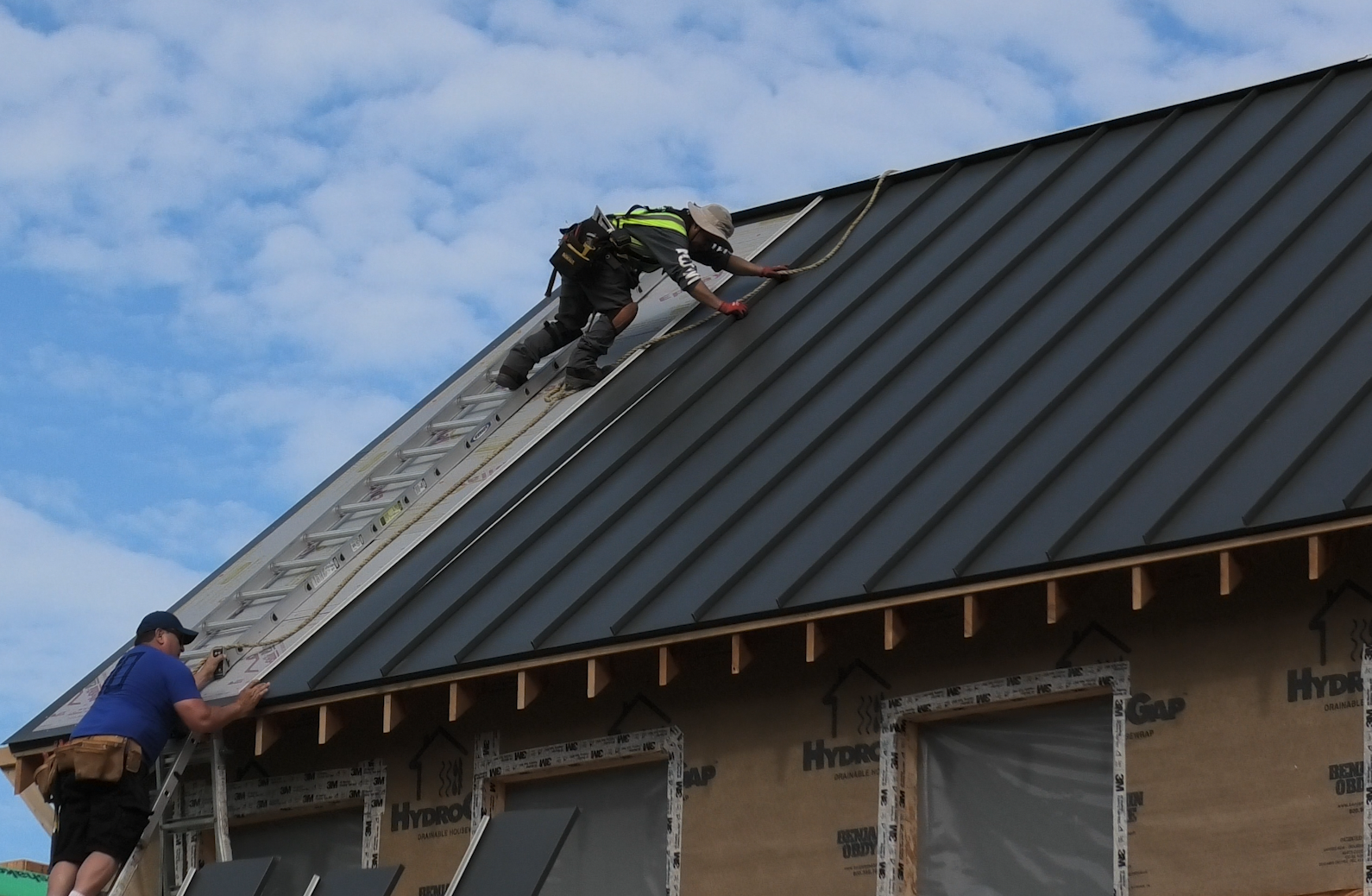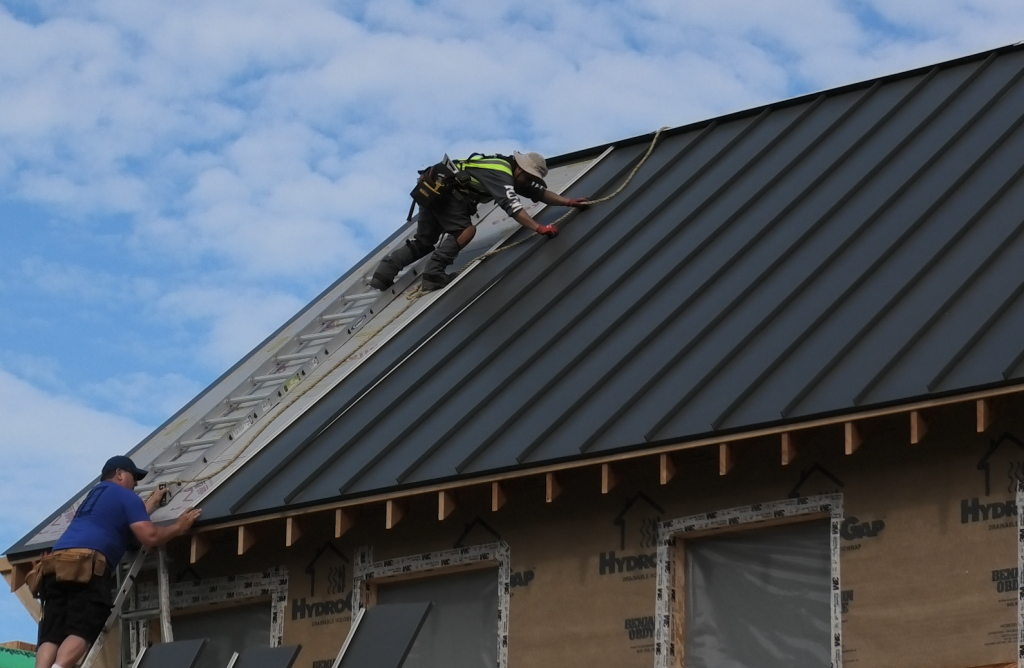 June 11th, 2021
Standing seam metal roofing will cover this front section of the house. The rest will be synthetics.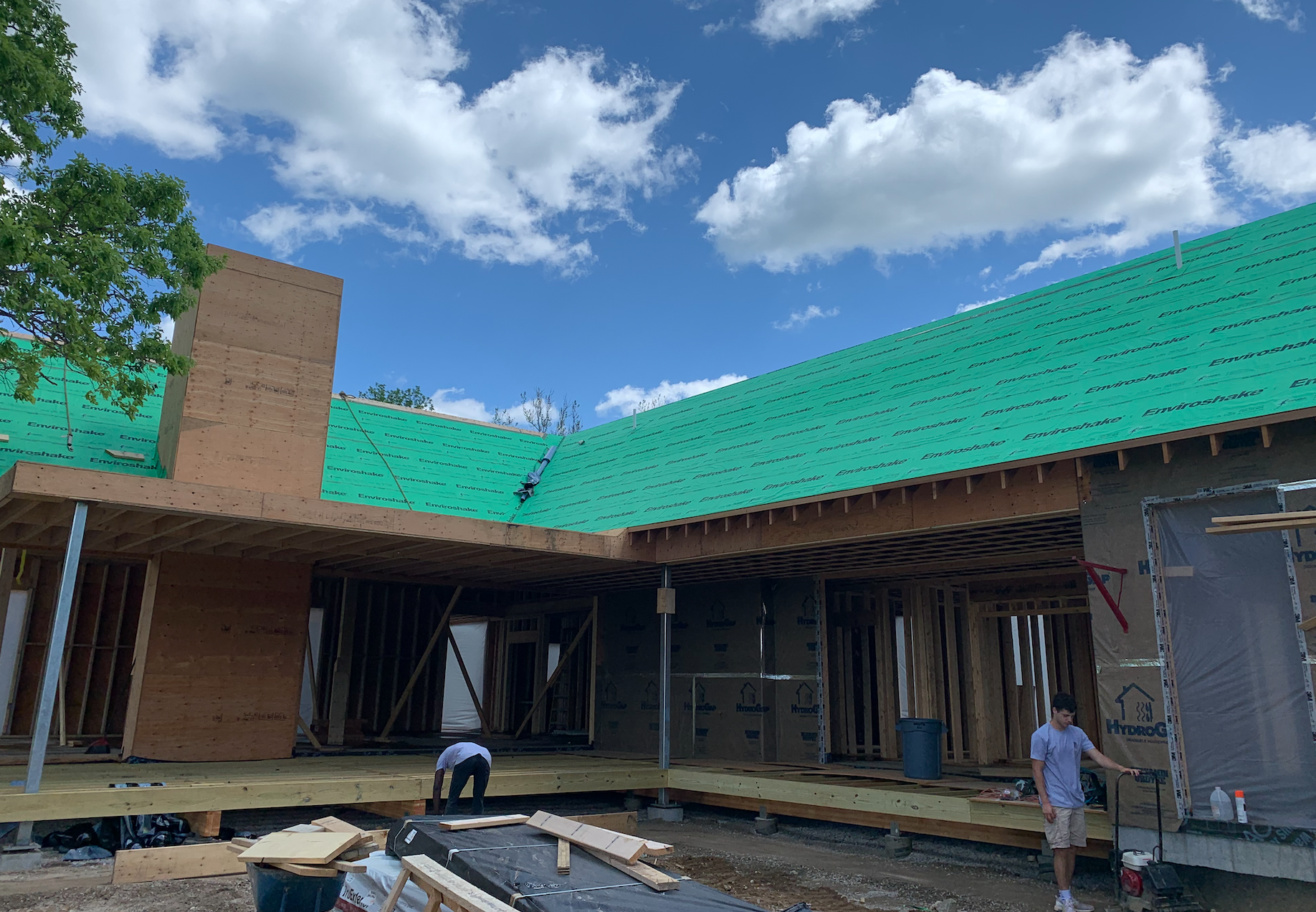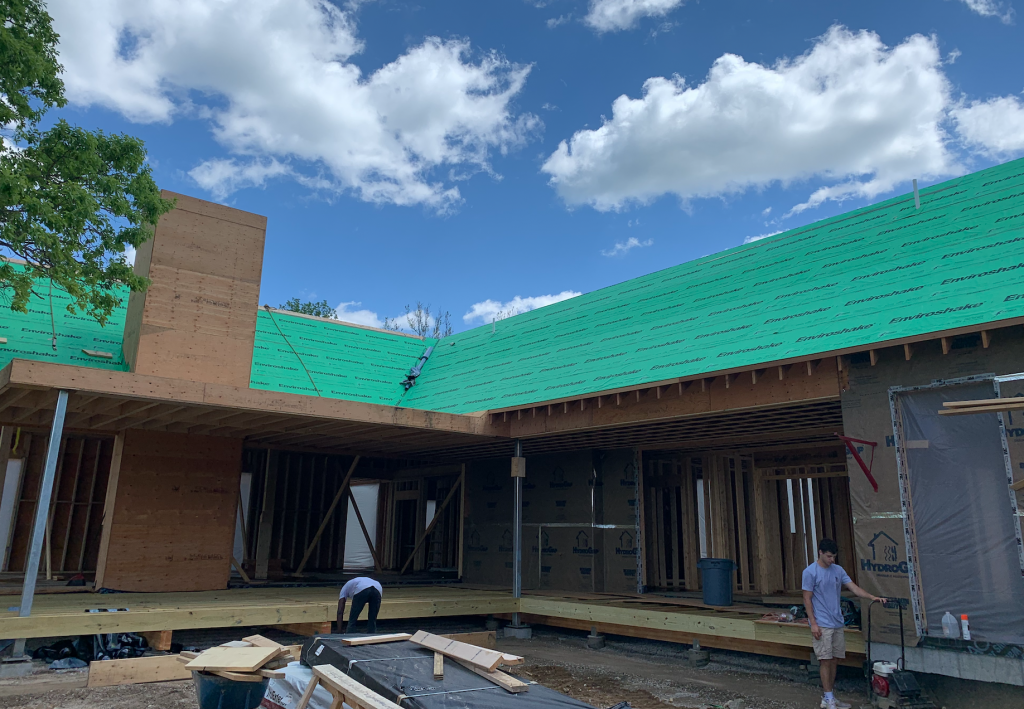 May 27th, 2021
So glad to get our roof covered before the rain hits this weekend!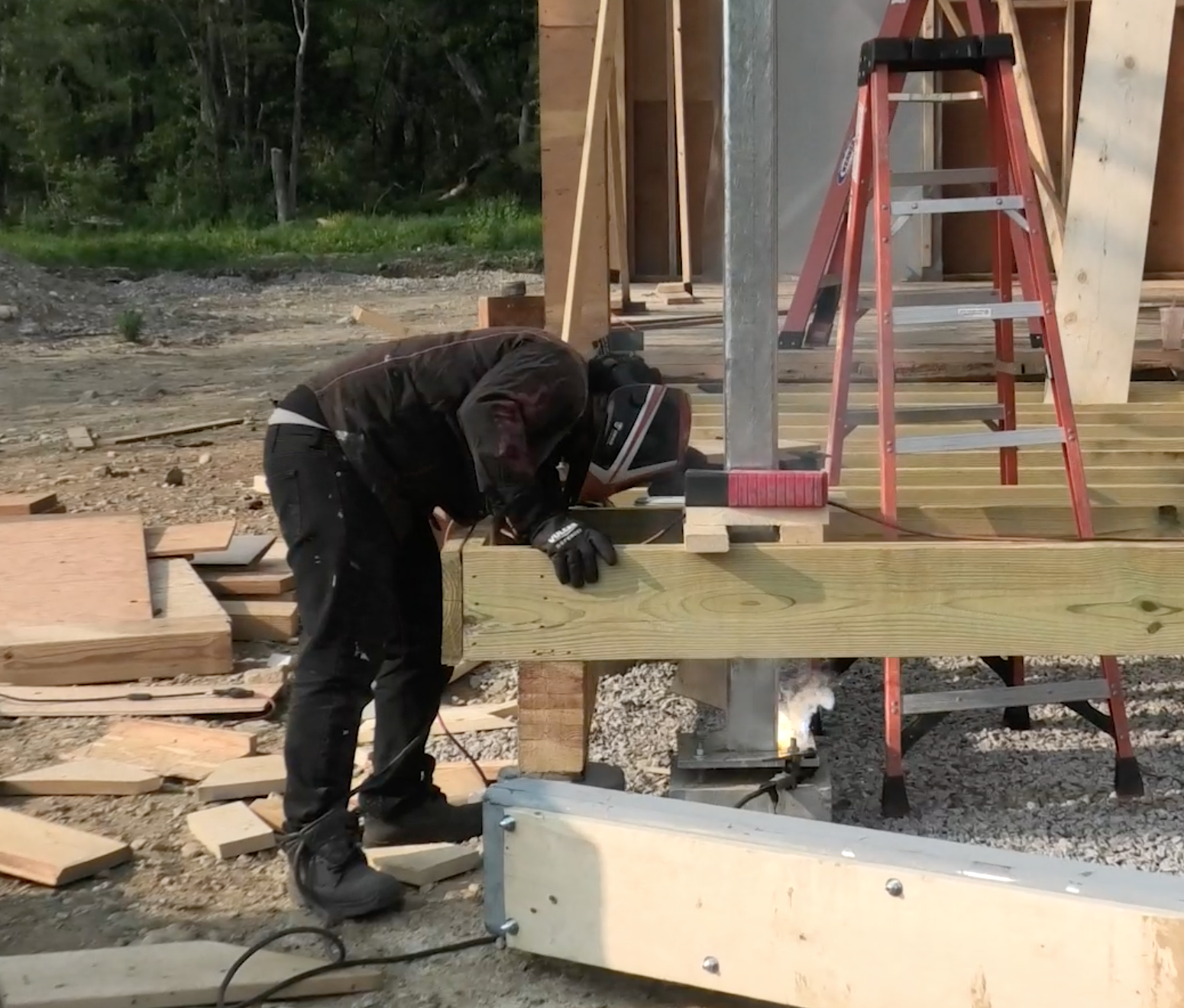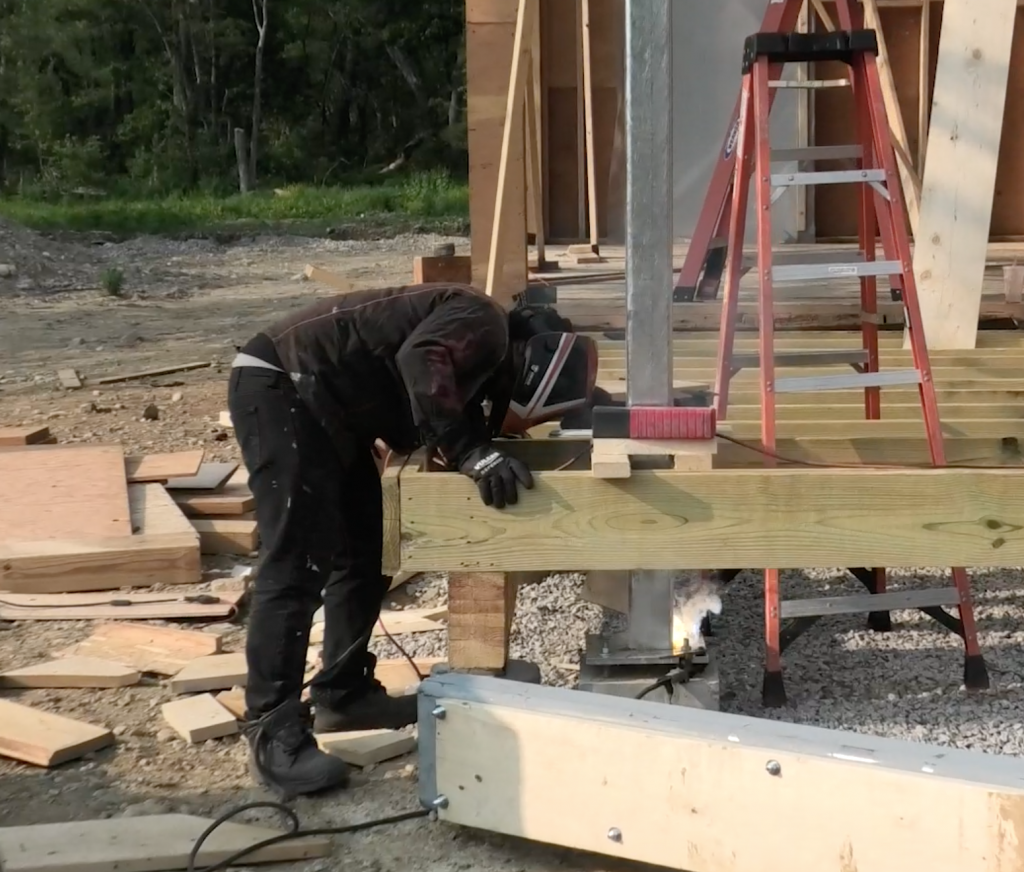 May 19th, 2021
Mario's Railing & Welding connecting our steel beams for this huge back deck.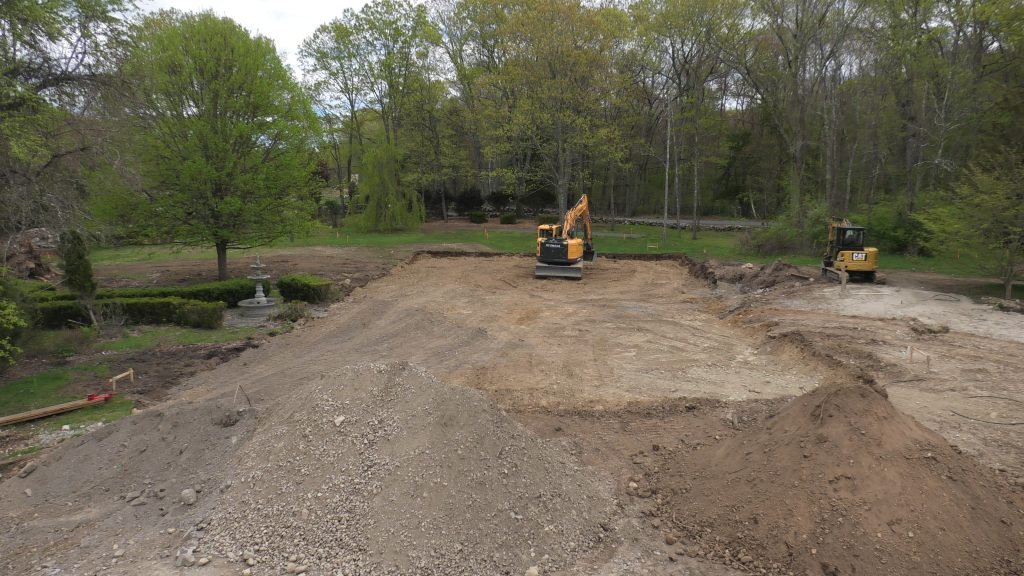 May 12th, 2021
Digging out a great big space for our soon-to-be sport court.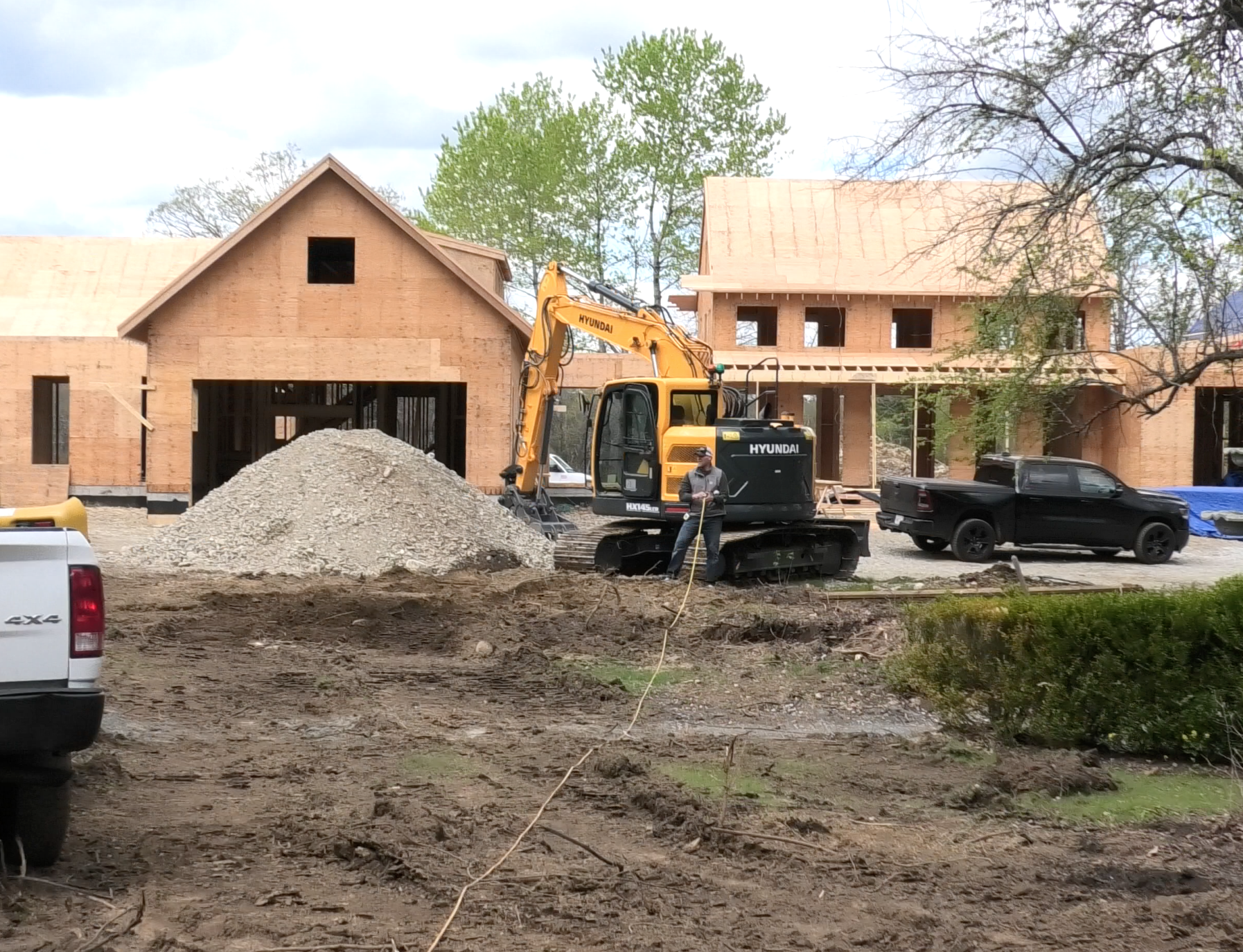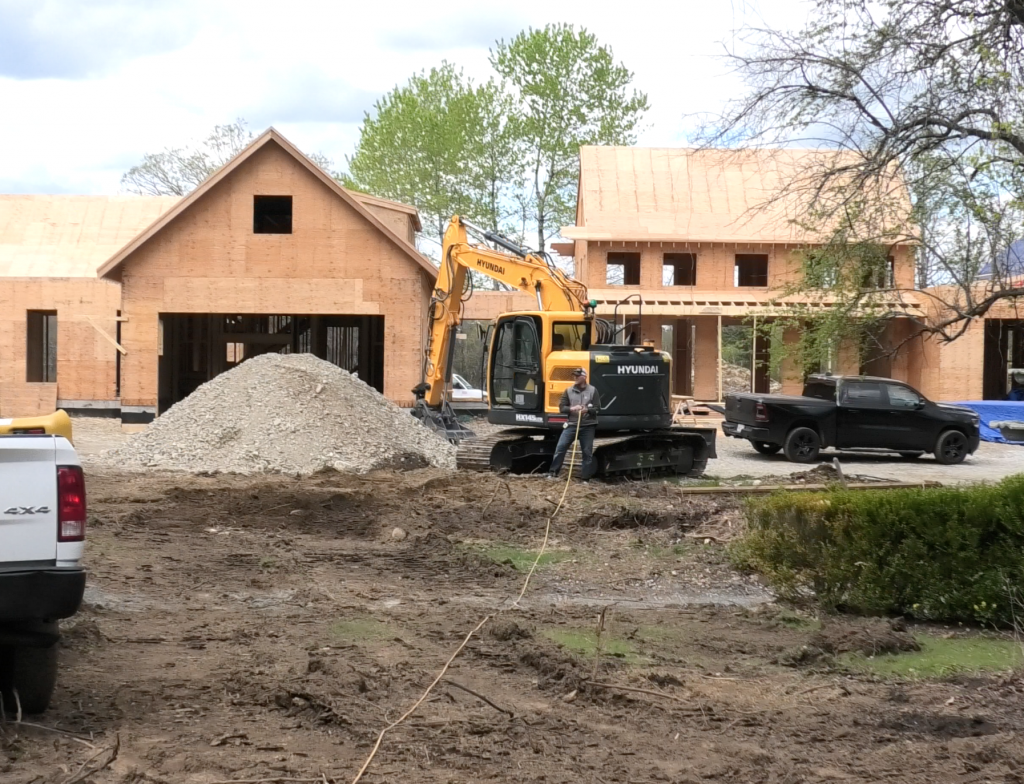 May 7th, 2021
Getting measurements for the sport court layout. We are also excited about the Hyundai excavator that arrived this week!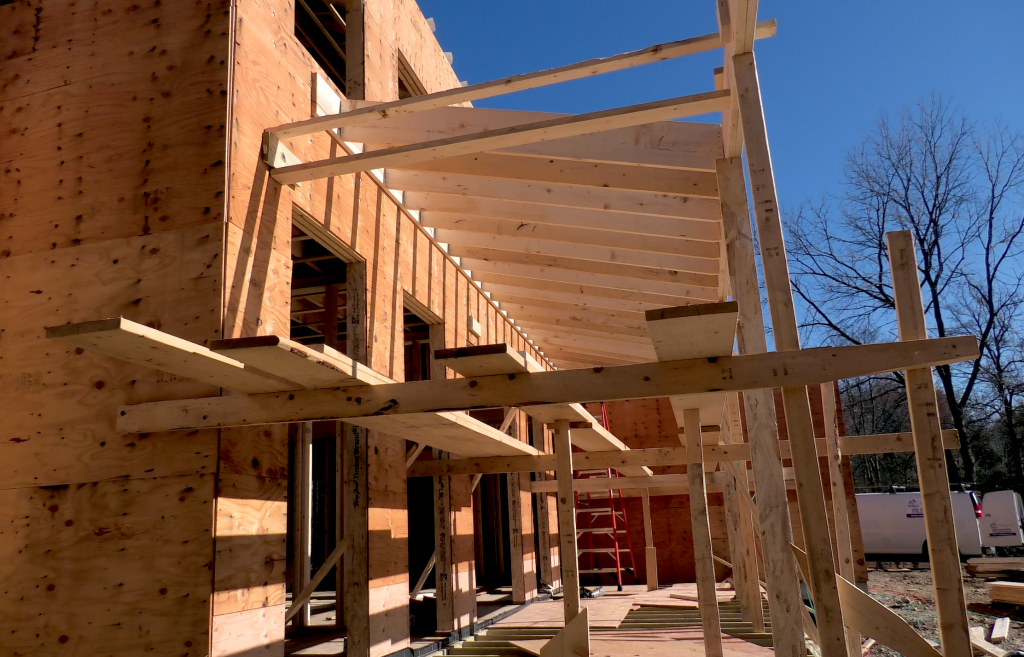 April 23rd, 2021
The front porch is in progress. This is going to be one beautiful entryway.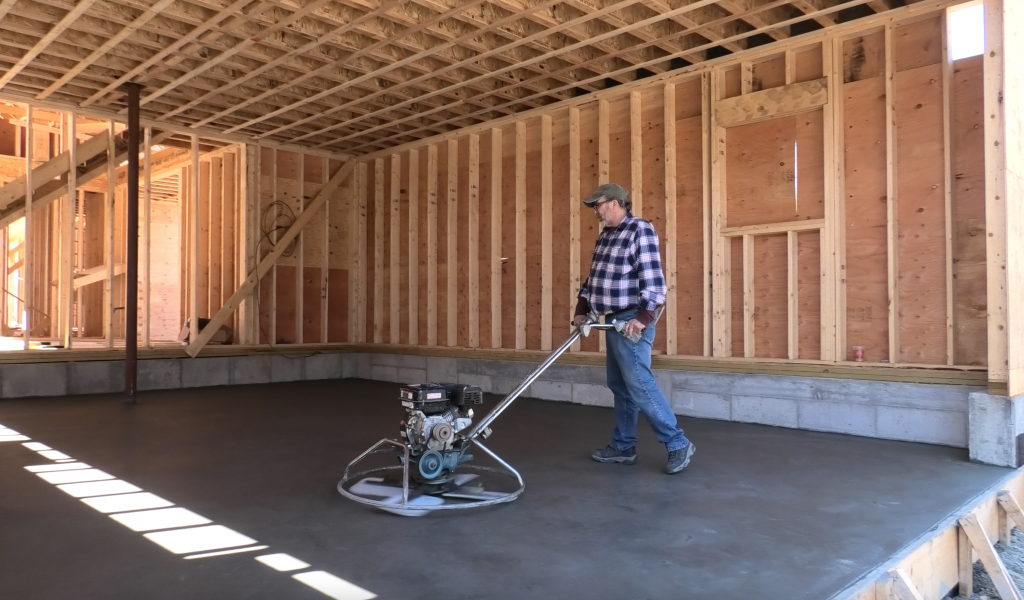 April 13th, 2021
General Concrete Services did an amazing job on our garage flooring today!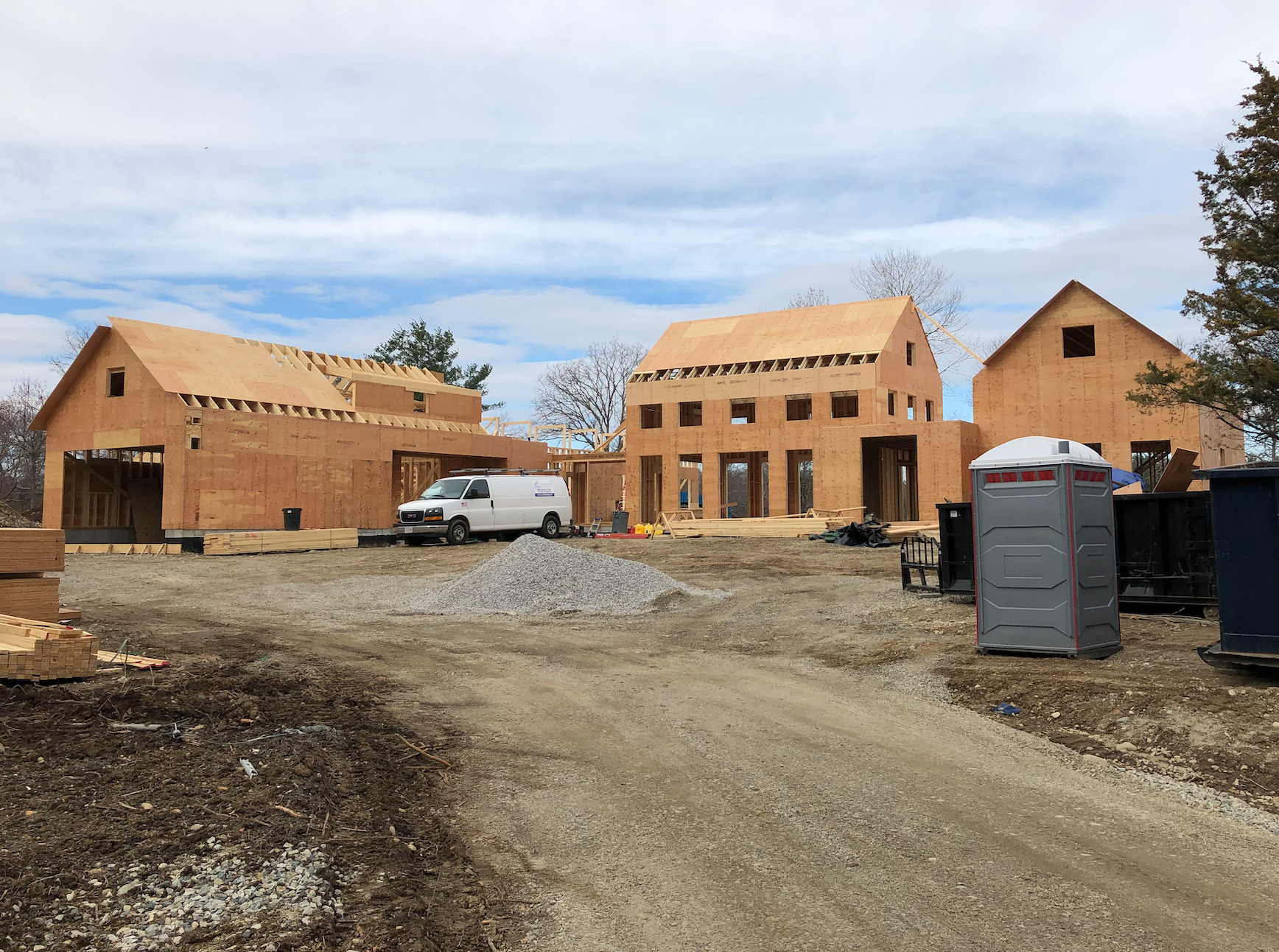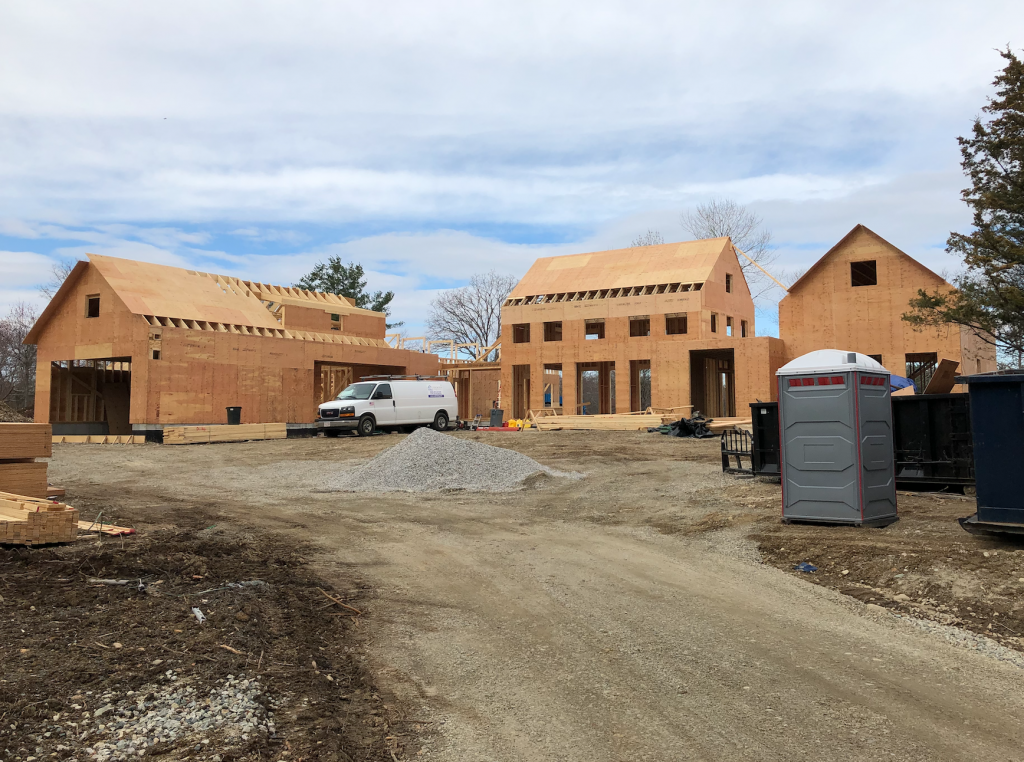 April 5th, 2021
All of our trusses are up in the great room, and the weather is getting better every day.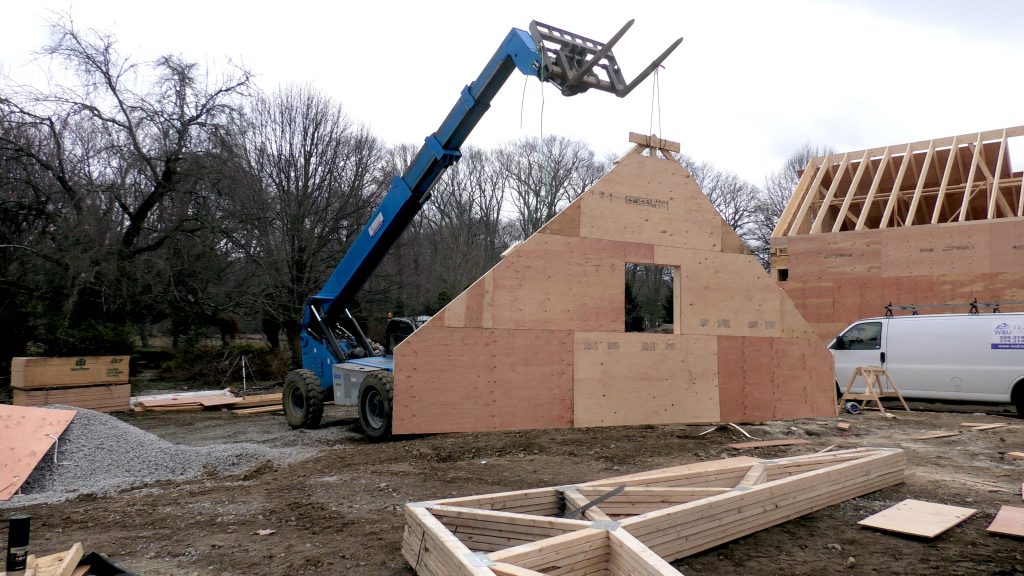 March 26th, 2021
K&U Framing bringing out the Genie lift today for our trusses!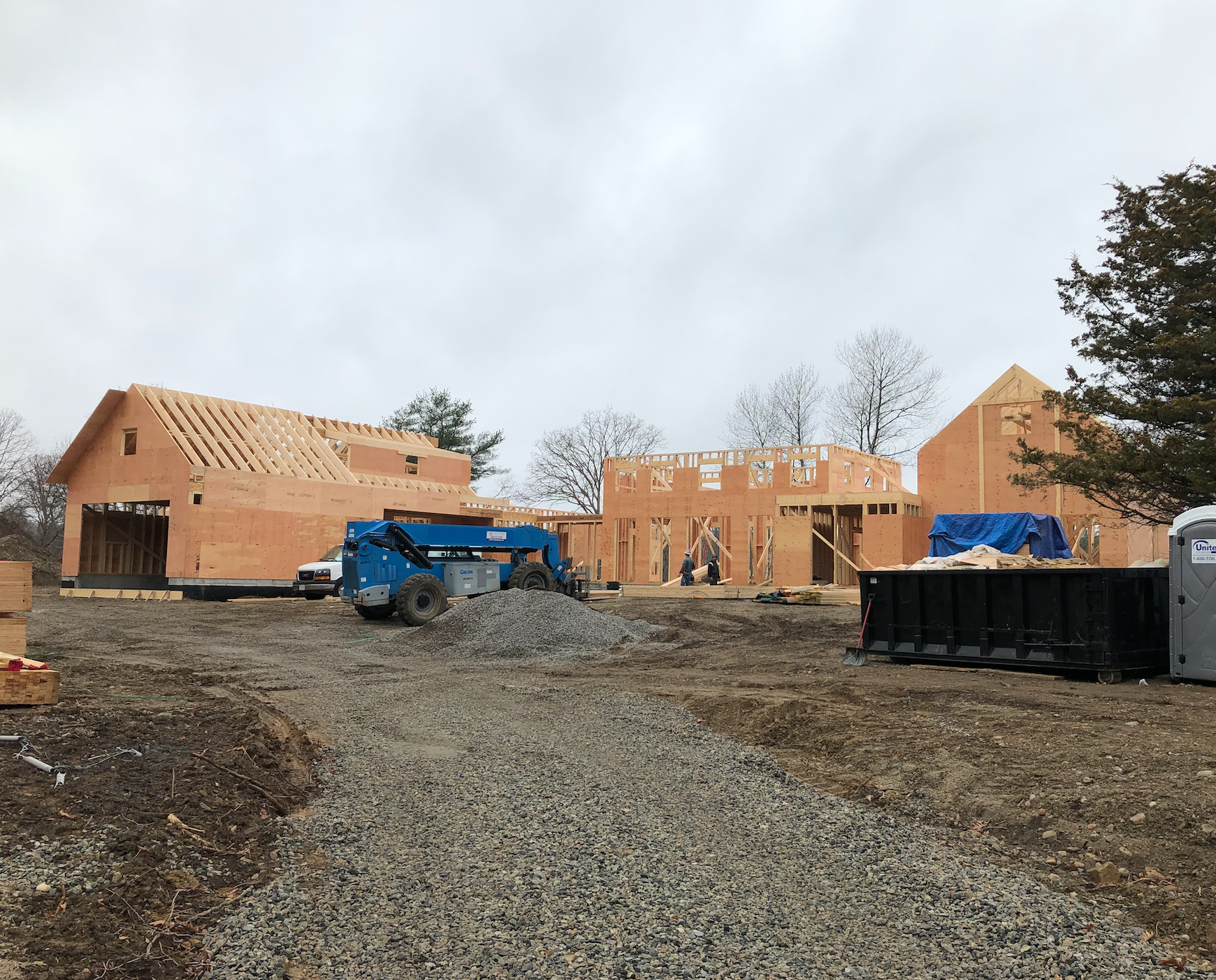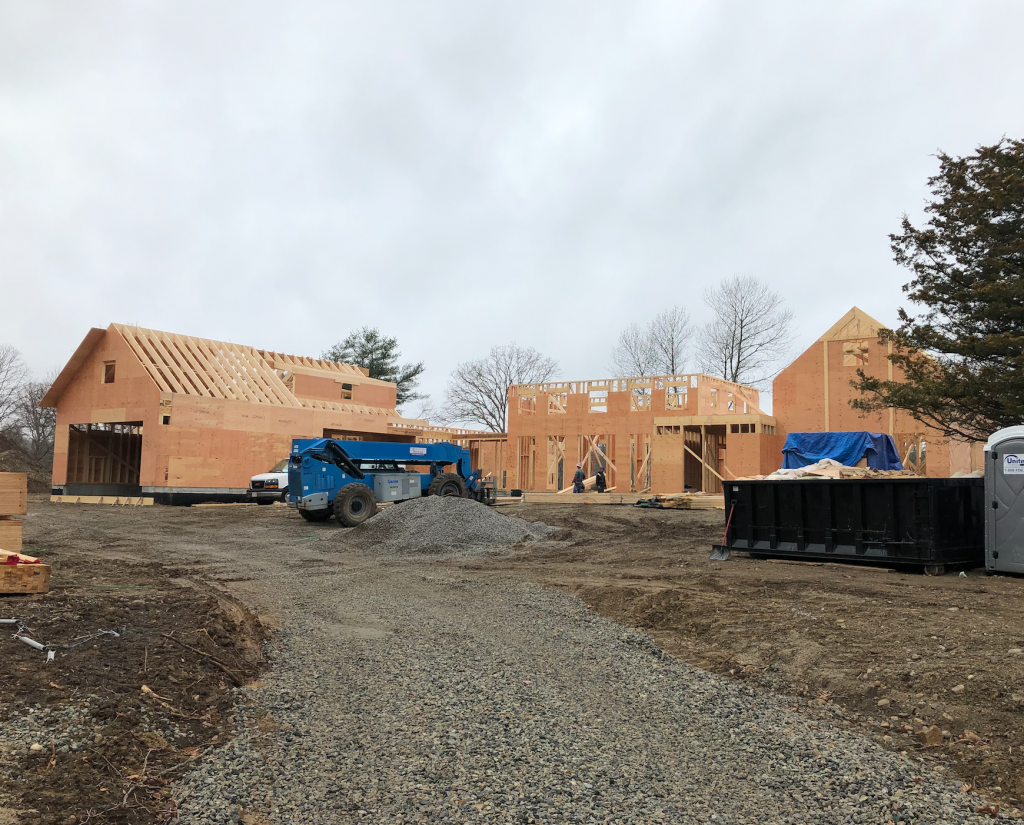 March 22nd, 2021
What a difference a week can make– the framers are doing an excellent job.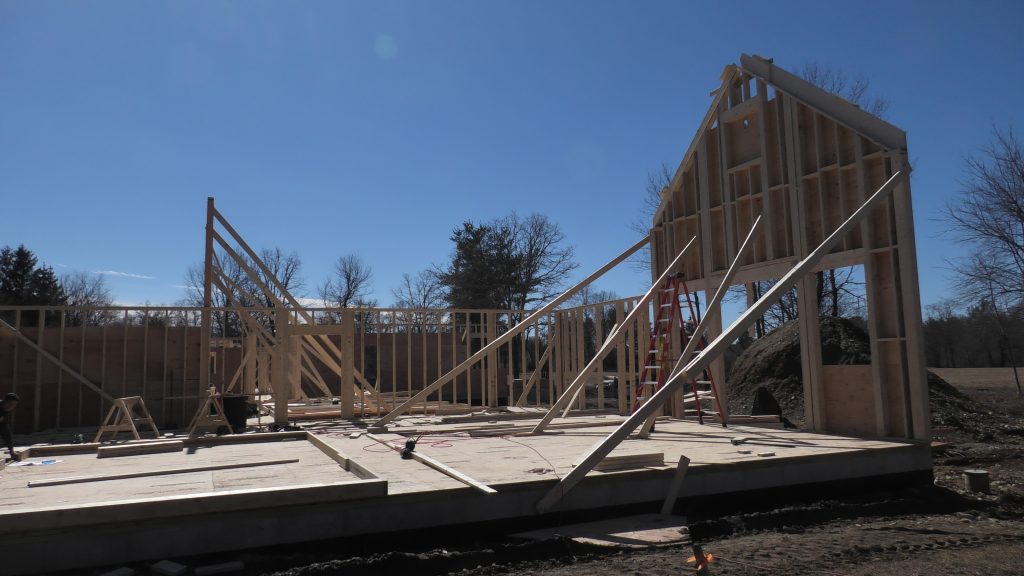 March 12th, 2021
Walls are coming up one by one!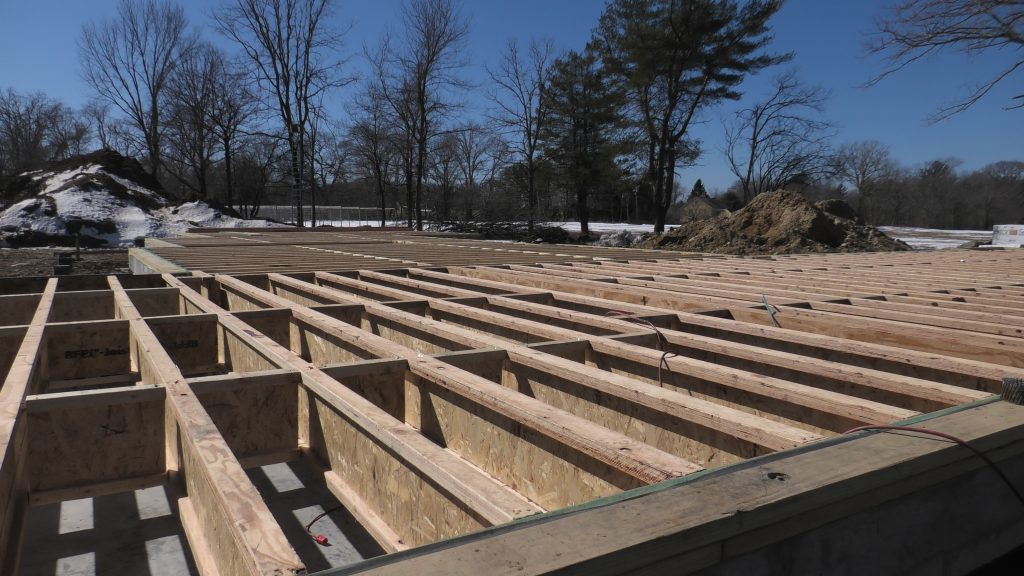 March 8th, 2021
W & U Framing making great progress on our contemporary farmhouse in Sherborn. Thank you Koopman Lumber for the I joists that will make this single story home the best new construction house in Sherborn!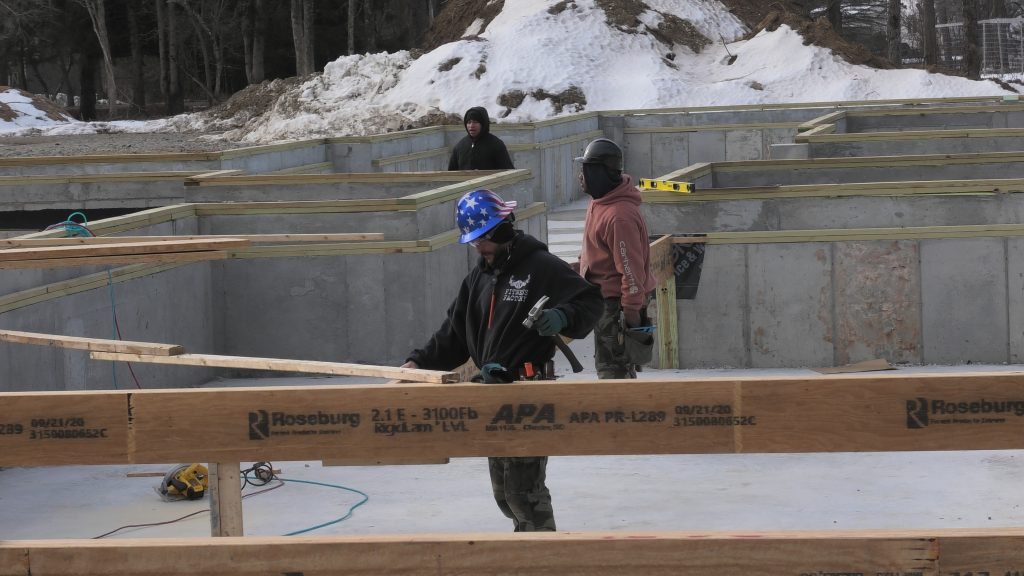 March 3rd, 2021
Now that the snow is cleared, W& U Framing has begun setting our floor beams. This custom contemporary has thousands of feet of engineered lumber in the plan and we are just getting started.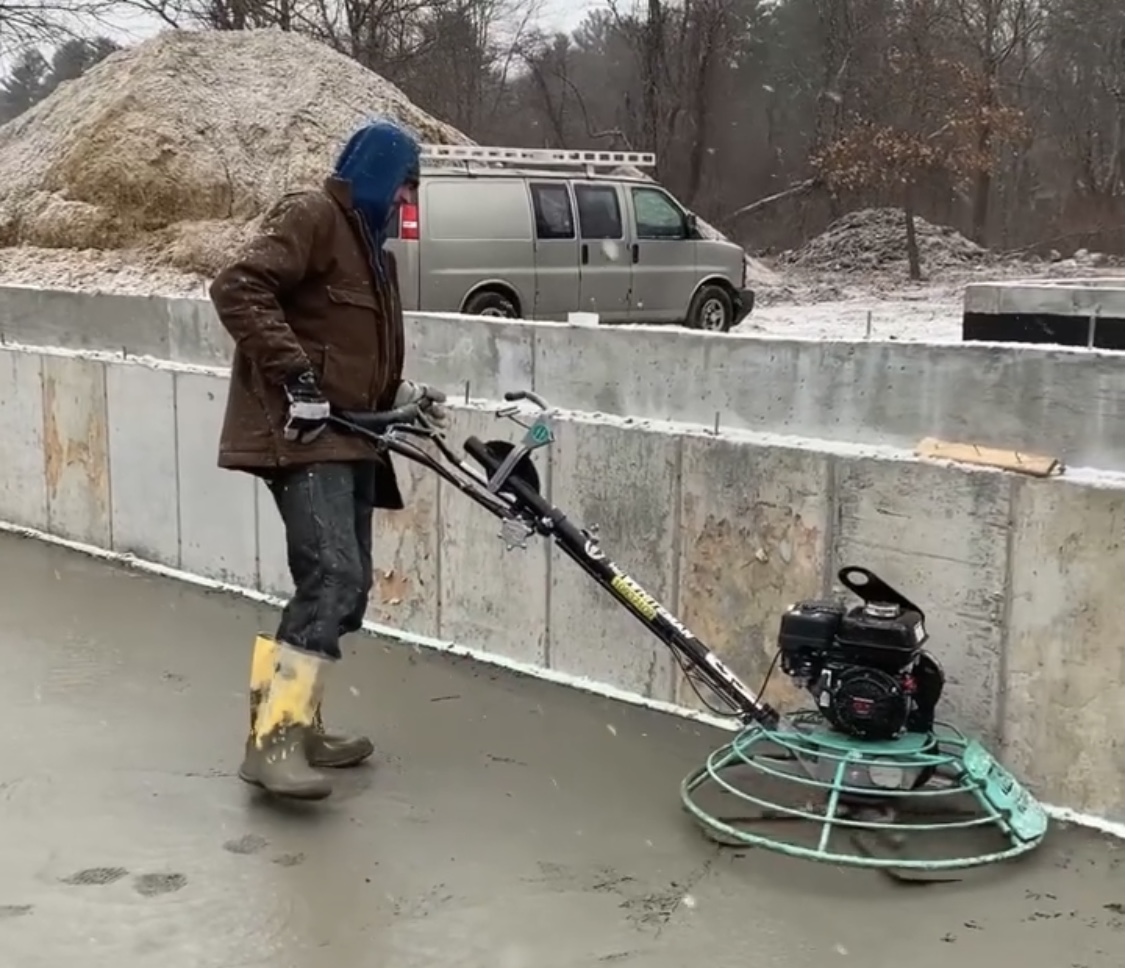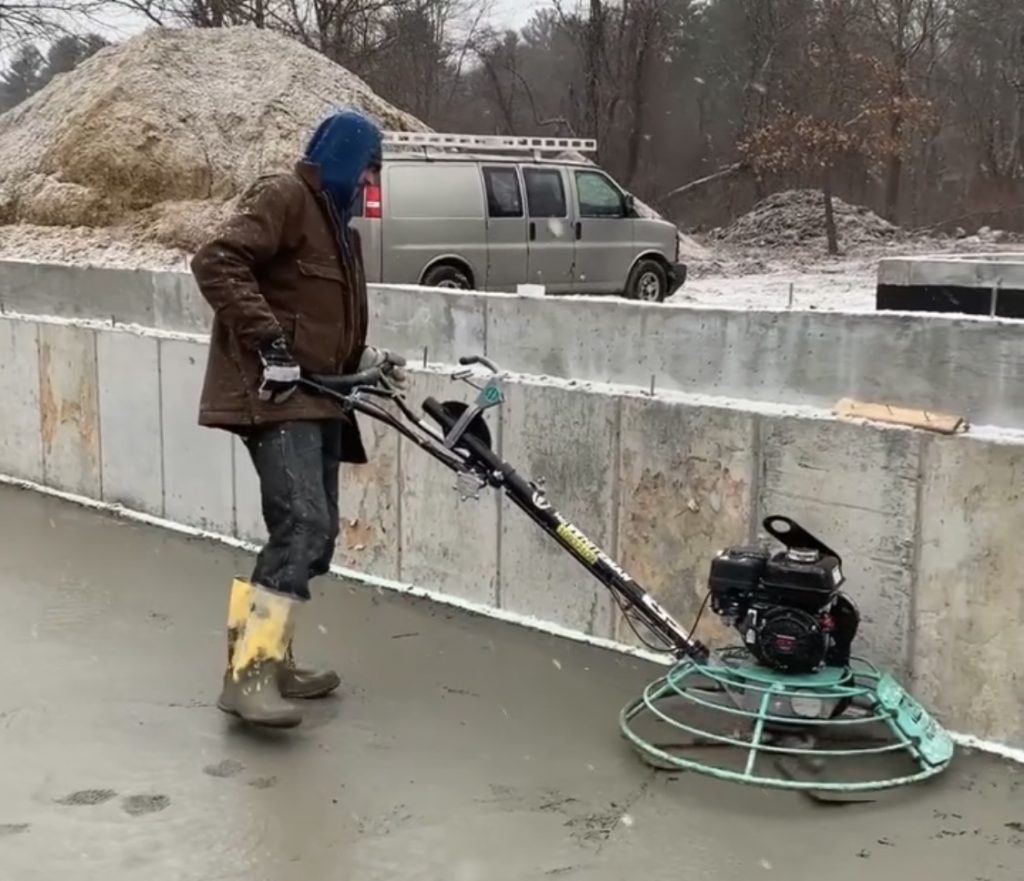 January 22nd, 2021
Being the best contemporary builder in Sherborn means that you have to work in all conditions. The Jensen Hus team is power troweling our crawl space floor in less than ideal conditions to keep this custom new construction on schedule.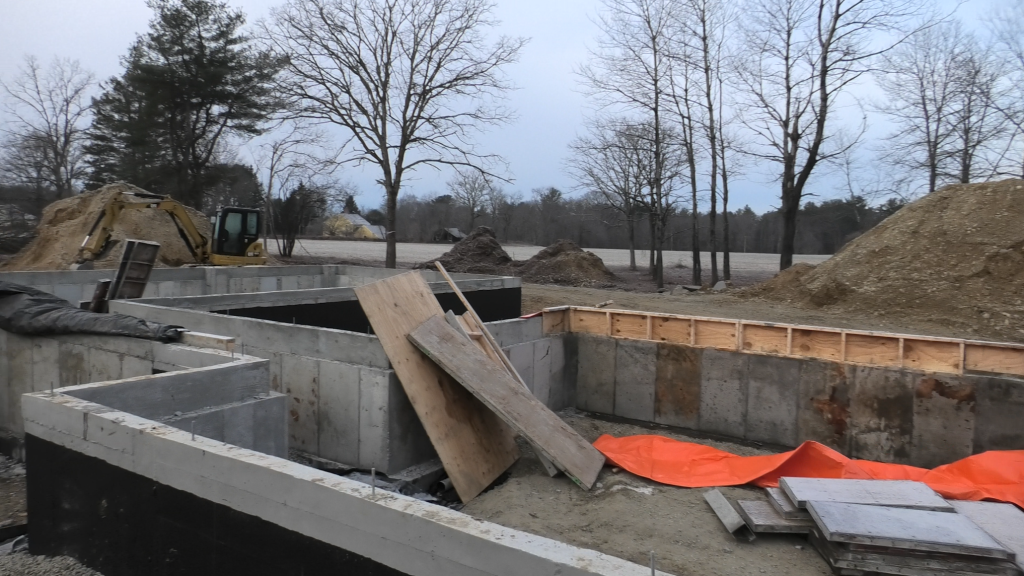 January 11th, 2021
New foundation walls have been poured for the Texas farmhouse on Ash Lane in Sherborn. These walls were designed to sit low so our single story custom home will tie into the surrounding landscape with only a few steps.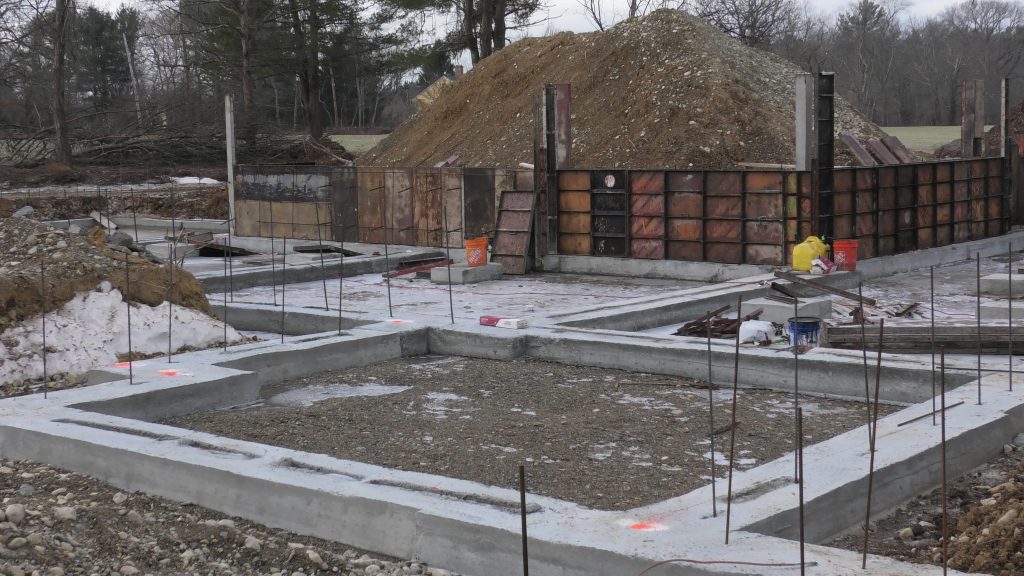 December 28th, 2020
Foundation walls going up for Sherborn new construction. Quality construction is key for these details.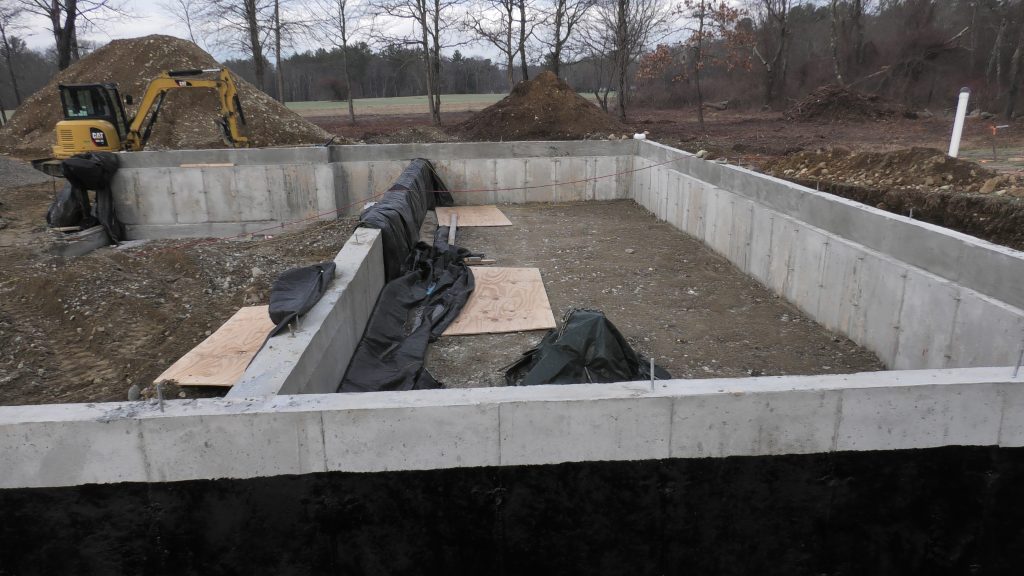 December 23rd, 2020
First walls are poured and backfill is packed in below our future crawl space.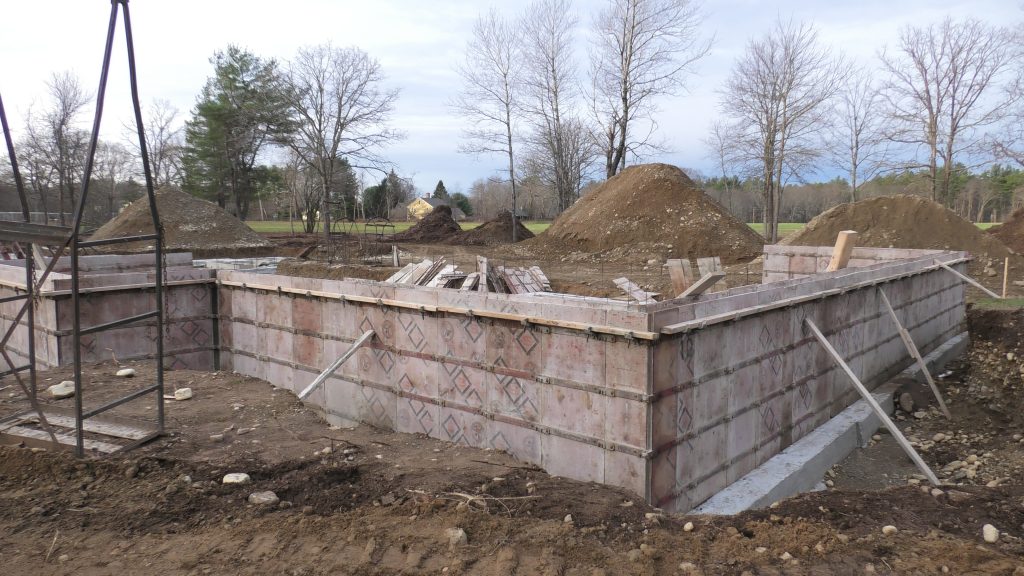 December 4th, 2020
Time to measure out the points of our house before the snow hits tomorrow.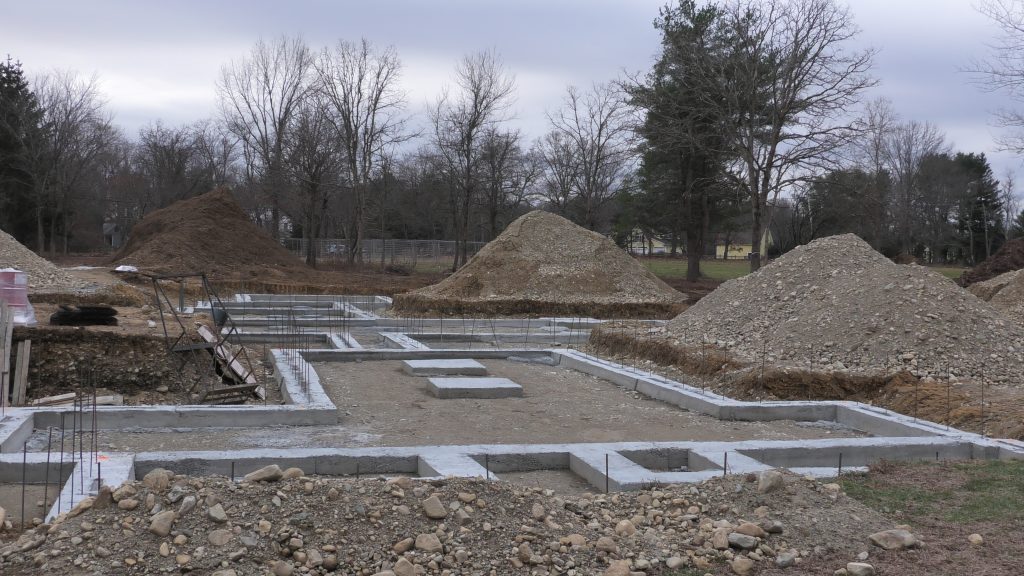 November 23rd, 2020
Footings are in on this cold November morning!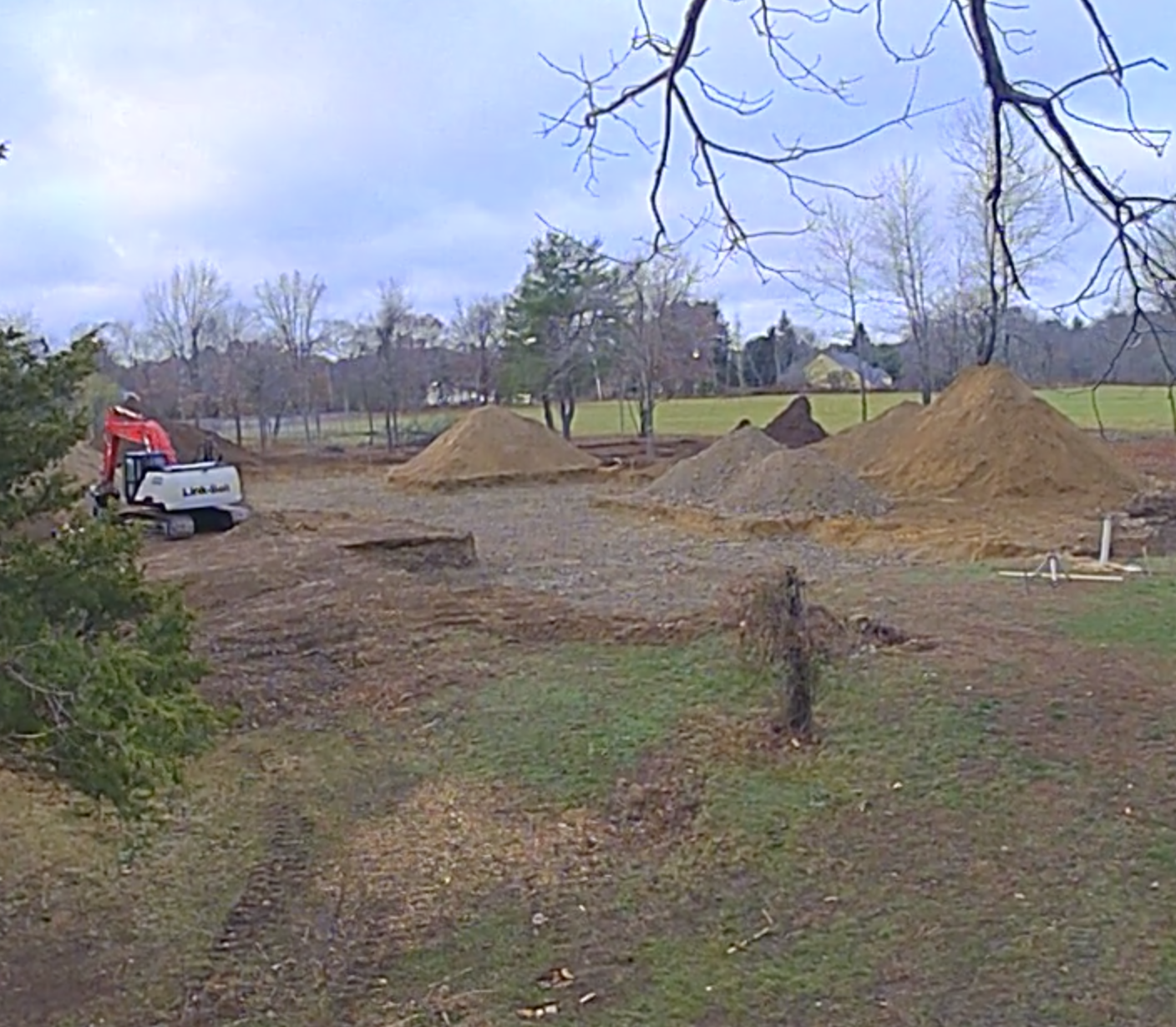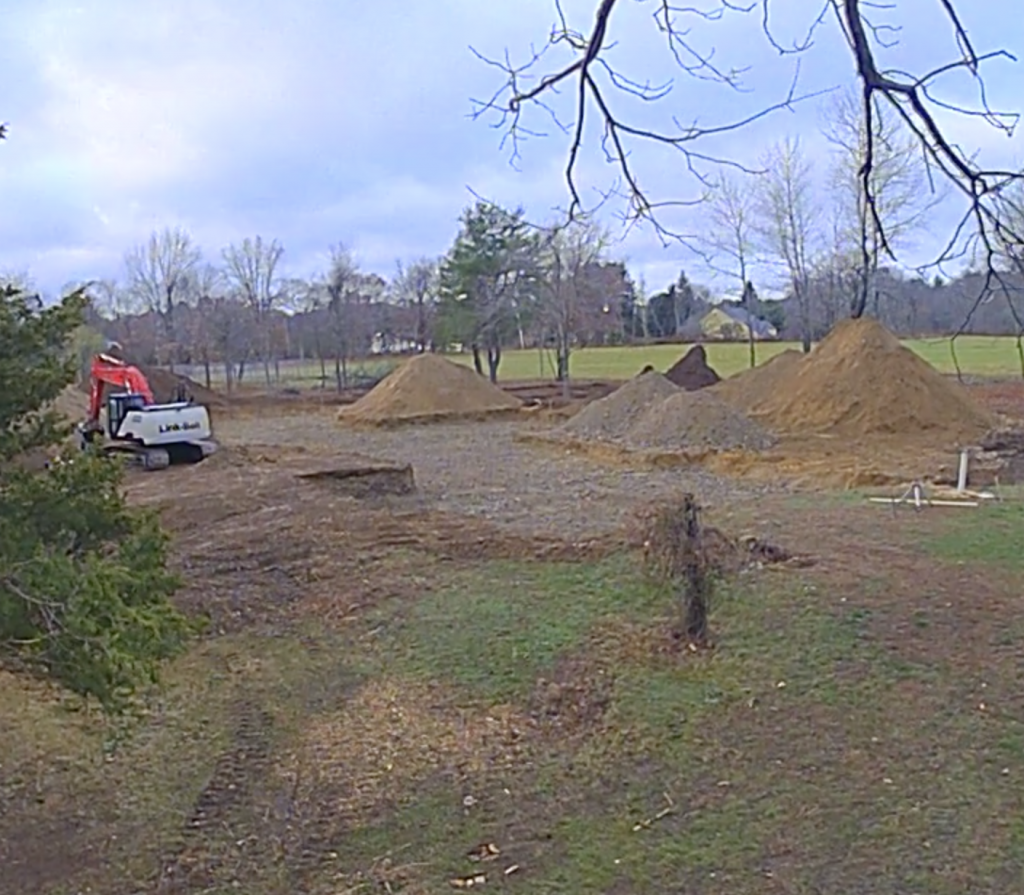 November 9th, 2020
The hole is dug for our new foundation. Now we just have to level out all this dirt.
October 16, 2020
Tons and tons of concrete left over from the estate's foundation. This is going to be expensive!
October 9th, 2020
The old estate came down today. Check out the full demolition video here: https://www.youtube.com/watch?v=7D9dVyJ6z9Q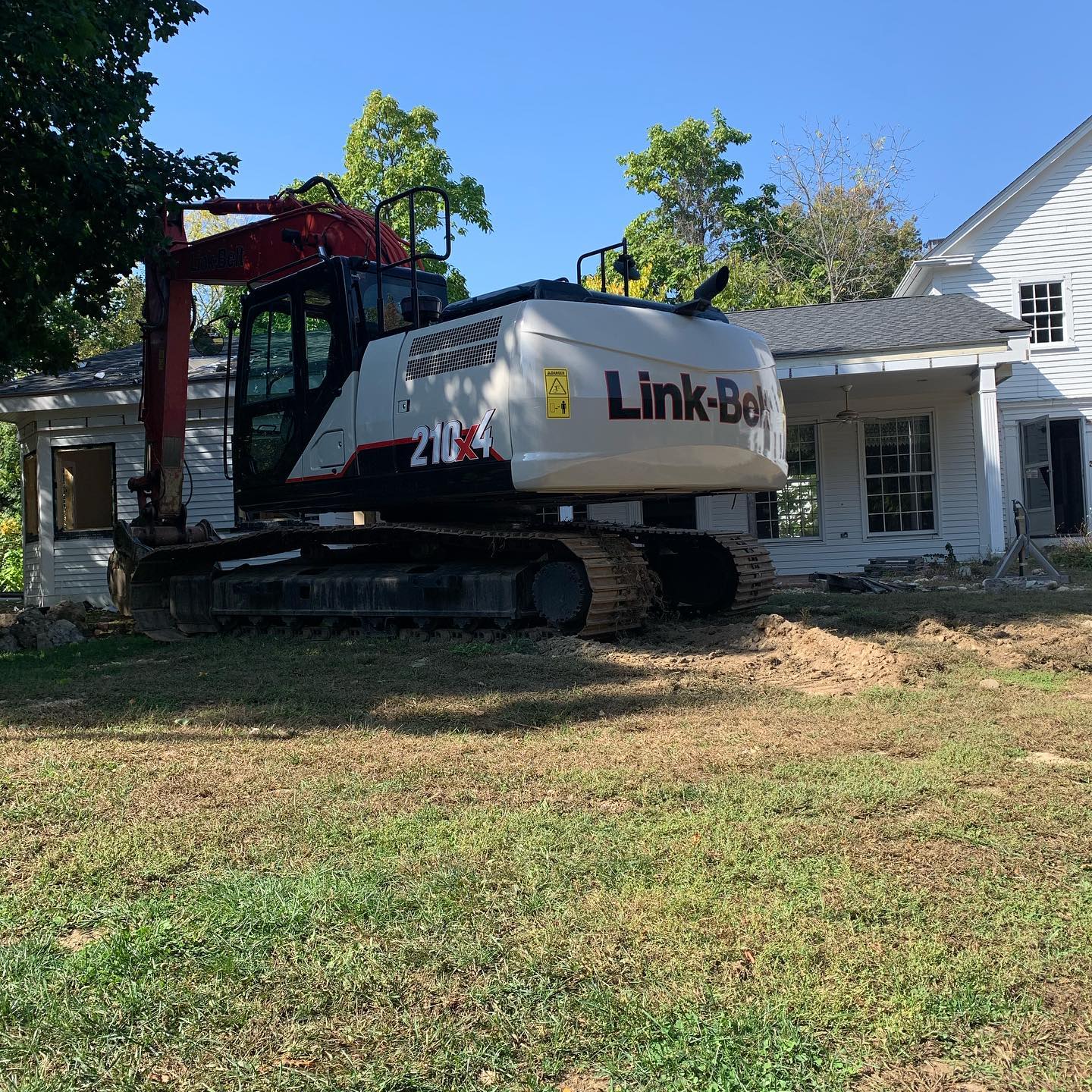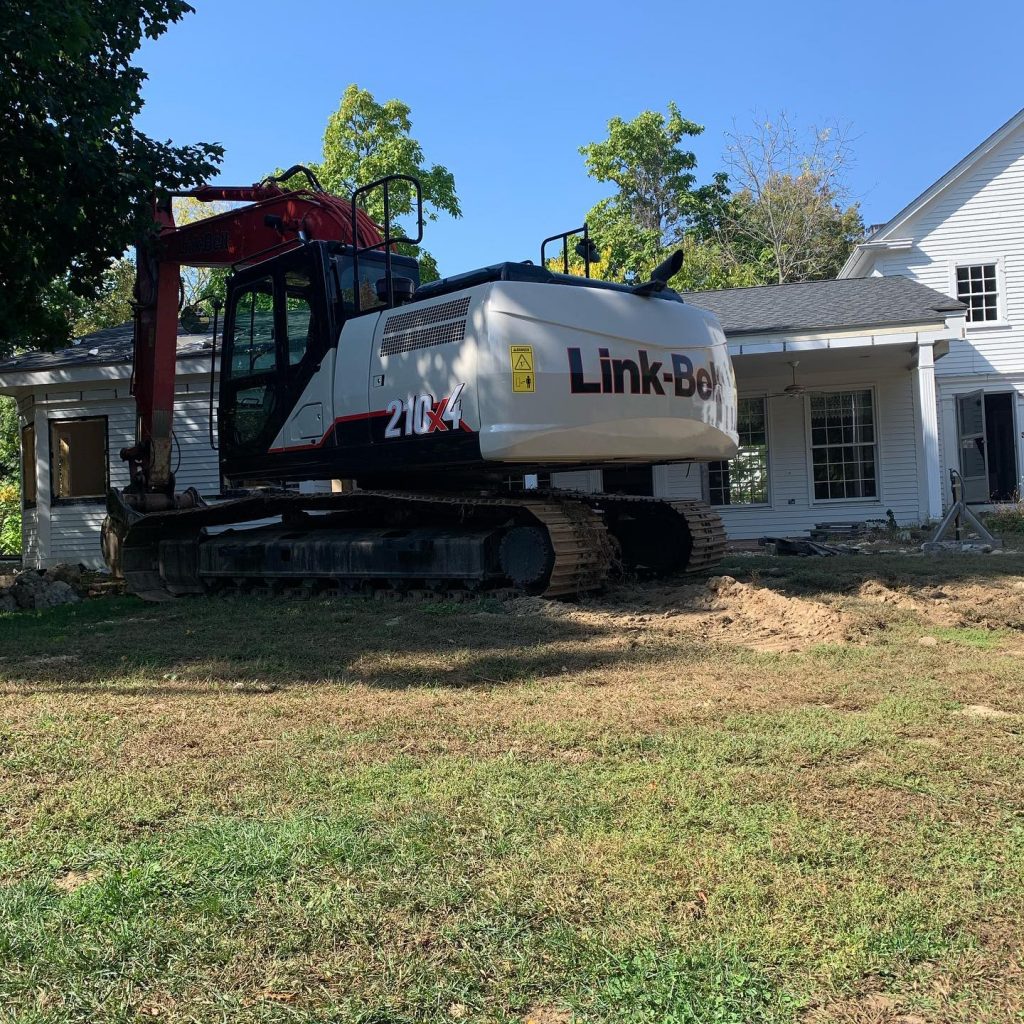 October 7th, 2020
The Link-Belt excavator has been delivered. It won't be long before this old house comes down.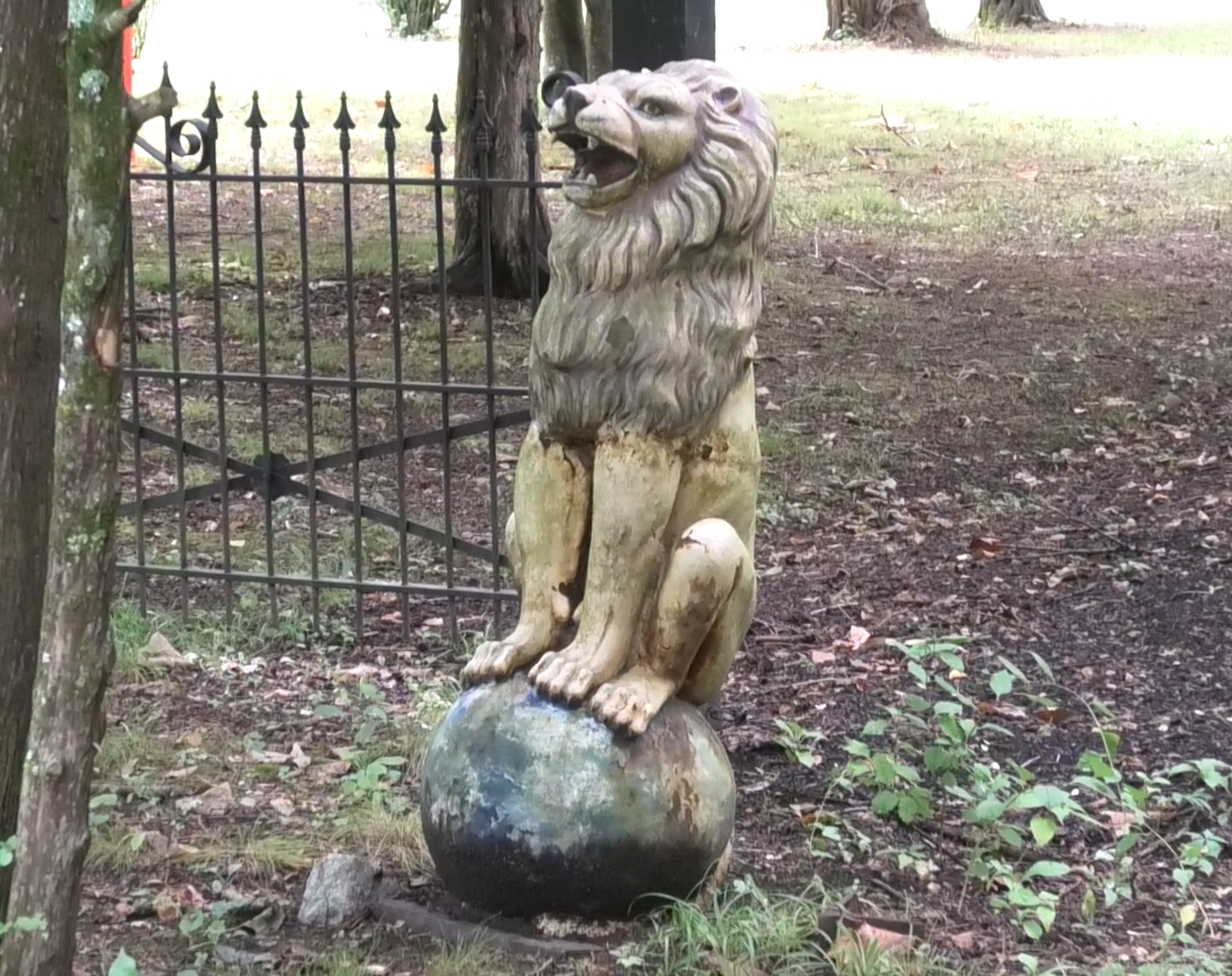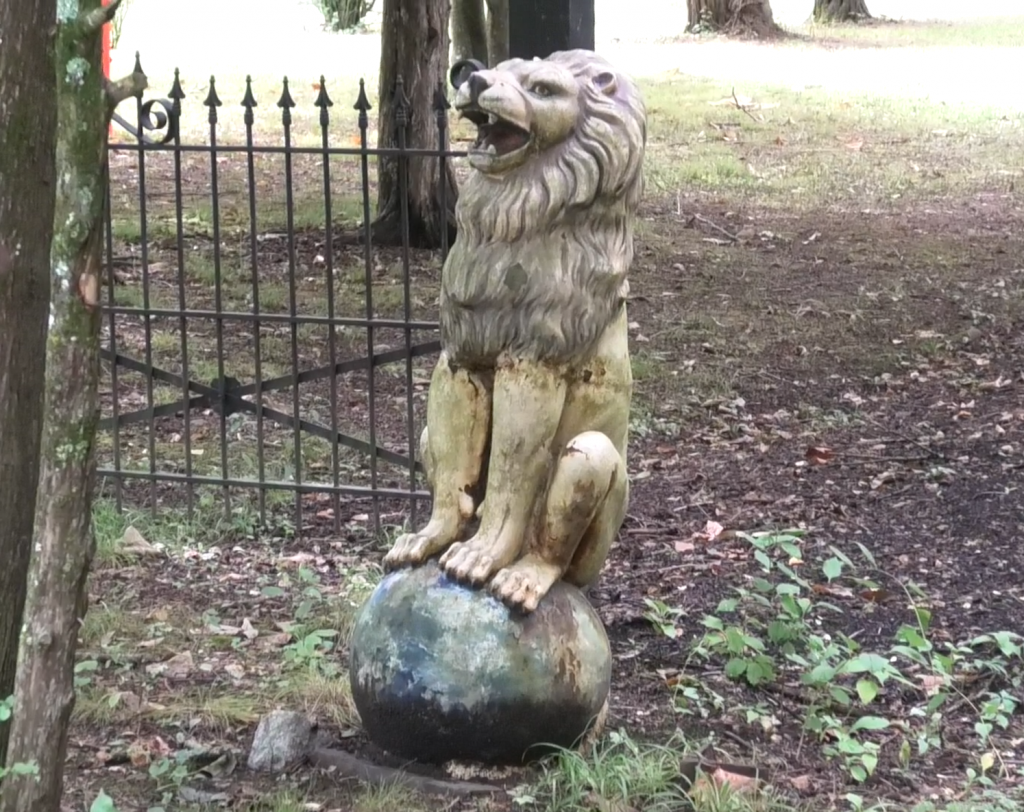 September 2nd, 2020
The stoic guardians of this yard will have to go… along with many many trees.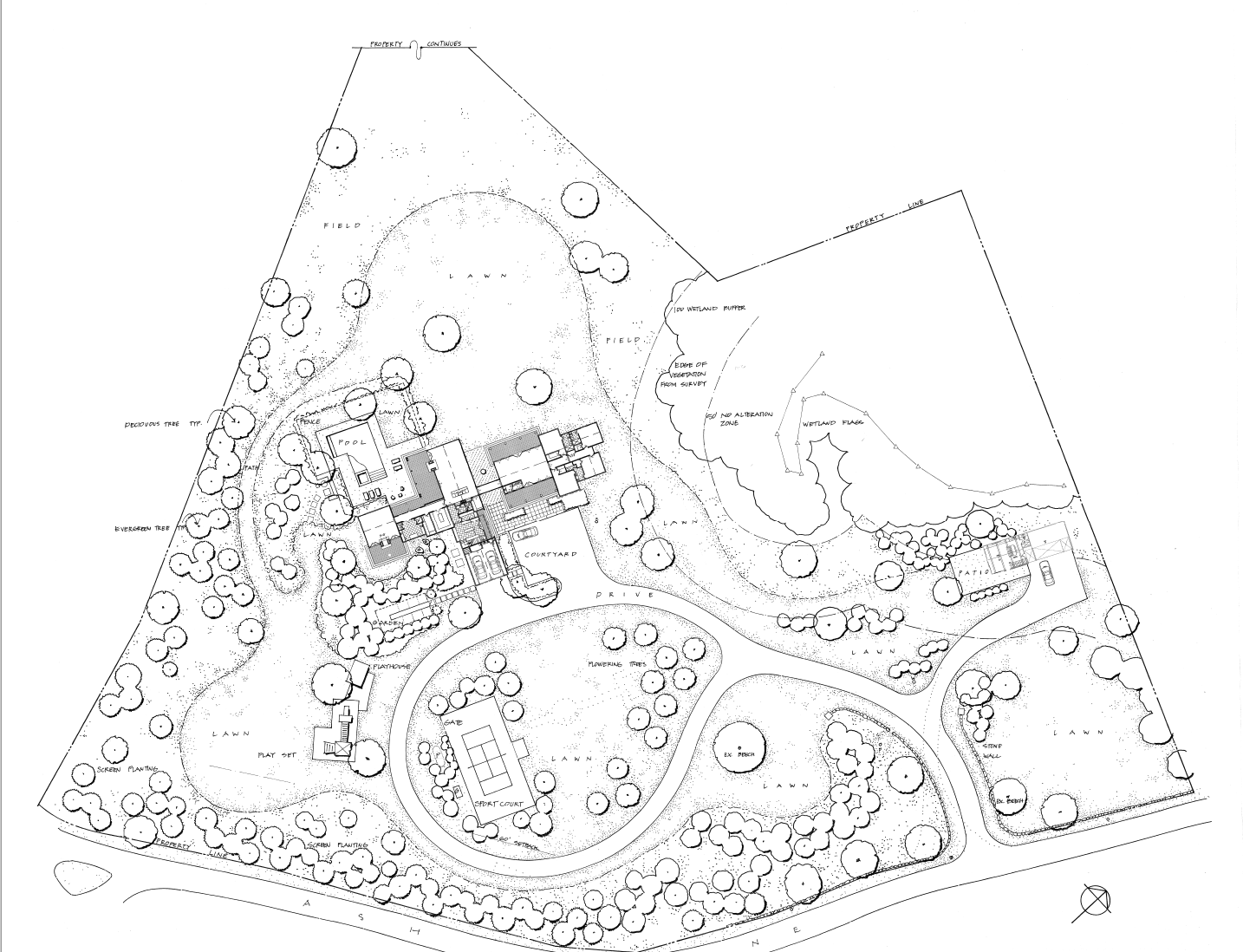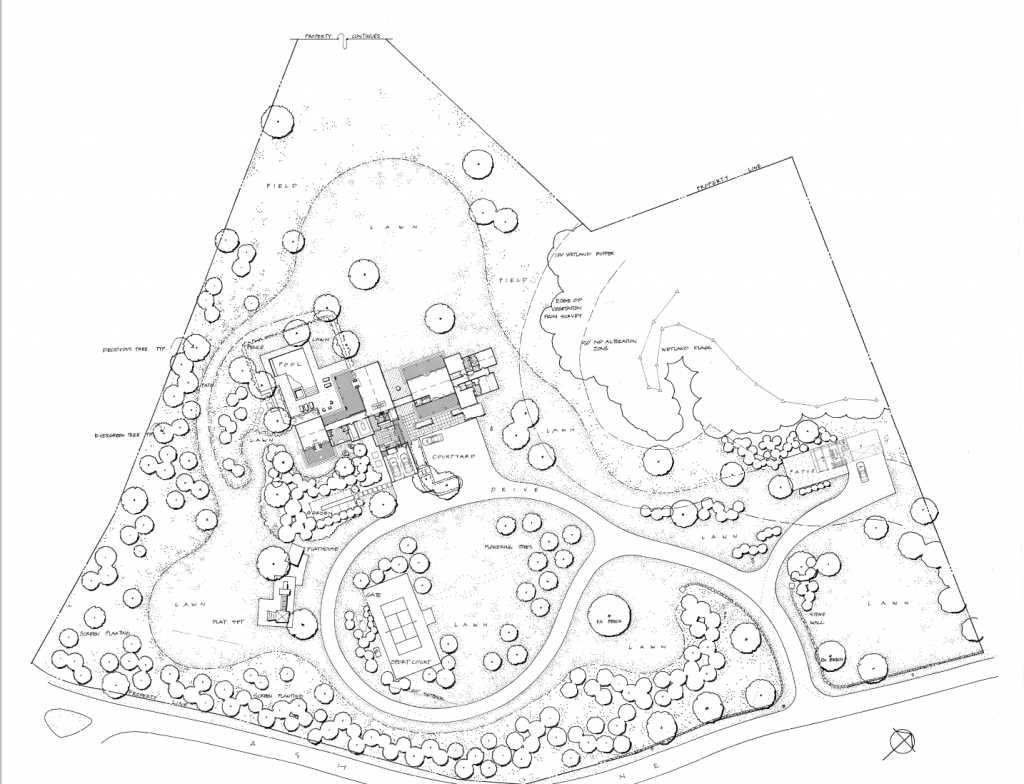 August 24th, 2020
Here's our latest overhead. Now we just need to make space for it all.